A bill that would prohibit smoking in Atlantic City, New Jersey, casinos is seeing a rare dose of bipartisan support as more lawmakers in the state Legislature indicate they will vote for it.
Republican state Senator Michael Testa announced Monday that he has added his support to the bill as a co-sponsor, according to a press release from the Americans for Nonsmokers' Rights sent to Newsweek.
A bill similar to this one died in last year's legislative session without a vote, according to the Associated Press.
This new bill, S264, would amend the New Jersey Smoke-Free Air Act to prohibit smoking in casinos and simulcasting facilities, according to the bill's text.
"Casino workers should have the same right to work in a safe and healthy environment as any other worker in our state," Testa said in the press release. "That's why I'm co-sponsoring S264 to eliminate the casino smoking loophole. We can both protect the health of casino workers and their guests while safeguarding our state's thriving gaming industry."
Testa's addition as a co-sponsor brings the total number of sponsors for S264 to seven, according to legislation-tracking website LegiScan. The other sponsors include state Senators Shirley Turner, Joseph Vitale, Patrick Diegnan, Teresa Ruiz, Vincent Polistina and Vin Gopal. All except for Polistina and Testa are Democrats.
"We're excited to have both representation from Democrats and Republicans," said Nicole Vitola, a co-founder of Casino Employees Against Smoking's Effects (CEASE) and dealer at Borgata Hotel, in a joint interview alongside Pete Naccarelli, co-founder of CEASE and another dealer at Borgata Hotel, with Newsweek.
"It's a bill about public health and we shouldn't be excluded from the safety that every other New Jersey worker gets," said Vitola.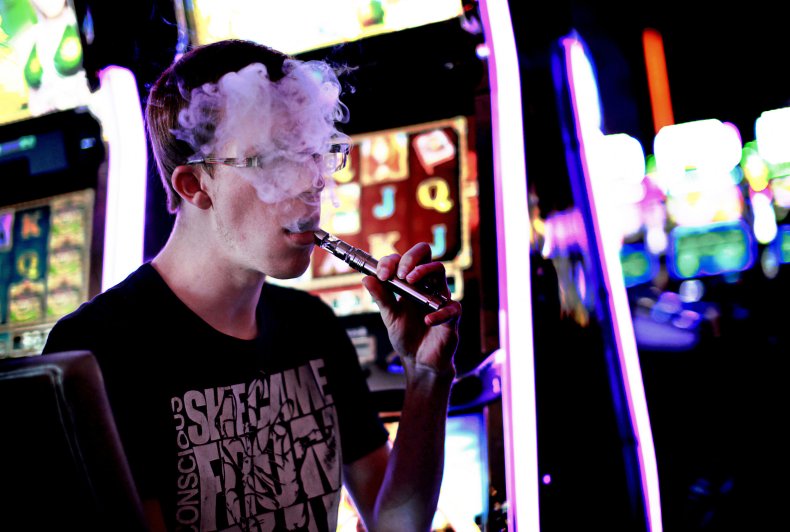 Casino workers are at higher risk for lung and heart disease due to secondhand smoke, according to the National Institute for Occupational Safety and Health, the bill says. The air in casinos can also have up to 50 times more cancer-causing particles than the air on rush-hour highways, according to a study in the Journal of Occupational and Environmental Medicine.
Vitoli said she's tired of workers getting sick everyday. Naccarelli wondered why people who don't do certain things at home would be allowed to do them in a casino.
"We talk to people in the casino who say they're not allowed to smoke in their own house. Why? Because it's unhealthy. It's unsafe for their family. But they're allowed to come to the casino and blow the smoke in our face? This doesn't make sense," said Naccarelli told Newsweek.
The Casino Association of New Jersey told the Associated Press a smoking ban would drive gamblers from New Jersey to neighboring states, like Pennsylvania, where smoking is not prohibited, arguing the shift would eliminate jobs and reduce revenue.
Smoking is currently restricted to 25 percent of a casino floor, according to The Press of Atlantic City.
A Senate committee that the bill has been referred to is meeting Thursday, but it is not on the committee's agenda, the AP reported. However, a spokesperson for Assembly speaker Craig Coughlin said, "The speaker is prepared to thoroughly and thoughtfully review the bill" should the bill be reintroduced there.
"It's going to save lives. It's going to save workers' lives," Vitola said about the bill.
Smoking in casinos was temporarily prohibited during the pandemic, The Press of Atlantic City reported. The ban was lifted last summer, and politicians have attempted to make the ban permanent ever since.
Update 01/31 7:10 PM: This story was updated to include comments from Pete Naccarelli and Nicole Vitola, co-founders of Casino Employees Against Smoking's Effects (CEASE).