How Worried We Should Be by A.30 Variant That Can Evade Vaccines
A team of scientists in Germany has warned that an old COVID variant called A.30 has resistance to the Pfizer and AstraZeneca COVID vaccines.
However, the variant has not been detected for months, with the last A.30 samples reported between May and June this year.
According to the COVID variant tracking network GISAID, only five cases of A.30 have been reported worldwide—three in Angola, one in Sweden, and one in the U.K.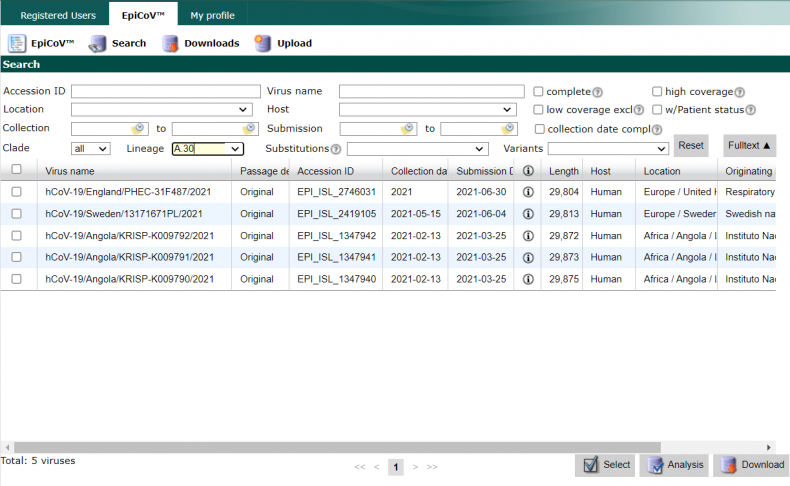 Because of this, some observers think that the variant might not exist any more.
Regardless, the scientists in Germany said that a future potential spread of the variant "warrants close monitoring and rapid installment of countermeasures" in a study published in the journal Cellular & Molecular Immunology on October 25.
The study notes that A.30 has several mutations to its spike protein, which the virus uses to latch onto human cells, compared to the B.1 variant that circulated in the pandemic's early phase.
One of the mutations A.30 has, called E484K, is known to confer some resistance to the antibodies that we get from vaccination or natural infection.
The study has caused a stir on Twitter. Brian Hjelle, a professor in the Department of Pathology at the University of New Mexico, said the variant needs monitoring and "has [an] impressive array of mutations and is approaching true immune escape."
But prominent experts are not convinced about A.30's relevance. Professor Francois Balloux, a scientist at University College London's Department of Genetics, pointed to the aforementioned GISAID data and said that "A.30 is in all likelihood extinct now."
And Jeremy Kamil, associate professor of microbiology and immunology at Louisiana State University Health Shreveport, echoed the point. "It's probably already extinct," he tweeted.
In a statement to Newsweek, Markus Hoffmann, a researcher at the Infection Biology Unit at the German Primate Center animal research lab and a lead author of the A.30 study, said data does indeed suggest that "A.30 is presently not spreading on a global level."
However, his concerns are that it may be going undetected in some locations where testing capacities are limited.
Responding to assertions that A.30 has already gone extinct, he added: "Lack of proper surveillance capacities in many African countries may leave the chance that A.30 is spreading locally and only occasionally detected when infected travelers are tested in countries with sufficient testing capacities."
Still, Hoffmann said that the study is not a suggestion that vaccination is not effective against the variant and that getting a COVID shot is "still our best option" to fight the pandemic.
"A.30 is not completely resistant to neutralization by antibodies," he told Newsweek. "Thus, even if breakthrough infections may occur more frequently with this variant, vaccination will provide some level of protection against symptomatic or severe disease."
"Altogether, our observations suggest that A.30 has a clear advantage over other SARS-CoV-2 variants [...] but this advantage shrinks when antibody levels are high. Thus, achieving and maintaining high neutralizing antibody levels, e.g. by mixed-match-vaccination or additional booster shots, represents a good defense strategy against A.30 and other variants with high ability of antibody evasion."