Extremely Rare 'Fire Cloud' Appears Above Washington—And Scientists Flew Through It
NASA's Earth Observatory has shared spectacular images of a rare phenomenon identified by researchers as they flew through a thunderstorm triggered by wildfire.
Known as pyrocumulonimbus (pyroCb) or cumulonimbus flammagenitus, these so-called "fire clouds" form when wildfires push enough heat and moisture into the atmosphere that they cause thunderstorms.
A team of researchers from a joint-NASA and NOAA (National Oceanic and Atmospheric Administration) mission known as FIREX-AQ (Fire Influence on Regional to Global Environments and Air Quality) managed to snap the pictures from their DC-8 plane on August 8, 2019 as they flew through some pyroCbs produced by the Williams Flats fire in eastern Washington state.
One of the pictures shows the setting sun shining through thick smoke taken at an altitude of around 30,000 feet at 8 p.m. local time. The particles in the smoke refract the sunlight in such a way that the star appears orange. Another picture shows how the plumes of smoke from the fire feed into a pyroCb.
"The views were absolutely stunning," David Peterson, lead forecaster for FIREX-AQ, who was in the cockpit at the time, said in a statement. "Very few photographs of large pyroCbs are available, especially from the air."
"PyroCbs are like large chimneys, transporting a large quantity of smoke into the lower stratosphere," Peterson added.
The FIREX-AQ researchers say that they were able to study the fire clouds in unprecedented detail with the help of the two flybys and measurements taken from ground-based observatories.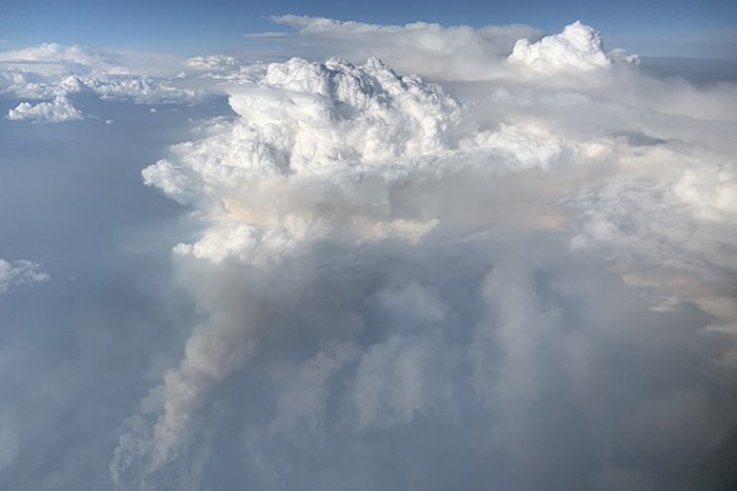 "The NASA DC-8 is a flying laboratory that the agency uses for a variety of Earth Science and Aeronautics research missions," Kate Squires, a public affairs officer from NASA's Armstrong Flight Research Center, told Newsweek. "The plane is a 50-year-old modified jet transport that can be customized with different science instruments, dependent upon the phenomena it is studying. It has been used to study areas including air quality, land and sea ice, emissions and contrails from aircraft, and storms over its tenure as a NASA platform."
FIREX-AQ is a mission studying the life cycle of fire smoke and its impacts on air quality.
"Using a variety of ground sensors, aircraft and satellite measurements, the science team is aiming to answer questions about the chemical and physical properties of fire smoke, how it is measured and how it changes from the moment of combustion to where it settles hundreds or thousands of miles downwind," Squires said. "The overall goal of the mission is to better understand smoke impact on weather and climate and provide information that will lead to improved air quality forecasting."
The William Flats fire began on August 2, 2019, after being sparked by lightning strikes. Authorities said it had burned 44,515 acres and was 88 percent contained as of August 20.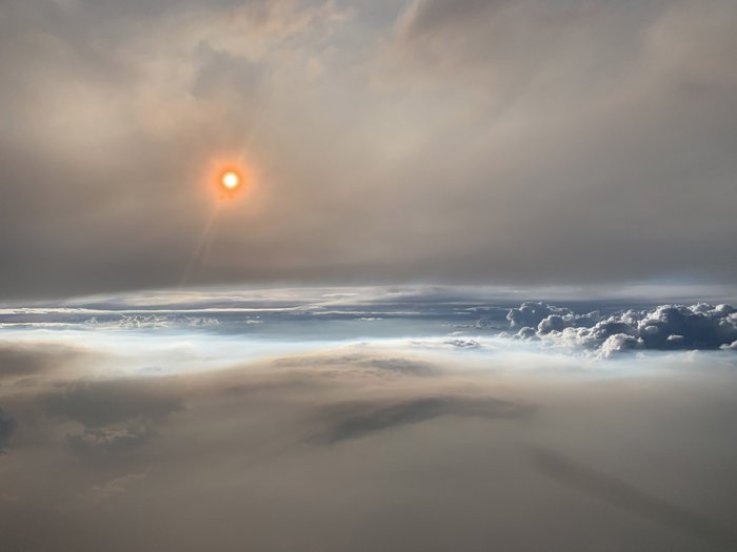 Extremely Rare 'Fire Cloud' Appears Above Washington—And Scientists Flew Through It | Tech & Science