Rare Jaguar, Damaged in Crash 25 Years Ago, Sells for $127,000 at Auction
A rare Jaguar car from the 1960s, badly damaged in a crash 25 years ago, sold at auction for £90,000 ($127,000) on Saturday, despite its guide price being just £10,000 ($14,000).
First registered on January 1, 1960, the red XK150 S 3.8 Drophead Coupe was purchased by the previous owner in 1969, who enjoyed the car for more than 20 years until he suffered a terrible accident. In September 1996, the owner, from Hull, England, was driving on a wet road when he lost control and the car crashed into a tree. The driver was uninjured—but the car was not so lucky.
Photos from the auction show the bonnet wrecked and the license plate misshapen. The car's headlights are missing and the windshield has suffered a huge crack. The Jaguar's red paint has chipped and is falling away, and the steering wheel has been snapped in half.
Following the crash, the driver had the classic car towed home with the intention of restoring it. However, the Jaguar had been sitting in his garage gathering dust for 25 years, until it sold at auction over the weekend, following the owner's recent death.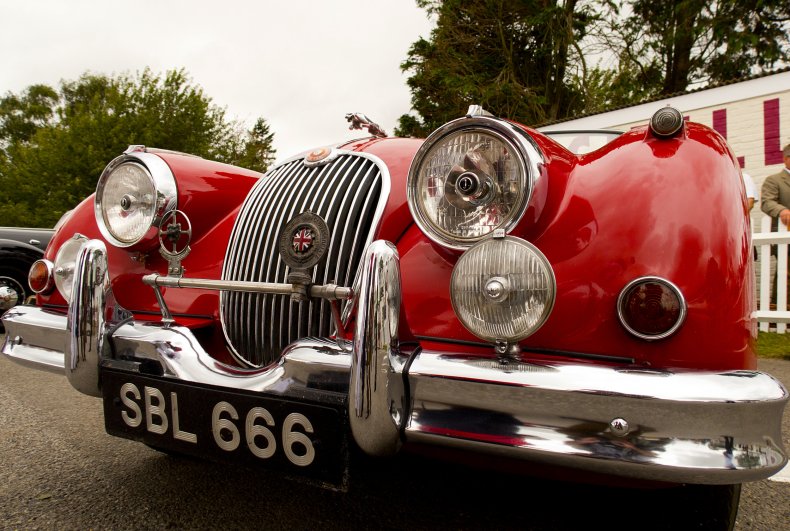 One bidder clearly saw the potential in the car and paid more than $100,000 for the wreck. His investment may well pay off, as if it is restored, the rare car could be worth up to £250,000 ($354,000).
The car was sold at Bonhams MPH Auction in Oxfordshire, England. Rob Hubbard, head of Bonhams MPH, told This is Money that the car "looks worse than it is," and said: "It has all its original leather and the original matching-numbers engine, which needs to be overhauled as it has not started for more than 25 years.
"The steering wheel is broken from the impact of the crash. However, parts are plentiful and relatively easy to obtain."
Bonhams described the car as being, "still in a salvageable condition," and said that it, "offers enormous potential as a rewarding project car."
The car was originally launched with a 210 brake horsepower 3.4-litre straight-six, according to Bonhams, which says that in 1959 Jaguar introduced the more powerful 3.8-litre engine that produced an output of 220 brake horsepower in standard format, and 265 brake horsepower in the S.
In Drophead S configuration, the car had a 0-60 time of 7.3 seconds and a top speed of 133 miles per hour, which Bonhams describes as "incredible statistics even by today's standards."
The Jaguar XK150 was launched in 1957 as the third and final iteration of the XK series, following the XK120 and XK140. It was available as a fixed-head coupe or a drophead coupe, and featured "updated styling and various mechanical improvements, including four-wheel disc brakes."