Rare Look Inside Jean-Michel Basquiat's Private Notebooks at Brooklyn Museum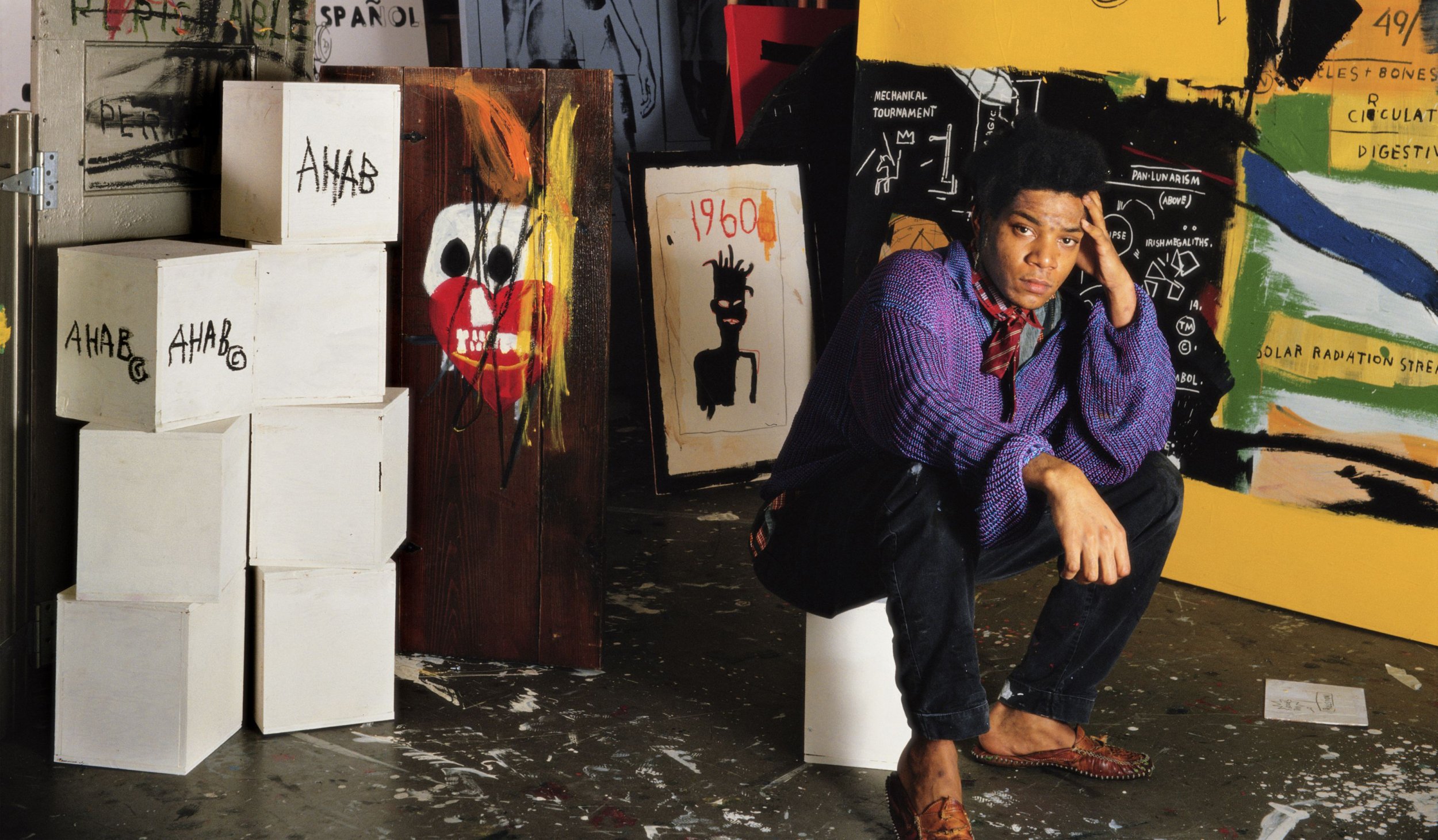 Back when people jotted down friends' phone numbers by hand, Jean-Michel Basquiat scribbled his bandmate's digits in a black-and-white marble Mead composition notebook. The previous pages had phrases and short poems, penned in careful block letters, but his friends' name and numbers appear to have been quickly scribbled in black marker: Holman / 751-0543 / 239-0658.
For most people, such notes-to-self aren't museum-worthy, but these, on view for the first time in Basquiat: The Unknown Notebooks, opening April 3 at the Brooklyn Museum, present a more complete picture of the self-taught artist during his peak years, 1980 to 1987. It was then that he collaborated with Andy Warhol, dated Madonna and became an icon of New York City's contemporary art scene, alongside Keith Haring. Vanity Fair called him "America's first truly important black painter," and art world insiders compared him to Picasso.
From his early years, tagging all over New York City as the graffiti artist SAMO, to his death from a heroin overdose in 1988 at age 27, Basquiat used his notebooks for drawing and poetry, shopping lists and phone directories. Michael Holman, whose numbers Basquiat took down, discovered several of them in a bedroom he moved into after Basquiat moved out.
While visiting the Brooklyn Museum exhibition before its opening, Holman reunited with the notebooks, which he had sold to a curator in the late 1980s. It was amusing for him to see his old phone numbers, though he doesn't remember having them. (It was the '80s, he said, and everyone bounced around from place to place.) "Jean's work is so valuable and so valued that just the note of one of his bandmate's phone numbers has taken on the value of a drawing and being framed in a museum," he says. "I have to laugh at that."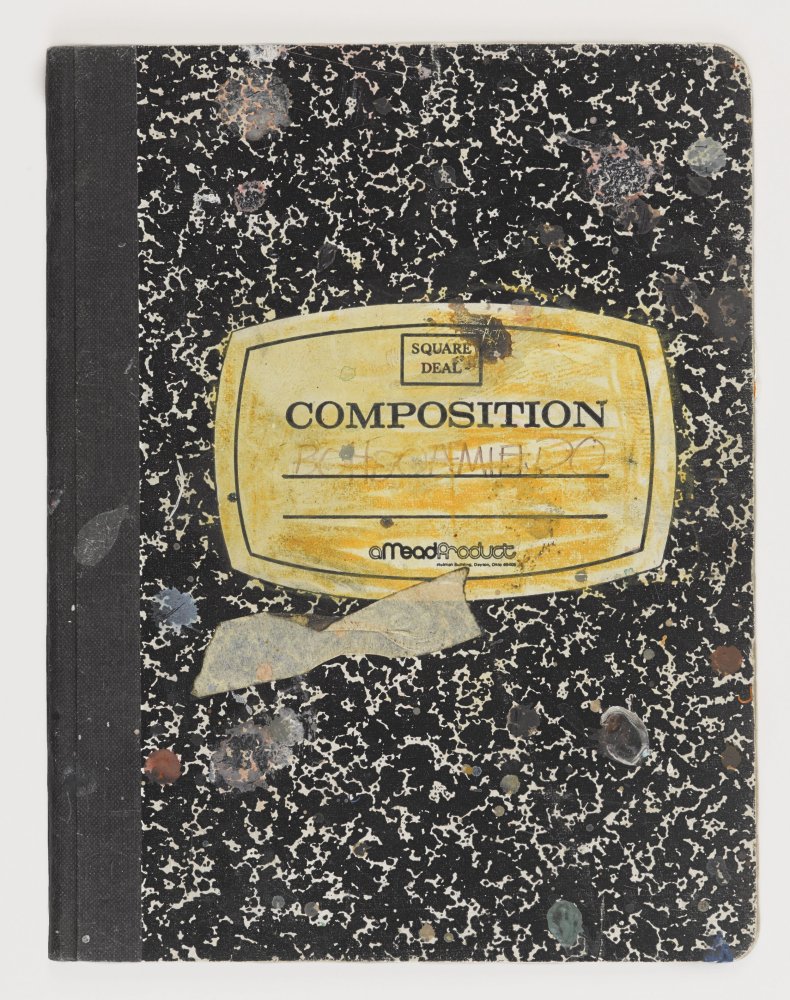 Fortunately for curators, Basquiat typically wrote on only one side of each page, making the notebook sheets easier to display. Collector Larry Warsh and the artist's father, Gerard Basquiat, worked with an archivist to remove the pages from their bindings in the early 1990s. Warsh describes Basquiat's notebooks as "the foundation that led to the creation of his art." He says when he first saw them, it was like stumbling upon the Gutenberg Bible or Leonardo da Vinci'sCodex Arundel. He's kept them largely unseen until now.
"This is much more than just some sketches and some regular artistic notebook pages," says guest curator Dieter Buchhart. Other artists tend to use notebooks to plan out future pieces, but with Basquiat, Buchhart says, "the way he treats each page is very special…. He creates on each page an artwork."
The exhibition features 160 pages from eight notebooks, as well as 30 paintings and mixed-media works by Basquiat and films about him. The pages appear in the order in which they were "created" and provide insight into the artist's state of mind in his most prolific—albeit troubled—years. One page shows a shopping list written in ink: Duracell batteries, pens, pads, tapes. Many have scribbles, stains, smudges and even shoe prints.
The Brooklyn Museum, which hosted a Basquiat retrospective in 2005, is a fitting spot for the artist; he grew up nearby and was a junior member of the museum. His membership card is on display in the exhibition. "The Brooklyn Museum was really his neighborhood museum," says co-curator Tricia Laughlin Bloom.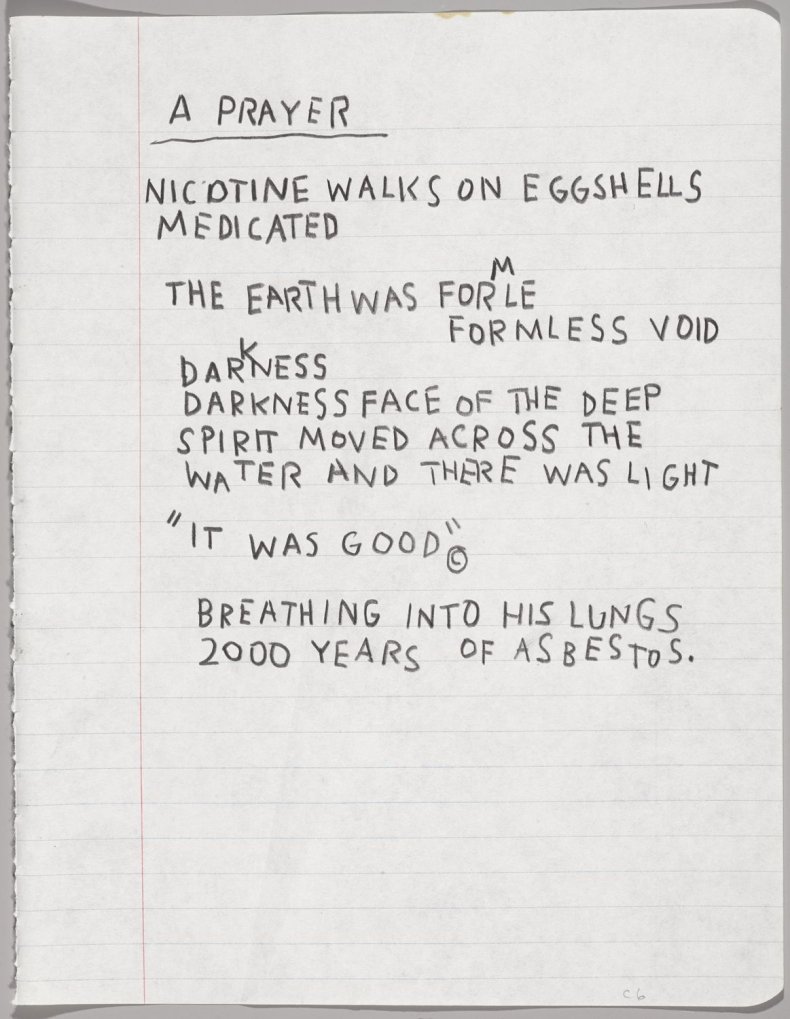 Holman remembers the day he and Basquiat first met and decided to start a band, which they would later call Gray: April 29, 1979. They were at a Canal Zone party Holman was hosting and Basquiat was starting to get noticed for his graffiti. Even then, Holman found Basquiat's energy infectious. "He was a realized being, kind of like a Dalai Lama. He had this presence of something superhuman, ultra-human, above human," Holman says. "Around him, you were in this university, you were part of the school. You were just soaking up his aesthetics, his vision, his power, his energy."
In late 1981, after Basquiat had left Gray, Holman moved into the artist's former bedroom in an East Village apartment on East 1st Street between First and Second Avenues. It was an odd room, fitting for its former famous tenant, with faux stalactites protruding sideways from the wall. Holman, himself an artist, found the notebooks in a side table drawer next to the bed and held on to them, occasionally filling a blank page with his own creations.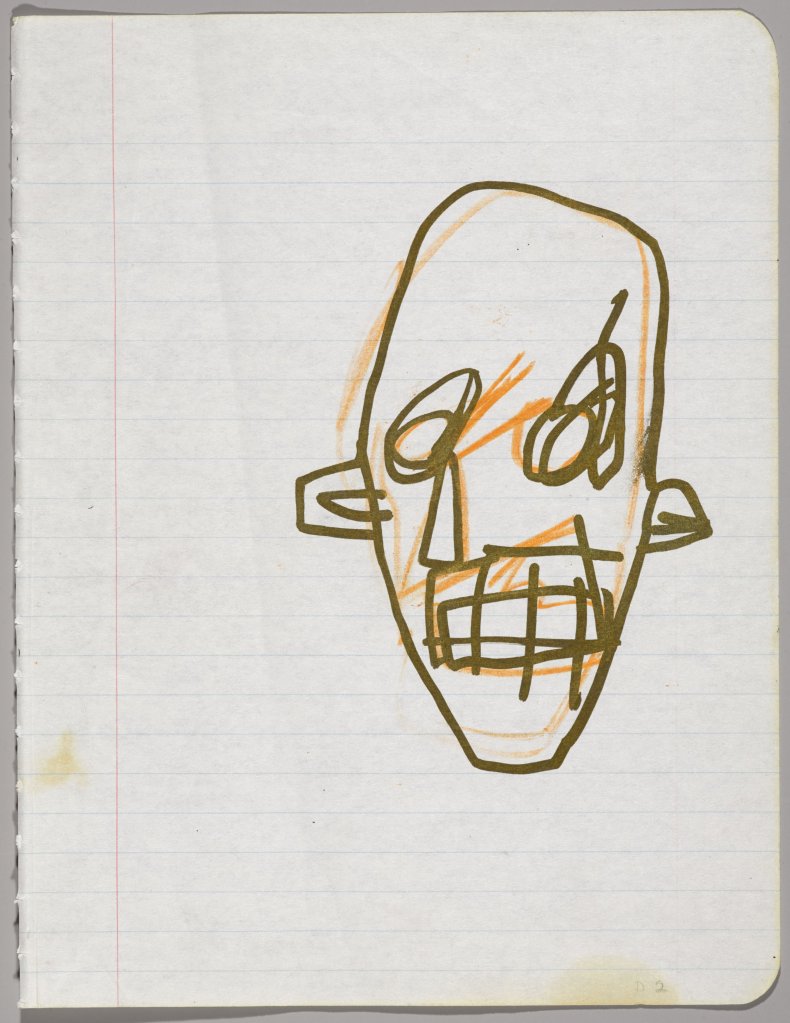 Holman recalls that the night Basquiat quit Gray, the band played at the TriBeCa haunt Mudd Club. Holman spent all afternoon building a dome-like stage set with scaffolding, lumber and garbage, but their performance lasted only 12 minutes. Backstage, he says, a fan approached them and asked, "Do you realize your set was only 12 minutes long?" Basquiat responded: "Brevity's the point."
For a career that was all too brief, the notebooks give Basquiat fans and followers something more. The exhibition is on view until August and a book featuring the notebooks is due to come out in June from Princeton University Press.