Rare Orange Lobster Saved From Being Cooked At Restaurant
An incredibly rare bright orange lobster has been saved from being cooked at a restaurant in Florida.
The lobster—now named Cheddar—was found by a culinary team at a Red Lobster restaurant in Florida.
Live lobsters are usually dark in color, with hints of brown and red. However, Cheddar is a bright orange color. Lobsters usually only turn this color when they are cooked to be prepared as food, however Cheddar was very much alive.
Cheddar, originally destined for the plate, was saved by employees who instantly noticed the lobster's bright color, a press release from the restaurant said.
Employees called Ripley's Aquarium of Myrtle Beach to see if they would take in the incredibly rare creature. The aquarium came to collect the lobster, and named it after the restaurant's Cheddar Bay Biscuits, it said in the release.
The restaurant described the crustacean as a "one in 30 million" lobster. Bright orange lobsters such as this are extremely rare. The color is not usual for the species, as it makes them noticeable to predators in the wild.
Dr. Charlotte E. Davies, fisheries research officer at the European Maritime and Fisheries Fund and marine ecosystem expert, told Newsweek that while it is difficult to determine without examining the lobster itself, "there are various theories" on why some appear with different color variations.
"The main theories would be a genetic mutation, causing a missing or added protein in the shell. Lobster coloration is determined by proteins in the lobster carapace, or shell. Two of these proteins are astaxanthin, which when isolated, is orange/red, and crustacyanin, a complex which is blue," Davies said. "The reaction of these complexes gives lobsters their 'natural' darkish blue color. However, when a lobster is cooked (or when most crustaceans are cooked, for that matter), it would take on a red/orange color, no matter what its original color. This is because the heating process frees up the proteins back to their original state. My best guess here is that this particular lobster is missing one of these important proteins due to a genetic mutation, giving it a 'cooked' look."
Davies added that lobsters can also change color naturally from their diet, or "as an adaptation to where they live, in order to hide them from predators or prey."
"However, these color differences wouldn't be so dramatic," Davies said.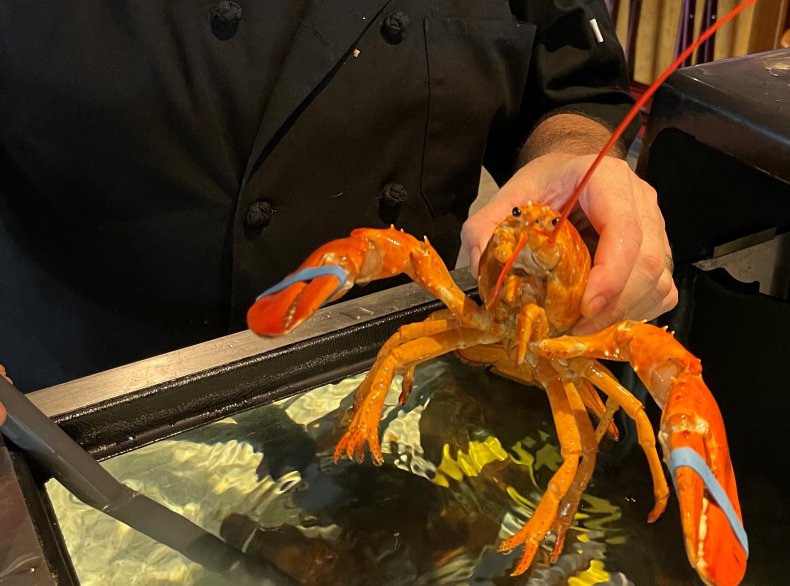 "Sometimes ordinary miracles happen, and Cheddar is one of them," said restaurant manager Mario Roque in a press release. "A group of incredible people helped us make this possible. We are so honored to have been able to save Cheddar and find her a good home."
It is not the first time such a discovery has been made.
Last year, Ripley's Aquarium of Canada rescued a bright orange lobster from a grocery store. The lobster was discovered by store visitors, who had noticed the unusual looking creature in the store tank. The Aquarium was called to take the lobster, who was affectionately named Pinchy.
American lobsters live across the northwest Atlantic Ocean.
They are most commonly found in the waters off Maine and Cape Hatteras, North Carolina.
In 2020, more than 96 million pounds of lobsters were caught in Maine, according to Maine Department of Marine Resources data.
"We are incredibly proud of Mario and the team for recognizing what a special and rare creature Cheddar is and for working relentlessly to find someone to rescue her," Nicole Bott, Senior Director of Communications at Red Lobster said in a press release. "It is an honor to be able to share the story of Cheddar and provide her a new home where she can be enjoyed by many for years to come, all from the safety of her tank."