Rare Sumatran Tiger Killed by Villagers Who Thought It Was a Shape-Shifting Spirit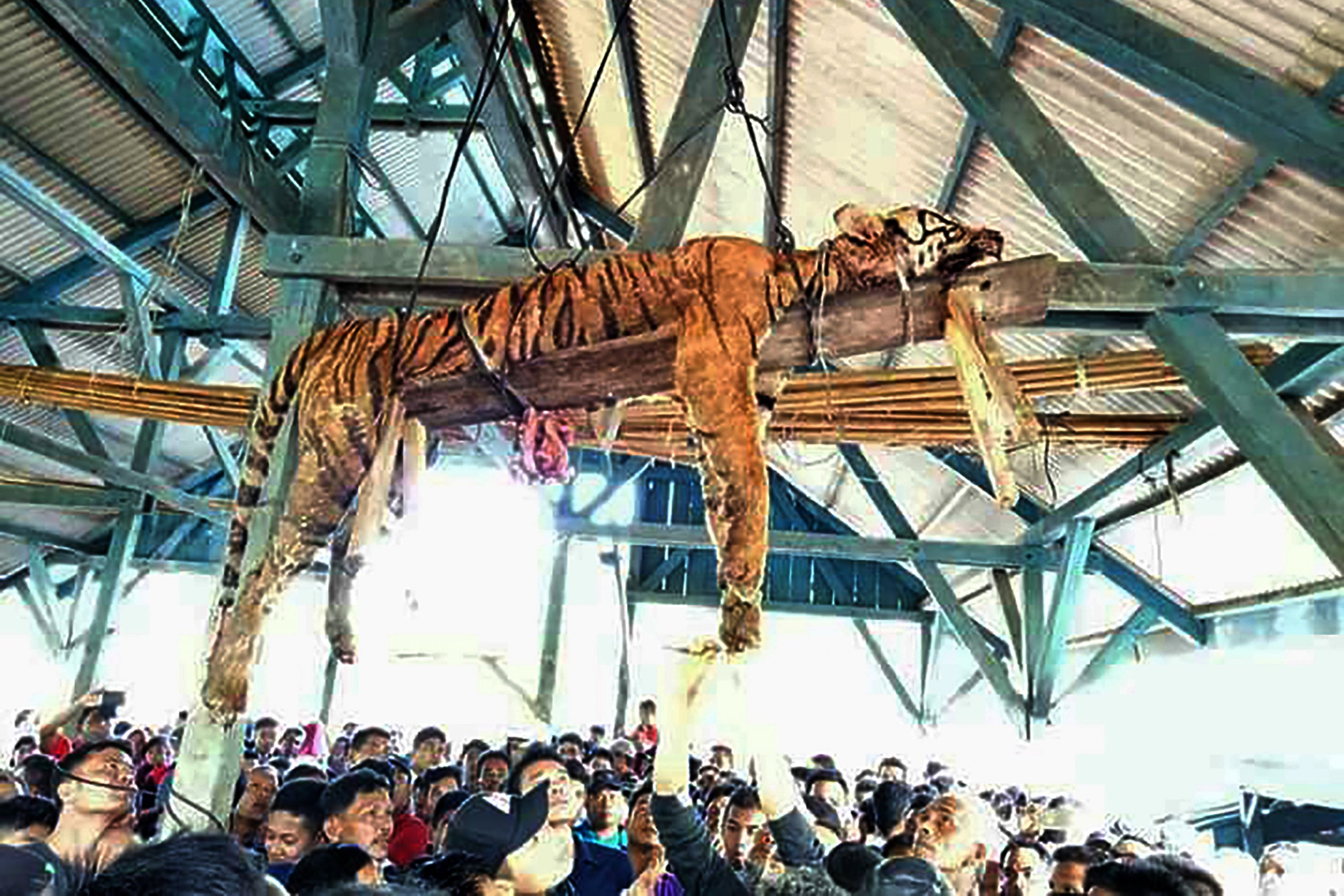 Conservation authorities in Indonesia have said that villagers in northern Sumatra killed a rare tiger on March 4 after believing the animal to be a shape-shifting spirit. Authorities had made the residents aware of the tiger's endangered status after clashes between the animal and villagers.
One local official told the Jakarta Post that the endangered creature had been asleep under a house when locals killed it with a spear. Images showed the animal's carcass was later hung from the ceiling of a public hall in the northern Sumatran village of Hatupangan.
Superstition may not have been the only factor in the tiger's death, with conservationists alleging that the tiger had several body parts missing that are known to be sold on the black market for traditional medicines.
Hotmauli Sianturi of the Natural Resources Conservation Agency told Reuters that the villagers had not approved of "our way of handling the situation" after they said that the animal was endangered, adding, "We will prove that its body parts are being traded."
Related: A dog-eating Siberian tiger is on the prowl and authorities can't find it
According to the IUCN Red List, the Sumatran tiger is critically endangered—a label it has kept for two decades. As well as poaching, the IUCN says that a loss of habitat due to expansive new plantations is a major threat to the several hundred extant animals.
This recent killing has come as a number of endangered animals have died due to conflicts with locals in the region. The executive director of the Scorpion Foundation, which tracks the illegal wildlife trade in Indonesia, told the Jakarta Post that the killing had been barbaric and called for authorities to quickly handle the case.
Anyone found to have been hunting Sumatran tigers could face jail time and hefty fines in Indonesia, according to the World Wildlife Fund. Although law enforcement has grown more active against poaching, the black market for tiger products remains.