Rare Tornado Strikes Port Orchard Neighborhoods West of Seattle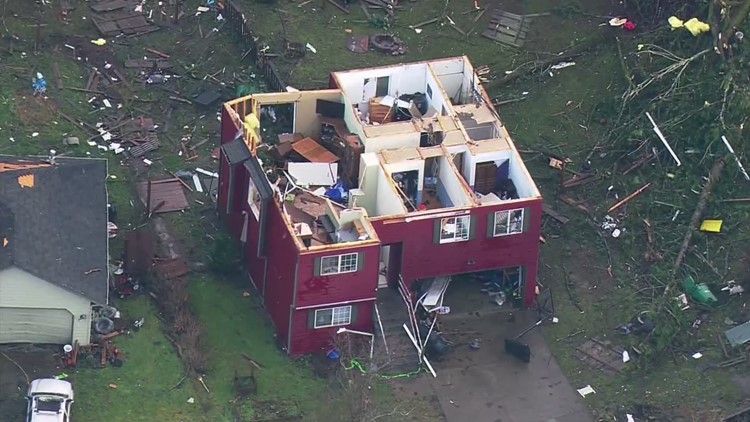 A rare Northwest tornado tore off roofs, uprooted huge trees, three debris and tossed around power lines as if they were match sticks in Port Orchard, Washington at 2 p.m. Tuesday afternoon.
Witnesses reported seeing injured people, but no official injury reports have been filed yet, reported KOMO News in Seattle.
Possibly the only recorded tornado to touch down in Kitsap County since April 9, 1991, the destructive tornado on Tuesday seemed to catch residents off-guard in Port Orchard, located on the Kitsap Penninsula 1½ hours and 45 miles west of Seattle and across Puget Sound.
"There were a lot people freaking out ... I was one of them," said Emily Silverman, a local resident. "It was just crazy. I've never seen anything like this in my life."
The Kitsap County Sheriff's Department reported "catastrophic" damage and urged drivers to stay away from the area.
Driving with her husband and 2-year-old son, Silverman told KOMO News a driving rain turned into flying debris.
"Our car back windows blew out, our side windows blew out," she said. "Things hit us. There were a few people who had some head injuries from being hit by things. There was an accident. It was crazy. There were things flying everywhere. I thought I was a goner."
Her toddler, riding in the back seat, barely escaped injury.
"So glad he's OK because the whole back window just busted in," Silverman said. "If it kept going and didn't leave as fast as it did, he could have been hurt really bad."
K5 News reported that most of the damage took place in Port Orchard neighborhoods and south of the Walmart on the 3400 block of Bethel Road Southeast, according to the Kitsap County Sheriff's Office. Active power lines are down in the same neighborhoods and gas companies are checking supply lines.
"It's devastating," Mary Hicks of Port Orchard told KING 5 News. "I've lived here all my life, and I've never experienced the devastation that a tornado can do."
The National Weather Service said officials will further assess damages Wednesday.
The last tornado in Kitsap County destroyed 18 homes. Golf-ball size hail preceded the winds and at least 52 trees were blown down in the area, according to Tornado Project, which maintains data on tornados in each state, including the worst tornadoes recorded.
Prior to the 1991 tornado in Kitsap County, Tornado Project records a tornado 19 years earlier, on April 5, 1972. The tornado traveled north from Oregon into Vancouver, Washington, where it killed six and injured 304 after striking a school and a shopping center.