Rare Two-Headed Calf Born at Farm Stuns Internet
A video of an extremely rare two-headed calf has stunned the internet after it was shared on social media.
The viral TikTok video, uploaded by Trey DeHaan under the username treydehaan, showed the calf lying on the floor shortly after it had been birthed.
In the video, which can be watched here, a man can be seen holding up the calf's head to show that it had two mouths and four eyes due to having been born with a skull deformation.
DeHaan later revealed the calf had been given the name Ted and that he was born during calving season at DeHaan Farms.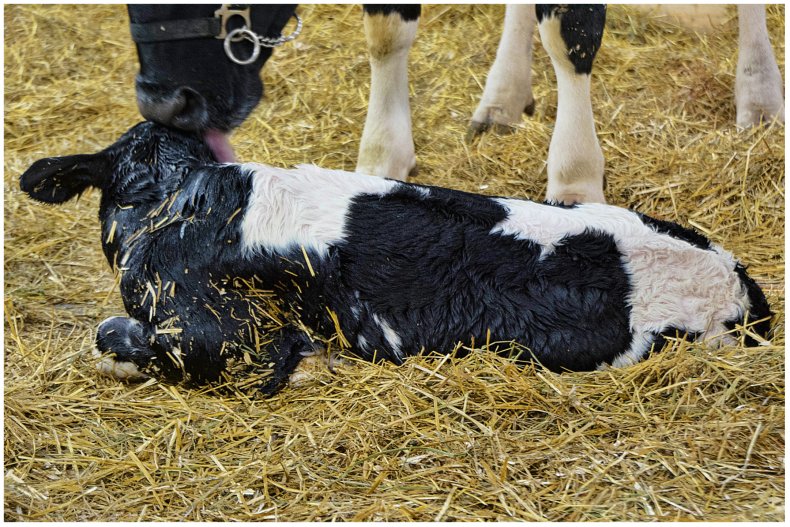 Ted appeared to have been born with Diprosopus, an extremely-rare malformation of the head, which affects animals and humans.
Bionity.com, a biotechnology information website, said: "Few two-faced animals have survived due to associated internal organ abnormalities and brain abnormalities. The most famous was Ditto the pig.
"Ditto was raised to adulthood, but died of pneumonia caused by food inhalation when breathing through one muzzle while eating with the other. In July 2006, a 6-year-old two-faced cat called Frank and Louie from Millbury, USA received publicity."
Since being shared on Monday, January 31, the clip has been viewed more than 10 million times and has been liked on some 1.2 million occasions.
Many TikTok users shared positive comments about Ted, while others said his condition made them sad.
TikTok user Casey said: "And as he stares into the sky, there are twice as many stars as usual."
DeliriousHag simply added: "He's beautiful."
TessGodMotocross posted: "I hope they make it and also I'm so sad poor things."
Shayanne Medley-Still commented: "Our museum has a stuffed one that lived for only a few days. You can also buy a plush version of it in their gift shop."
In an update video, DeHaan later revealed Ted had died just a few hours after the video was recorded.
DeHaan said: "He made it about 25 hours and we just decided it was time, we didn't know if he was suffering or how he was doing. Never dealt with this before, so we ended up euthanizing him."
Ted's brother, who was born before him, is doing fine as is his mother, DeHaan further explained.
DeHaan said that Ted will be stuffed and he is debating as to whether to keep it, although he said offers of payment for him would be considered.
Newsweek has contacted DeHaan for comment.