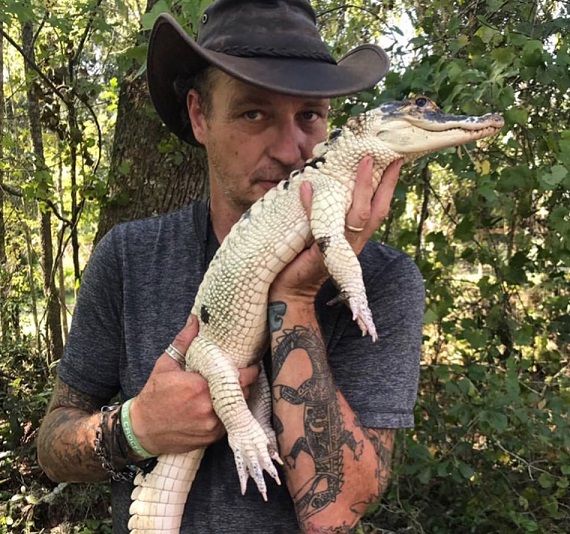 Police in Florida have launched an investigation after a rare white alligator is believed to have been stolen following a suspected arson attack which killed 43 other reptiles.
The Sumter County Sheriff's Office were called to a fire at a sanctuary in Bushnell run by Swamp Brothers reality TV show stars, Stephen and Robbie Keszey, on June 22.
During a subsequent search of the burned building, officials found that a Leucistic alligator named Snowball was missing and believed stolen. All of the other 43 animals held inside the facility, including alligators and crocodiles, died due to the fire.
Police believe whoever took the rare Leucistic alligator may have set fire to the building in an attempt to cover their tracks.
"The State Fire Marshal's Office was contacted and is investigating the cause of the fire which at this time appears to be arson," the Sumter County Sheriff's Office said in a statement.
"Based on items observed at the scene, it appears that the building was burglarized first and then set on fire after the theft of the rare alligator."
"I tried to grab the door and it was so hot, I singed my hand. I let go and the flames were shooting out of the metal on the side," Robbie Keszey, owner of the facility, told WOFL. "All I could think was, 'Oh my god, all my animals!'"
The brothers, best known for their show which aired on the Discovery Channel between 2011 and 2012, shared the appeal from the Sumter County Sheriff's Office in order to assist with the investigation.
According to the Central Florida theme park Gatorland, there are only 12 Leucistic alligators known to exist in the world today.
If anyone has information about this case, or contact is made with this animal or one of similar markings, contact Sumter County Sheriff's Detective Chris Merritt at 352-793-2621 or Crimeline at 1-800-423-TIPS (8477).