Rare White Lion, Mufasa, At Risk of Being Killed After Auction May Be Saved By 'Mystery Donor'
Mufasa, a rare white lion facing almost certain death, may have found a savior in the form of a mystery donor.
After being confiscated from a private owner as a cub, Mufasa, now three years old, was sent to live at the Rustenburg Wildlife Rehabilitation Center in Rustenburg, South Africa. After Mufasa came to live at the rehab center, another lion cub named Suraya arrived and the two have since formed an inseparable bond, according to the sanctuary's lawyer Carel Zietsman.
Less than 300 white lions exist in the world, 13 of which live in the wild, so the Rustenburg Wildlife Rehabilitation Center wanted him to live out the rest of his days at a sanctuary. In a petition, Zeitsman explained that the Sanwild sanctuary offered to care for both Mufasa and Suraya free of charge.
However, the petition alleged that nature conservation officials denied permission for Mufasa to go to a sanctuary and instead said he would be auctioned off to raise funds for the Department of Rural Environmental and Agricultural. Zeitsman started the petition because, at an auction, Mufasa would be worth more dead than alive.
"Mufasa has had a vasectomy and is no longer able to breed and is therefore of no interest to a breeder," the petition explained. "The only commercial value he has is to be hunted in a put and chase hunt, otherwise known as a canned hunt."
A canned hunt is a trophy hunt, during which an animal is kept in a confined area, usually on private land and hunted. Placing the animal in a confined area ensures that it can't escape and limits its ability to fight back, thereby making the hunt easier.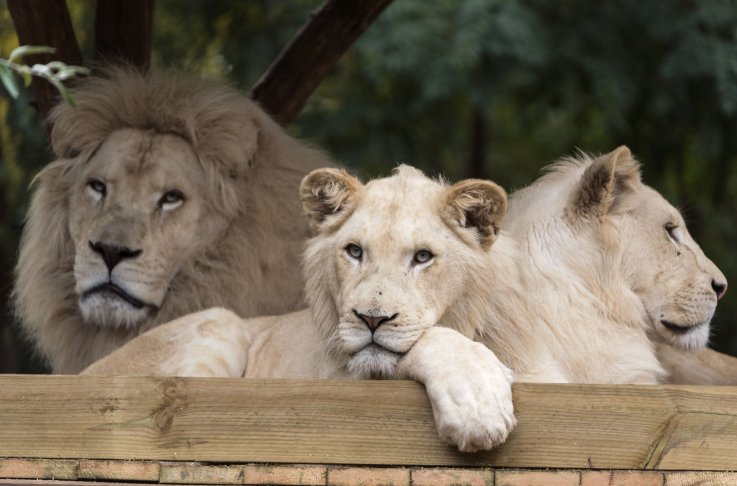 Mufasa's future seemed bleak since his lawyers faced an uphill legal battle, but Zeitsman told ABC News on Tuesday that both Mufasa and Suraya may have found a savior in the form of a mystery donor.
"I cannot give you too much detail at this stage as the negotiations are in a sensitive stage but we're hopeful that we'll be able to buy Mufasa and Suraya and relocate them somewhere safe," Zietsman explained to ABC News.
While Mufasa is the one facing auction, Zeitsman said in the event of his death, Suraya could be at risk, too. When the rehab center first received Suraya, she wasn't eating and he feared that if Mufasa was taken away, Suraya would stop eating again and starve to death.
"Our concern is for both of these lions and we're doing everything in our power to keep them together," Zeitsman said.
White lions are the result of a genetic mutation called leucistic, according to Animal Planet. Leucistic is a condition that causes lions to have normal pigment in their eyes and paw pads but a lack of pigment in their hair, making them appear nearly white, blond or even reddish. Unfortunately, Animal Planet explained that having white hair makes them less effective hunters and more vulnerable to poachers, so they rarely survive in the wild.
More than 280,000 people signed Zeitsman's petition and Mufasa's case garnered international attention, including from comedian Ricky Gervais.
"Shame on the pathetic sadist who pays the money to shoot this animal, and shame on the sniveling coward who accepts the money too," Gervais tweeted in October. "Both worthless."
Zeitsman credited the public outcry for helping to save the lion's life and told NBC News that without social media, "Mufasa's head would have been on somebody's wall already."
Rare White Lion, Mufasa, At Risk of Being Killed After Auction May Be Saved By 'Mystery Donor' | U.S.