Extremely Rare White Newborn Orca 'Frosty' Filmed off California: 'Once in a Lifetime'
An extremely rare white orca calf has been filmed off the coast of California, with one couple on board the whale-watching trip describing the experience as "once in a lifetime."
The orca is believed to be a newborn and it was seen swimming alongside its mother in a pod of seven animals, which are also known as killer whales.
Jim and Laura Millen, a couple from Florida, were on board the San Diego Whale Watch trip when they spotted the orcas close to the boat. In a message to Newsweek, Laura Millen said the chance encounter felt like an answer to their prayers after a family tragedy.
Normally, the whale-watching tour only goes nine miles out to sea but on this day, the captain decided to go a little further—heading 14 miles off shore.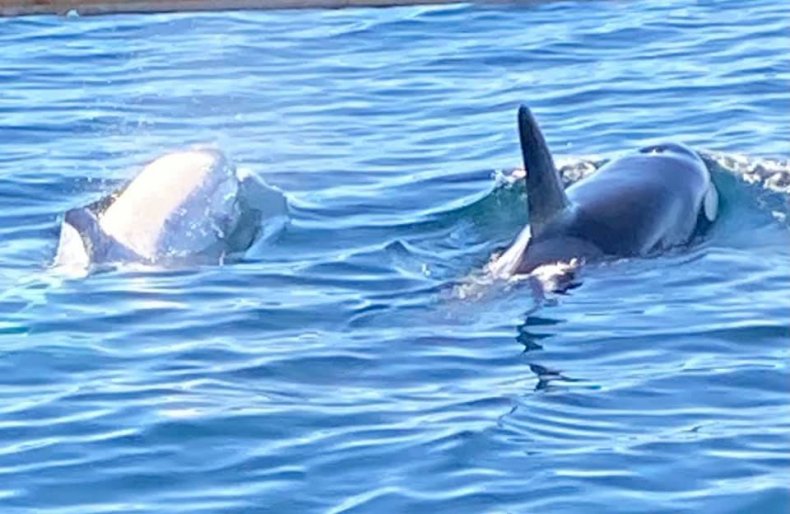 "The experience was like no other," she said. "Once we saw the pod we were all speechless. The experience was a once in a lifetime experience. It was absolutely beautiful! ... I saw the co-captain crying, I was right next to her, and the captain [was] shocked. I knew this was a once in a lifetime experience. So I started feeling in awe and speechless."
In a blog post about the trip, San Diego Whale Watch said the company had not seen this pod of orcas, known as CA216S, for three years. It said the pod surfaced "right near the boat" and that the albino newborn had been dubbed "Frosty" as it lacked the dark pigmentation that would normally produce the regular black and white skin tone. "A special day on the water for all who were lucky enough to experience the magical sight that left everyone speechless," it said.
The pod was also filmed by Gone Whale Watching San Diego, which said in a Facebook post that the calf was "extremely playful."
"Frosty belongs to the CA 216 pod," the company told Newsweek. "The CA 216s are Bigg's or Transient Killer Whales that range from British Columbia to Northern Baja. These are mammal-eating killer whales. They spend most of their time off the extended California coastline. Where they're spotted next is a mystery as they just roam the ocean and do not follow any set or known migration patterns."
White orca are extremely rare, with very few cases recorded. The cause behind their coloration is unclear, but it is thought to be the result of leucism, which is characterized by the loss of pigmentation causing a white or pale coloration.
Another young white orca from a different pod was filmed by researchers working off the coast of Alaska in 2020. In an Instagram post, marine biologist Stephanie Hayes said this animal, named Tl'uk, was two years old and appeared to be a healthy member of the pod T046. She said there are only around five live white orcas in the world.
Earlier this year, two white orcas were spotted off the coast of Japan during a whale watching expedition. In a Facebook post, Gojiraiwa Kanko Whale Watching shared images of the pair saying it was their first ever observation of white orcas.
Laura Millen said the tour guides knew the white orca was a baby as it was swimming "right up against the momma."
"They were so graceful and were swimming right around the boat," she said. "When they went under the co-captain said she was going to wait seven minutes for them to come back up. That's when they were swimming in a row. It was like they wanted us to watch them swim together."