Rarest Gorilla Subspecies Appears on Camera With Group of Babies for First Time
With only 300 or fewer individuals spread across more than 4,600 square miles of mountainous forest along the border between Nigeria and Cameroon, the Cross River gorillas are the most endangered gorilla subspecies. New photos provide hope, though, that the elusive gorilla population may be recovering, capturing for the first time a troop with multiple infants.
Taken by camera traps in May and June in Nigeria's Mbe Mountains and released on Wednesday by the Wildlife Conservation Society headquartered at the Bronx Zoo in New York, the images capture several young Cross River gorillas in a group with adults, including an infant clinging to an adult's back.
First described in 1904, the Cross River gorilla population was believed extinct until the 1980s and have only been photographed a handful of times since. Cross River gorillas continue to shy away from humans, sticking to rugged and hard-to-reach regions of the transborder mountain range. A photo taken by a camera trap in Cameroon's Kagwene Gorilla Sanctuary in 2012 helps to explain why—it features a member of a Cross River gorilla troop with a missing hand, which the WCS attributed to a likely snare injury.
But after decades of poaching, it now looks as if the Cross River gorillas are maintaining a breeding population. Several more images were taken by camera traps in 2013, including a photo of a mother carrying a single infant.
These latest photos are the most encouraging yet, showing multiple gorilla children in a single troop.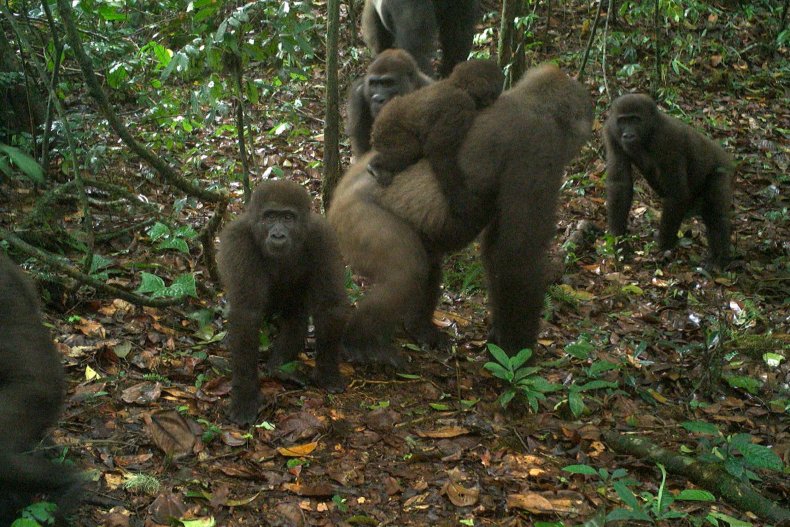 "It is extremely exciting to see so many young Cross River gorillas—an encouraging indication that these gorillas are now well protected and reproducing successfully, after previous decades of hunting," Inaoyom Imong, Director of the Wildlife Conservation Society's Cross River Gorilla Landscape Project, said in a WCS press release shared on Wednesday. "While hunters in the region may no longer target gorillas, the threat of hunting remains, and we need to continue to improve the effectiveness of our protection efforts."
Gorillas are divided into two species, the eastern gorilla Gorilla beringei and the western gorilla Gorilla gorilla, which are subsequently divided into geographically isolated subspecies. The Cross River gorillas, a western gorilla subspecies, full name Gorilla gorilla diehli, are even more rare than the mountain gorillas—an eastern gorilla subspecies.
The newly photographed gorillas come from a population of approximately 100 individuals living in three connected zones across Nigeria's Cross River National Park, Afi Mountain Wildlife Sanctuary and the Mbe Mountains community forest, which has been managed jointly as a wildlife sanctuary by the WCS and the Conservation Association of the Mbe Mountains since 2005.
Protections for the Cross River gorilla population in the sanctuary include daily patrols by 16 eco-guards hired from the local community, which has been key to conservation efforts. When the Cross River gorilla population was rediscovered, the village of Kanyang adopted a voluntary hunting ban in 1987, in the hopes of drawing ecotourism to the region. No Cross River gorilla has been reported killed in Nigeria since 2012. Now, with their efforts bearing fruit, the Wildlife Conservation Society shared the photos with local chiefs and village leaders.
"I am very happy to see these wonderful pictures of Cross River gorillas with many babies in our forest," Kanyang I Village Head Chief Otu Gabriel Ocha said. "This shows that our conservation efforts in partnership with WCS are yielding fruits. I hope that we can continue these efforts so that we can pass the heritage to future generations."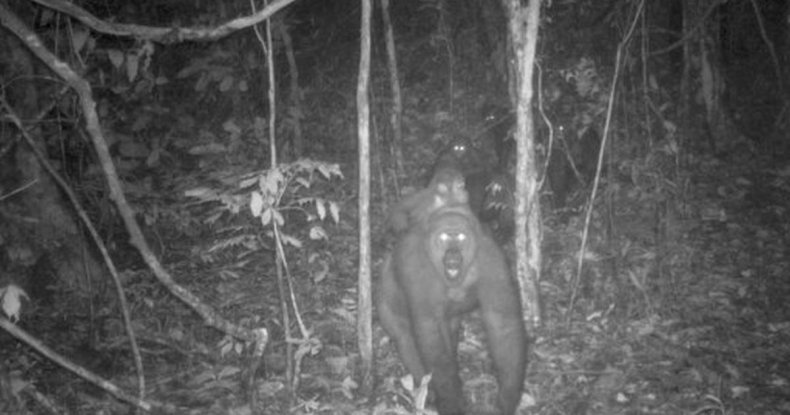 "Seeing this today rekindles my hope that our communities will benefit from ecotourism in the future," Abo Clan Head Otu Bernard A. Eban told the WCS. "We will further strengthen our local laws to protect Cross River gorillas in the Mbe Mountains. I wish to take this opportunity to appeal to our partners to support us more to find sustainable economic alternatives to bushmeat hunting and other activities that destroy our forest."
Since 2017, separatists attempting to establish the breakaway nation of Ambazonia have led to guerrilla warfare in Cameroon, complicating Cross River gorilla conservation efforts in the national park, sanctuaries and forest reserves across the border. It should be noted, though, that in its press release, WCS described efforts to "secure and reestablish field conservation programs" with local community partners.
The new photographs may bolster those efforts, by demonstrating the efficacy of the Cross River gorilla action plan implemented in 2007.
"It is wonderful to see images of gorillas from the Mbe Mountains that show so many young animals, indicating that the population there is in good health," the action plan's author, Professor John Oates, said in the WCS release. "Back in the early 1970s it was widely thought that gorillas were extinct in Nigeria, but work subsequently initiated by the Cross River State Government, and later supported and expanded by WCS and local communities, has clearly held the line and given hope for the long-term survival of these primates."