Rashida Tlaib Accuses Trump Administration of Ignoring Homegrown White Nationalist Terrorism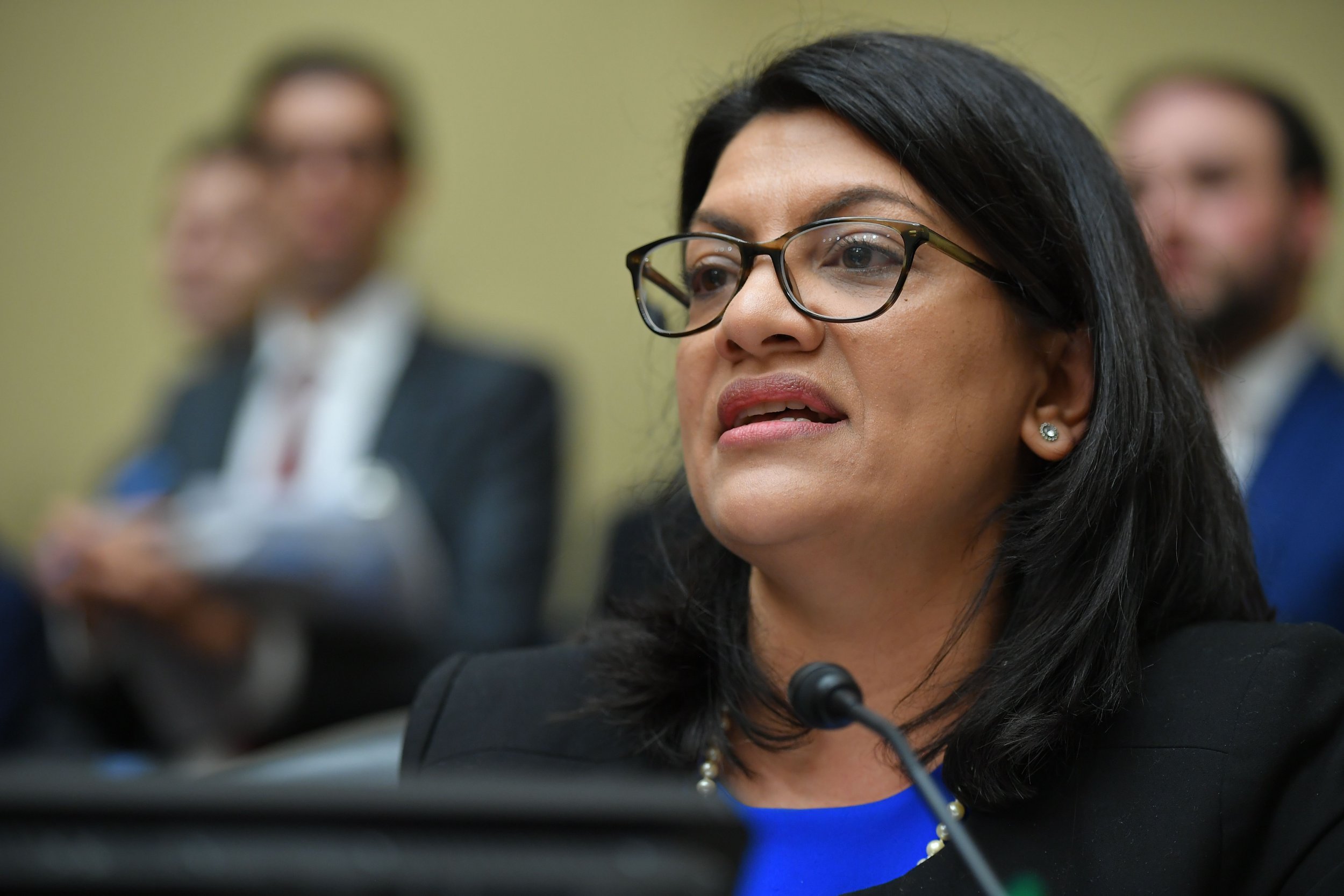 Democratic Representative Rashida Tlaib hit out at the Trump administration for failing to adequately address "homegrown terrorism within white nationalist groups" in the wake of Saturday's attack at a synagogue in the San Diego area.
"They'll probably put them on tethers and blame it on the lack of mental health funding (which is real!)," Tlaib said in a Twitter statement of the shooting at Chabad of Poway, which took place on the last day of Passover and saw one person killed.
"However, homegrown terrorism [within] white nationalist groups is growing as this Administration continues to ignore it," said Tlaib, before calling on presidential candidates hoping to run against Trump in the 2020 election to "deliver a clear plan" to address white nationalist homegrown terrorism.
The alleged shooter behind Saturday's attack, identified as John Earnest, age 19, opened fire on members of the synagogue with a rifle on Saturday morning, striking Lori Gilbert-Kaye, 60, who died later in a hospital, and injuring three others, including an 8-year-old girl.
Officials called the shooting a hate crime and have been investigating a manifesto believed to have been written by Earnest detailing how he had been inspired by the recent mosque shootings in Christchurch, New Zealand, as well as the Tree of Life synagogue shooting in Pittsburgh.
Investigators are also looking into whether Earnest posted a letter to the 8Chan message board, an online site known for attracting white supremacists, claiming responsibility for setting a fire at the Islamic Center of Escondido on March 24.
On Saturday, Trump condemned the shooting, telling supporters at a rally that "the entire nation mourns the loss of life, prays for the wounded and stands in solidarity with the Jewish community."
"We forcefully condemn the evil of anti-Semitism and hate, which must be defeated," he said.
However, the president has faced scrutiny over his apparent failure to condemn white nationalism outright in response to not only Saturday's tragedy and last month's shootings that left 50 Muslim worshippers in Christchurch, New Zealand, dead.
After the Christchurch shootings, which took place at two mosques, Trump said that he did not believe white nationalism was a growing threat in the world.
"I think it's a small group of people that have very, very serious problems, I guess," the president told reporters in March.
During a CNN interview with Jake Tapper on Sunday, however, the president's counselor, Kellyanne Conway, sought to distance the president from that quote after being confronted with it following the Christchurch attack, saying of Trump: "He does think it's a threat. There is no question it's a threat."
Asserting that Trump had already "condemned white nationalism and neo-Nazis and the KKK" after the deadly Charlottesville incident in August 2017, which saw counterprotester Heather Heyer, killed, Conway said the president's stance on white nationalism had been "twisted around for almost two years for people's political perversions."
"Of course he thinks it's a threat," Conway said of Trump's position on white nationalism.
"Well, he said he didn't," Tapper countered.
Conway then appeared to suggest that Trump had meant white nationalism was not a "growing threat...but it is a threat."
"It's horrible wherever it is, and it should be driven out," she said.
While Conway appeared to stop short of acknowledging the rise of white nationalist violence in the U.S. in recent years, the Anti-Defamation League's Center on Extremism previously reported that 71 percent of extremist-related fatalities in the United States between 2008 and 2017 were carried out by members of the far-right or by members of white supremacist groups, while Islamic extremists, by comparison, were linked to 26 percent.
Meanwhile, in 2017 alone, the group said white supremacists were "directly responsible" for 18 out of 34 U.S. extremist-related deaths, while Islamic extremists were tied to nine deaths in the country.