Florida Commissioner Targets Rashida Tlaib in Anti-Muslim Rant About Blowing Up Capitol Hill
Hallandale Beach Commissioner Anabelle Lima-Taub accused Democratic Representative Rashida Tlaib of Michigan of plotting to "blow up Capitol Hill" in an anti-Muslim Facebook rant.
Fellow commissioners immediately condemned Lima-Taub's Facebook post from last Tuesday in which she launched bigoted accusations against the Palestinian-American politician who gained notoriety for saying she'd help Democrats "impeach the motherf***er," President Donald Trump, soon after being sworn in. The South Florida Sun-Sentinel first reported a petition Lima-Taub posted on her Facebook page calling for Tlaib to be removed from office.
"Proudly signed," Lima-Taub wrote alongside the Facebook petition to remove one of two Muslim women ever to serve in Congress. "A Hamas-loving anti-Semite has NO place in government! She is a danger and [I] would not put it past her to become a martyr and blow up Capitol Hill."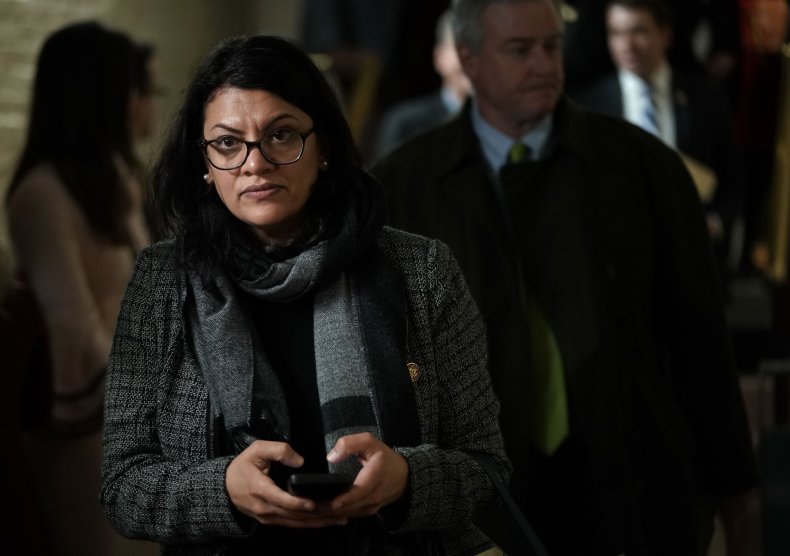 The Broward County, Florida commissioner has not responded to the backlash over her comments and the three other commissioners who blasted her anti-Muslim comments have not called for her to make an official apology. Federal authorities did not confirm to the Sun-Sentinel whether the threat to Capitol Hill was reported to law enforcement. Several Muslim advocacy groups have called on Lima-Taub, who is Jewish, to apologize or step down.
"Commissioner Lima-Taub's behavior is indefensible and a black eye for Hallandale Beach," Commissioner Michele Lazarow said in a statement to the Sun-Sentinel. "To say [the Congresswoman] could blow up Capitol Hill is really inappropriate," Hallandale Beach Vice Mayor Sabrina Javellana said Monday. "Congressman Steve King from Iowa has openly embraced white supremacy and I don't see anyone condemning him. Maybe she's being targeted because she's a woman and because she's a Muslim."
A Palestinian activist named Abbas Hamideh infuriated right-wing news outlets this week after posting photos of himself with the Detroit-area congresswoman during her swearing-in ceremony. Hamideh has frequently claimed Israel has no right to exist in the Middle East and has referenced a convicted terrorist as a "legendary Hezbollah martyr."
Earlier this month, a comedian placed a note with the word Palestine over a map of the Middle East in her Washington office, prompting the same right-wing news outlets to claim Tlaib wants to "wipe Israel off the map," BuzzFeed News first reported.