Rashida Tlaib, Ayanna Pressley Call Israel Situation 'Apartheid' Funded by U.S.
Progressive Reps. Rashida Tlaib and Ayanna Pressley both called the ongoing violent situation in Israel an "apartheid" funded by the U.S.
During a speech on the House floor on Thursday, Pressley compared the recent Black Lives Matter and anti–police brutality protests in the U.S. to the Muslim protests in Israel "when families kneeling during this holy month, at the third holiest site in Islam, were met with tear gas, rubber bullets and hand grenades."
Pressley went on to talk about how the U.S. government sent "$3.8 billion of military aid to Israel that is used to demolish Palestinian homes, imprison Palestinian children and displace Palestinian families."
She continued, "A budget is a reflection of our values, I'm committed to ensuring that our government does not fund state-violence in any form, anywhere.… The question at hand is: Should our taxpayer dollars create conditions for justice, healing and repair, or should those dollars create conditions for oppression and apartheid?"
Tlaib made similar comments in a tweet on Thursday where she wrote, "To all: Listen to these Palestinians voices living under Israel's violent apartheid government that continues to be funded by our own country without any accountability, or even acknowledgment."
During a speech on the House floor, Tlaib also criticized President Joe Biden and Secretary of State Antony Blinken saying, "There has been no recognition of the attack on Palestinian families being ripped from their homes right now. No mention of children being detained or murdered. No recognition of a sustained campaign of harassment and terror by Israeli police against worshippers kneeling down and praying and celebrating the holiest days in one of their holiest places, no mention of Al-Aqsa being surrounded by violence, tear gas, smoke, while people pray."
Newsweek reached out to Tlaib and Pressley for comment but did not receive a response in time for publication.
Rep. Cori Bush also made similar comments during a speech on the House floor saying, "We are anti-war, we are anti-occupation, and we are anti-apartheid."
The comments by numerous progressive Democrats comes shortly after U.S. officials such as Biden, Blinken and Secretary of Defense General Lloyd Austin expressed support for Israel amid increase violence between Israel military forces the Palestinian militant group known as Hamas.
While speaking to reporters on Thursday, Biden said he did not believe that Israel has overreacted in responding to missiles from Gaza.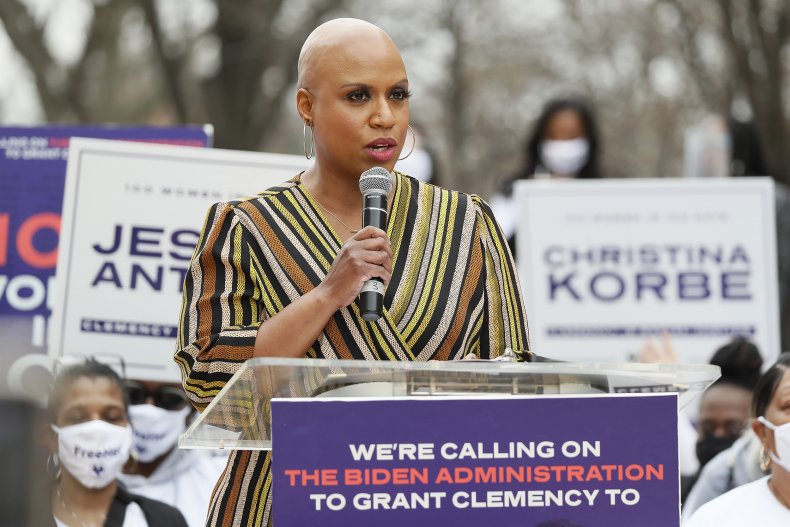 "One of the things I've seen thus far is that there has not been a significant overreaction [by Israel]," Biden said. "The question is how they get to a point where there is a significant reduction in the attacks, particularly the rocket attacks that are indiscriminately fired into population centers."
In a readout of Austin's call with Israeli Minister of Defense Benjamin Gantz the Defense Department wrote that "Austin conveyed the Department's ironclad support for Israel's legitimate right to defend itself and its people, and he strongly condemned the launching of rockets by Hamas and other terrorists groups that targeted Israeli civilians."
Israeli-Palestinian tension was sparked this past weekend with continued air strikes being fired from both sides.
According to BBC, since Monday, there have been at least 119 Palestinians fatalities reported in Gaza, while Israel has reported eight.
While the two have continued to send air strikes at each other, Israel announced on Thursday that it was beginning to deploy ground troops along the Israel-Gaza border. In response Hamas military spokesman Abu Obeida told the Associated Press that the deployment of ground forces would allow Hamas to "increase our catch of Israeli soldiers."