Representative Rashida Tlaib took aim at Democratic presidential front-runner Joe Biden on Wednesday evening, pointing to his key role as the chairman of the Senate Judiciary Committee in allowing Supreme Court Justice Clarence Thomas' nomination to move forward despite testimony from Anita Hill that the judge had sexually harassed her.
Biden has previously expressed "regret" for what happened to Hill during the confirmation hearings of Thomas, a conservative justice who still serves on the Supreme Court today. Although Biden voted against Thomas' confirmation in 1991, he apologized to Hill directly over how he handled her testimony during a phone call before launching his presidential campaign last year.
"Q: Who silenced Anita Hill when she was trying to speak out about Clarence Thomas?" Tlaib, a Michigan Democrat who has endorsed Biden's progressive rival, Senator Bernie Sanders of Vermont, tweeted. "A: Joe Biden."
Biden's campaign had not responded to Newsweek's request for comment by the time of publication.
Hill, along with others who were involved with the fight to block Thomas' confirmation, has been critical of Biden's handling of the hearings. Many have argued that the former vice president did not do enough as the senator leading the Judiciary Committee to adequately investigate her claims. During the hearings, Biden refused to allow testimony from additional witnesses who alleged the justice had acted inappropriately toward them as well.
Last April, Hill told The New York Times that Biden's apology to her was not enough.
"I cannot be satisfied by simply saying, 'I'm sorry for what happened to you,'" she said. Hill is now a professor of social policy, law and women's studies at Brandeis University. "I will be satisfied when I know that there is real change and real accountability and real purpose."
But Hill also suggested that Biden's previous actions were not necessarily disqualifying in the presidential contest. "I'm really open to people changing," she said.
Thomas has consistently denied the allegations made by Hill.
In a statement about Biden's phone call ahead of the official announcement of his presidential bid, the campaign said the former vice president "shared with her directly his regret for what she endured and his admiration for everything she has done to change the culture around sexual harassment in this country."
Tlaib's tweet came as Sanders supporters and surrogates have ramped up their criticism of Biden, with many pointing to various controversial issues in his long political record, following his big win on Super Tuesday. While Sanders was seen as the front-runner for the Democratic nomination last week, Biden got a big boost after his Saturday victory in South Carolina and his performance in the Tuesday contests.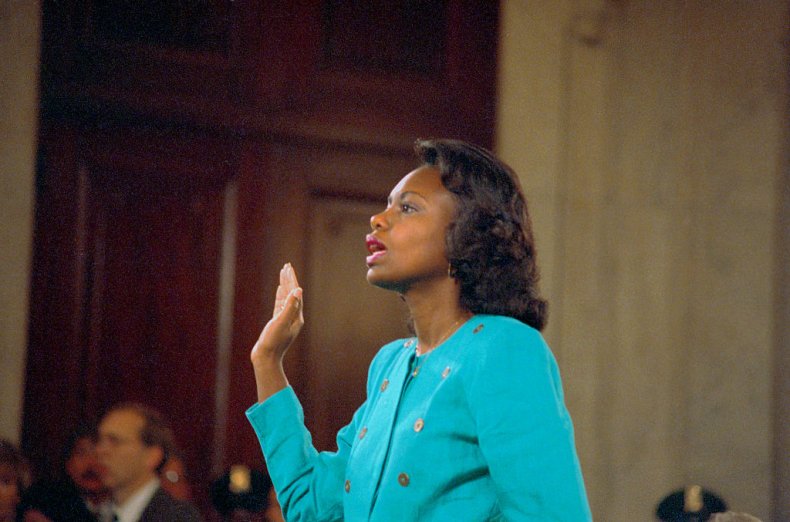 After the South Carolina victory, fellow moderate contenders former South Bend, Indiana, Mayor Pete Buttigieg and Senator Amy Klobuchar of Minnesota chose to suspend their campaigns and endorse Biden. A slew of other Democratic lawmakers also endorsed Biden just ahead of Super Tuesday, as moderates consolidated their support behind the former vice president.
Then on Super Tuesday, Biden came out as the clear winner, while Sanders won in only four of the 14 states up for grabs. Billionaire former New York City Mayor Mike Bloomberg, who failed to win any states but claimed a small victory in American Samoa, decided to suspend his campaign and endorse Biden on Wednesday.
Sanders remains competitive however, as he saw a significant win in California, the nation's most populous state with the largest number of delegates up for grabs. But momentum appears to have shifted toward Biden, while progressives backing Sanders have urged Senator Elizabeth Warren of Massachusetts, who has not won any primary or caucus contests, and who dropped out of the race on Thursday, to endorse her longtime friend and Senate ally. As of press time, Warren had not endorsed any candidate.