Rashida Tlaib Calls Police Facial Recognition Software 'Bulls**t,' Detroit Police Department Asks Her To Visit To Learn How It Works
Detroit Police Chief James Craig touts the department's facial recognition software as not only technology that has solved several felony cases and given the family members of homicide victims closure — but something their city needs.
"How do you expect me to police a 21st century city that has 21st century crime?" Craig asked, recalling remarks that were told to him by New York City Police Commissioner James O'Neill, whose city uses similar technology. "I have to use 21st century technology. I echo the same words here in the city of Detroit."
Craig is convinced that if Representative Rashida Tlaib, whose district includes parts of Detroit, were to make a visit to the department to better discover how they utilize facial recognition software to apprehend violent fugitives, she, too, would be sold.
"I personally, along with my partner, Andrew, we will give her a demonstration. And I'm confident she will leave here with a different level of appreciation," Craig said during a press conference at the police department.
The optimism expressed by the 6-year police chief is despite the freshman Democrat labeling the technology as "bulls**t" on social media Tuesday morning.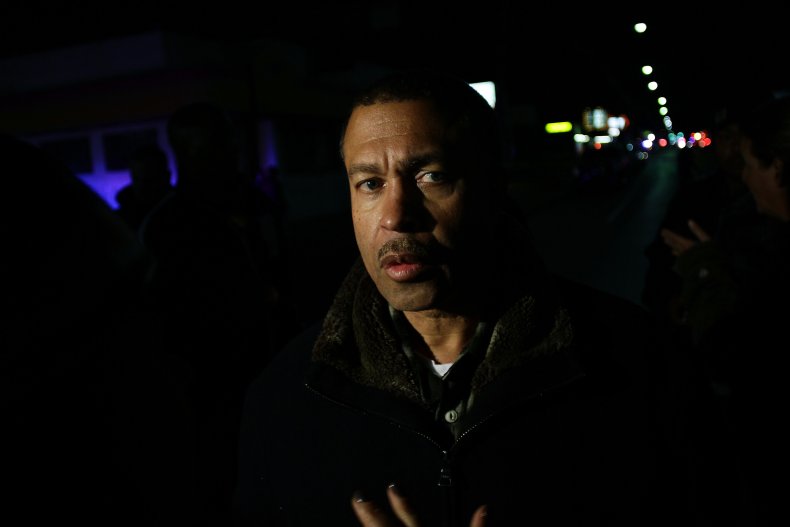 "You should probably rethink this whole facial recognition bulls**t," Tlaib wrote in a tweet directed to the Detroit Police Department, along with sharing a Vice News story outlining Vermont Senator Bernie Sanders' call for a ban on law enforcement officials using such software.
In a subsequent series of back-and-forth tweets, Tlaib and the department agreed to meet in the future to see firsthand how the technology is used within the department's Real Time Crime Center.
Tlaib's director of communications, Denzel McCampbell, told Newsweek in a statement that the congresswoman "certainly will take Chief Craig up on his offer" but did not yet know of a date and time. As of Tuesday afternoon, the Detroit Police Department told Newsweek they were awaiting a response from Tlaib after reaching out in a direct message on Twitter. McCampbell said he was not aware of any message from the department.
"Tlaib has participated in two congressional hearings in the House Oversight & Reform Committee about this technology and has done a lot of research on it - she remains deeply concerned about this controversial surveillance," McCampbell said.
Craig found Tlaib's initial Twitter remarks to be "disrespectful" to victims' family members because without the software, he explained, it could deny investigators the opportunity to bring a killer to justice.
"I wasn't born under a rock. To me, when you use that kind of language in response to a tool we're using to evade violence in the city of Detroit, I find it disrespectful," he said. "I also find it more disrespectful to the family members of homicide victims who are still suffering."
Whether or not Tlaib's claims should be considered politically motivated, Craig said he'd leave that conclusion up to Detroit residents.
"I'm going to reserve my opinion of whether or not she's politicizing it. I think it's best left with your viewers, your listeners, to see what they think," he continued. "What I know is, this is about fighting crime."
In her opposition to police using facial recognition software, Tlaib said "residents are very concerned" because of certain flaws. Critics have pointed to the fact that facial recognition systems more frequently misidentify people with darker skin, or minorities, and who've aged over time.
Craig acknowledged those concerns and said it's why the department only uses the technology after felony — and often violent — crimes have been committed. They do not use the software to scan people's images in real-time. As another level of security, Craig said, there are trained analysts who review the system's results and a supervisor who must sign off to confirm that a suspected match is, indeed, a match.
"We don't refute any assertion — again, this technology, if you just turn the technology on, and you put a picture in, and it's not high-quality pictures, more times than not, it's going to misidentify," he said, elaborating that the software provides them with several potential matches that analysts have the ability to look through.
A research paper published by Georgetown Law Center on Privacy and Technology earlier this year pushed misinformation about Detroit Police's monitoring process, according to Craig, which suggested the department uses facial recognition software to scan live video from businesses, health clinics, schools and apartment buildings. He said that while they may monitor live feeds from those locations, they do not have the facial recognition software scanning the video.
"It is an investigative tool. It is not real-time. It's always after the fact." Craig said. "This technology alone cannot assist us solely on identifying a suspect without the person behind the technology."
Although the department still needs formal approval for the facial recognition software from the Detroit Board of Police Commissioners, according to local reports, it hasn't stopped police from using the technology for more than a year. Recent dramatic board meetings — including an instance where a commissioner was temporarily handcuffed and jailed for interrupting proceedings — have illustrated that the long-term fate of officials' ability to use facial recognition technology could be in question.
"If it's going to go down, we can't do anything," Craig said. "We'll be back at scrapbooks and crayons trying to police a city that has 21st century crime."