Rashida Tlaib Clinches Democratic Primary, Wins Rematch Against Brenda Jones
Rashida Tlaib, one of the most liberal members of the U.S. House of Representatives who often draws the ire of Republicans, won her primary race for Michigan's 13th Congressional District, the Associated Press declared Wednesday.
With 87 percent of the vote counted, Talib was up 32 percentage points with her vote count nearly double that of Democratic challenger Brenda Jones, president of the Detroit City Council.
Tlaib is one of four first-term members known as The Squad that also includes Rep. Alexandria Ocasio-Cortez (D-N.Y.). When she was first elected in 2018, Tlaib became one of two of the first Muslim women in Congress.
Tlaib's victory over Jones was a rematch. The two squared off in 2018, when Tlaib narrowly won by just 1 percent.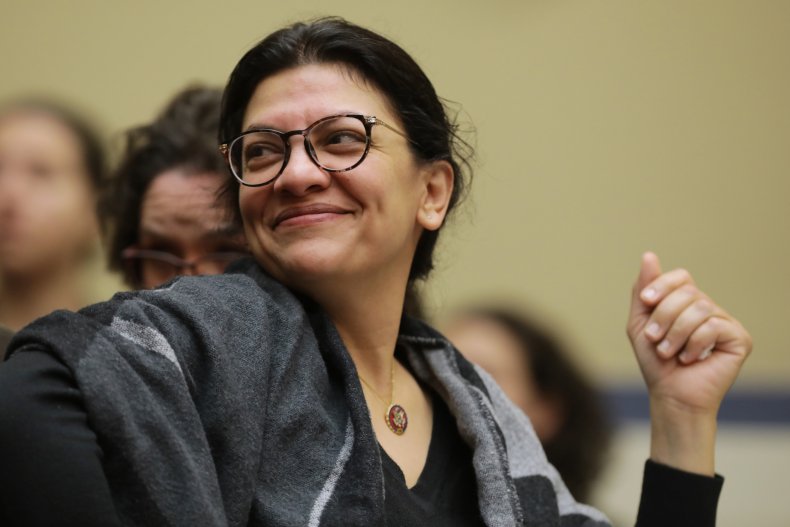 "Headlines said I was the most vulnerable member of the Squad," Tlaib write in a tweet on Wednesday. In addition to herself and Ocasio-Cortez, The Squad is comprised of two other women of color: Ilhan Omar (D-Minn.), who also became one of the first two Muslim women elected in 2018, and Ayanna Pressley (D-Mass.).
"My community responded last night and said our Squad is big," Tlaib continued. "It includes all who believe we must show up for each other and prioritize people over profits. It's here to stay, and it's only getting bigger."
Jones, a 60-year-old black woman, was portrayed in the race as more of an establishment candidate that more closely aligned with the Detroit-area's mostly Black residents against the 44-year-old progressive, Palestinian-American incumbent.
Even as a first-term member, Tlaib caught the national spotlight—for better or for worse—just hours after she was even sworn into office. And as a member, she had high-profile clashes with President Donald Trump.
The night she became an official lawmaker, Tlaib vowed to a crowd that Democrats would "impeach the mother******," in reference to Trump.
The president in July 2019 targeted Tlaib and The Squad in a series of racist tweets, saying the Democratic women of color should "go back and help fix the totally broken and crime infested places from which they came." All four Squad members are American citizens and only one—Omar—was not born in the United States.