Rashida Tlaib 'Fearful' Manchin, Sinema and Other 'Corporate Dems' Will Tank Spending Bill
Progressive Rep. Rashida Tliab warned that President Joe Biden's $1.7 trillion social spending bill may fail in the Senate because "corporate" Senate Democrats—including Joe Manchin and Krysten Sinema—are likely to prioritize serving special interests over their constituents.
"I know that they've been influenced and guided by folks that don't have the best interests of the American people in mind," Tliab said on Axios on HBO, which aired Sunday. "I'm fearful that those groups are gonna guide this agenda. It's gonna be the people that are gonna continue to profit off of human suffering."
"We have corporate Dems" and I'm "fearful" they will tank the social safety net and climate bill, the Michigan Democrat added.
The Democratic-controlled House passed $1.7 trillion in new funding to expand the U.S. social safety net—known as the Build Back Better Act—largely along party lines in a 220-213 vote on Friday, with one lone Democratic defector voting with Republicans against the measure.
Among its major priorities, the sweeping legislation includes $555 billion in funding for climate initiatives (the largest effort on the worsening issue in U.S. history), child care funding, universal pre-K, and extension of health care subsidies.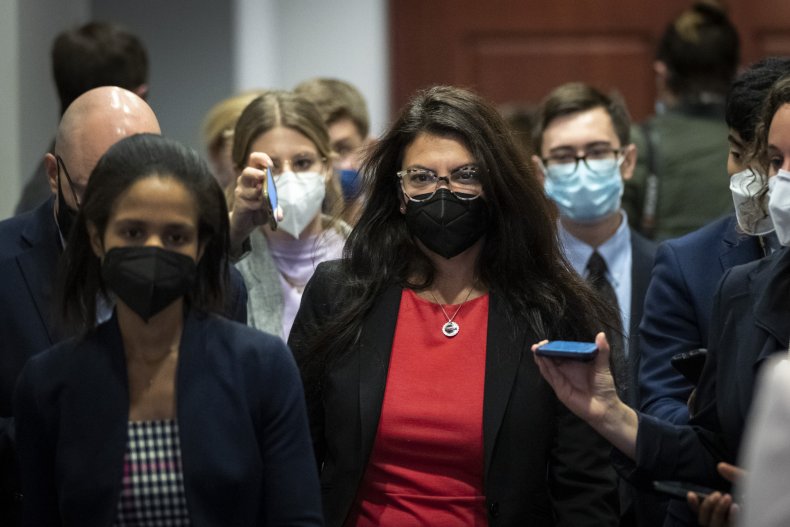 The legislation, which is key to Biden's domestic agenda, now heads to the 50-50 split Senate, where Democrats must navigate major challenges with no room for error.
For it to pass, the bill will need to clear the so-called "Byrd Bath" process, under which the Senate parliamentarian must decide whether its individual components qualify for the budget process called reconciliation.
Manchin, a moderate West Virginia Democrat who opposes a paid family leave provision, and Sinema, a moderate Arizona Democrat who's been locked in talks with party leaders, have both yet to fully endorse the package despite already having negotiated significant cuts—thus frustrating progressives.
Sinema pushed back against allegations that she's being influenced by outside groups and criticism of her staunch negotiating strategy.
"I don't bend to political pressure from any party or any group," she said in a rare interview with ABC-15.
Tlaib believes there may be other Senate Democrats who would oppose the current bill.
"It's those two, but I think there are some others that ... have issues with the prescription drug negotiations there," she said. "And so I can't say it's just those two. They seem to be leading the fight, but I wouldn't be surprised if folks are hiding behind them."
Democrats have acknowledged that several provisions are expected to be removed from the bill following Senate consideration to appease moderates and the parliamentarian, meaning the House will likely hold a final vote on the amended legislation.
Newsweek reached out to Manchin's office for comment.