Rashida Tlaib Suggests Mark Meadows Bringing Black Woman as a 'Prop' to Cohen Hearing Is Racist
Democratic Michigan Representative Rashida Tlaib suggested that Republican North Carolina Representative Mark Meadows bringing a black woman to Michael Cohen's hearing on Wednesday—in an effort to combat claims that President Donald Trump is racist—could be considered "racist."
"Just because someone has a person of color, a black person, working for them does not mean they aren't racist and...the fact that someone would actually use a prop, a black woman in this chamber, in this committee, is alone racist in itself," Tlaib said.
Meadows had brought former Trump Organization employee Lynne Patton—who is now in the Department of Housing and Urban Development—and said she would not work for a racist.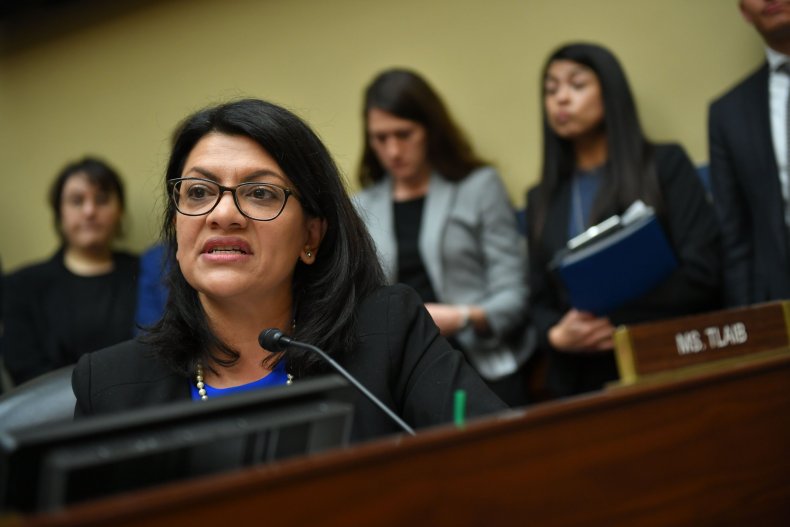 Meadows interjected nearly immediately, asking that her words be taken down. Asked by House Oversight Committee Chairman Elijah Cummings if she'd like to rephrase what she said, Tlaib clarified her comments.
"I am not calling the gentleman, Mr. Meadows, a racist, for doing so, I'm saying that, in itself, it is a racist act," Tlaib said.
What ensued was an extended back-and-forth and Meadows vigorously defending himself. "There's nothing more personal to me than my relationship—my nieces and nephews are people of color—not many people know that," Meadows said. "And to indicate that I ask someone who is a personal friend of the Trump family, who has worked for him, who knows [Cohen], that's she coming in to be a 'prop'—it's racist to suggest that I ask her to come in here for that reason."
In Cohen's prepared remarks he called Trump a "racist," "con man" and a "cheat."
Meadows had previously in the hearing brought Patton forward in an effort to counteract that claim. "She says as a daughter of a man born in Birmingham, Alabama, that there is no way that she would work for an individual who was a racist," Meadows said. "How do you reconcile the two of those?"
Cohen responded: "Neither should I, as the son of a Holocaust survivor."