Rep. Rashida Tlaib slammed the Biden administration's U-turn on immigration policy, calling its new messaging a "stay there and die" approach.
"This whole 'stay there and die' approach is not how our country will promote a more humane and just immigration system," Tlaib tweeted on Tuesday afternoon.
Her remarks come a day after Vice President Kamala Harris spoke at a news conference with Guatemalan President Alejandro Giammattei and explicitly told migrants to not seek asylum at the southern border.
"I want to be clear to folks in this region who are thinking about making that dangerous trek to the United States-Mexico border: Do not come. Do not come," Harris said on Monday.
Tlaib's tweet was in response to a post from Cristina Jiménez, an immigration activist and co-founder of United We Dream, an organization that advocates for undocumented immigrants.
"The Biden administration claims to want to address the root causes of Central Americans fleeing the region seeking safety in the U.S.," Jiménez wrote. "If that was true they wouldn't send VP Harris, a child of immigrants, to tell desperate people in the region 'Do not come' This is shameful."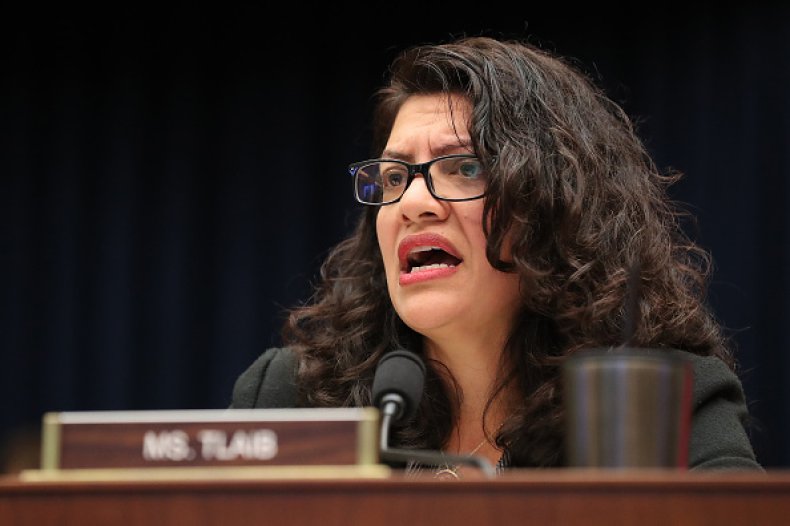 Tlaib isn't the only progressive to criticize the administration's latest change in tone.
Rep. Alexandria Ocasio-Cortez said it was "disappointing" to see Harris advise asylum seekers to not come to the U.S.
"First, seeking asylum at any US border is a 100% legal method of arrival," Ocasio-Cortez wrote on Twitter. "Second, the US spent decades contributing to regime change and destabilization in Latin America. We can't help set someone's house on fire and then blame them for fleeing."
"It would be helpful if the US would finally acknowledge its contributions to destabilization and regime change in the region," the New York congresswoman added. "Doing so can help us change US foreign policy, trade policy, climate policy, & carceral border policy to address causes of mass displacement & migration."
Harris has defended her remarks, saying the purpose of her trip is "to deal with the root causes."
"I am here because the root causes are my highest priority in terms of addressing the issue and we need to deal with it," the vice president told reporters.
Under the 1951 United Nations Conventions Relating to the Status of Refugees and the 1967 protocol, which has been adopted into U.S. law, the U.S. must recognize refugees that fear persecution and are not able to get help from their home country.
"What the vice president was simply conveying is that there's more work to be done," White House Press Secretary Jen Psaki said on Tuesday. "As we've said many times from here and from many forums before, we need more time to get the work done to ensure that asylum processing is where it should be."
Harris is not the first one in the administration to send the "do not come" message to migrants. President Joe Biden has repeated a similar message on several occasions since taking office.
"I can say quite clearly don't come over. Don't leave your town or city or community" Biden told ABC News' George Stephanopolous back in March. The president added that Central Americans would be able to apply for asylum through Human and Health Services facilities located where they are."