Rashida Tlaib Tears Up Calling for Boebert to Be Punished: 'We Shouldn't Have to Beg'
Representative Rashida Tlaib choked up Wednesday when calling for punitive action against fellow congresswoman Lauren Boebert over her anti-Muslim remarks.
Tlaib was one of more than a dozen House Democrats to back a resolution to remove the Colorado GOP representative from the House Budget and Natural Resources committees. The measure was introduced Wednesday by Representative Ayanna Pressley.
"We shouldn't have to beg and urge Republicans to do what's right here," Tlaib said at a press conference to unveil the resolution. "They have Muslims in their communities. I know they do."
The Michigan Democrat added, "It is hard. It is hard being Muslim in our country right now, and this makes it worse. Let me tell you, it's important for us to understand this is a national platform that we cannot allow her to use to evoke hate."
Boebert has been under fire for the past two weeks after making Islamophobic comments aimed at Minnesota Democrat Ilhan Omar, describing her as a member of the House's "Jihad Squad" and suggesting she could have been a terrorist.
Tlaib and Omar are the first Muslim women to be elected to Congress.
Asked for comment on the resolution and Tlaib's remarks during the press conference, Boebert told Newsweek, "I am aware that on Wednesday at 2 p.m. in studio A, some people did something."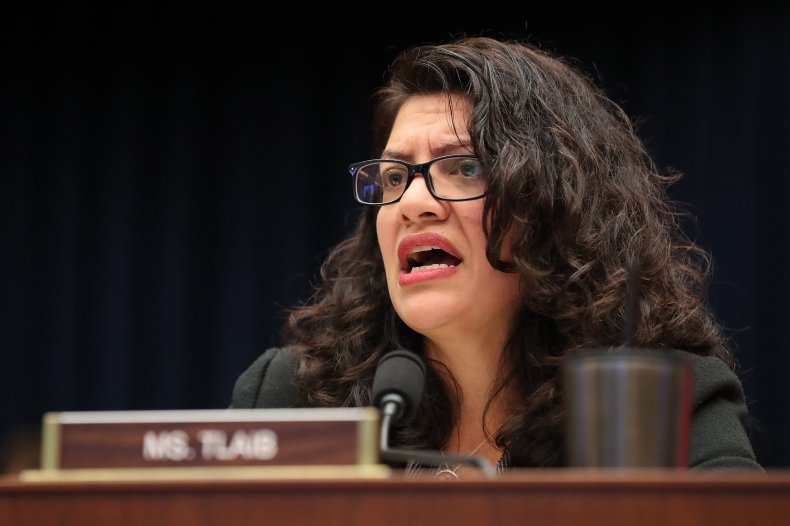 Pressley's resolution now rests largely in the hands of House Speaker Nancy Pelosi. Pelosi previously issued a joint statement with other Democratic leaders calling on the Republican Party to "address this priority with the Congresswoman and to finally take real action to confront racism."
She reiterated that stance when asked Wednesday if she supported Pressley's measure to strip Boebert of her committee assignments. "It's the responsibility of Republicans to discipline their members," the California Democrat told reporters.
Omar said earlier this week she was confident Pelosi would take action against Boebert. Asked Wednesday about what specific measures she's considering, Pelosi told reporters, "When I'm ready to announce that, I'll let you know."
She added, "How we deal with addressing the fear that they have instilled with their Islamophobia and the rest is, hopefully, something we can do in a bipartisan way."
House Democrats have taken punitive action against two Republicans this year over offensive social media posts.
Georgia's Marjorie Taylor Greene was stripped of her committee assignments over the posts she made before being elected about QAnon and violence against lawmakers. Arizona's Paul Gosar was censured and removed from committees after he shared an animated video edited to depict him killing progressive Representative Alexandria Ocasio-Cortez.
Update 12/8/21, 4:20 p.m. ET: This story was updated with more information and background.