Rashida Tlaib Tweets She Will 'Break News' to Donald Trump About Election Loss
Congresswoman Rashida Tlaib wants to break the news of the Democrat lead in the election to Donald Trump on Twitter.
Her comments were in response to claims that White House officials have not yet informed Donald Trump of the election results, which show Joe Biden has taken the lead in Pennsylvania and Georgia.
Hallie Jackson, chief White House correspondent at NBC News, reported via a source on how nobody has been willing to come forward and give President Trump the news.
"Sign me up. I'll break it to him," Tlaib commented.
Tlaib was reelected in Michigan's 13th Congressional District on Wednesday, facing Republican opponent David Dudenhoefer in the race.
The Associated Press called the race for the Michigan lawmaker with over 66% of precincts reporting.
Tlaib is one of the original members of a group of left-leaning lawmakers dubbed "the Squad" who have been frequently vilified by Trump for championing progressive causes.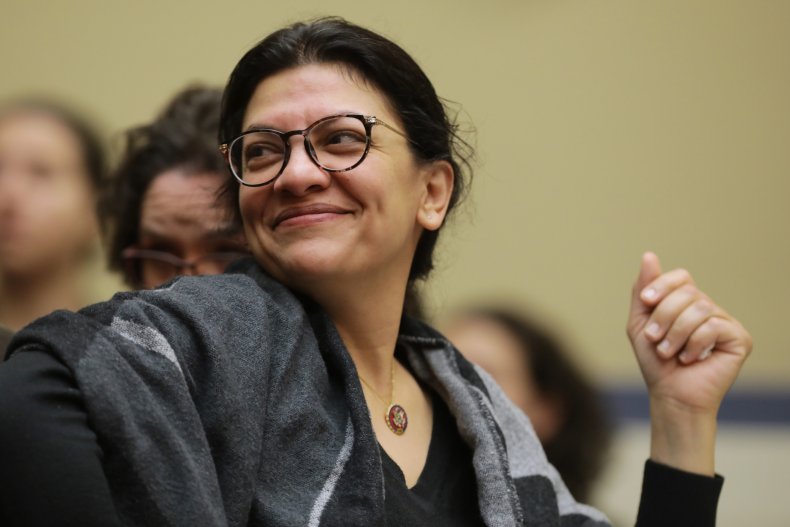 She was the first Muslim woman to serve in Michigan's House of Representatives, leaving that office in 2015. Since joining the House of Representatives, Tlaib has advocated for causes including raising the minimum wage, universal healthcare, tackling racial inequality and environmental protections.
All four members of the progressive "Squad" of Democratic congresswomen won reelection. Tlaib, along with Alexandria Ocasio-Cortez of New York, Ilhan Omar of Minnesota and Ayanna Pressley of Massachusetts, will return to their seats in Congress.
After winning her reelection bid, Ocasio-Cortez wrote on Twitter: "Serving NY-14 and fighting for working class families in Congress has been the greatest honor, privilege, and responsibility of my life.
"Thank you to the Bronx and Queens for reelecting me to the House despite the millions spent against us, & trusting me to represent you once more."
Responding to her win, Pressley tweeted: "Together, we have fought for our shared humanity. We have organized. We have mobilized. We have legislated our values. I am so proud to be your Congresswoman & your partner in the work.
"I believe in the power of us. And we're just getting started."
Biden appears close to winning the presidency after taking the lead in Pennsylvania with 98% of votes counted. He has also taken a narrow lead in Georgia with 99% of votes counted, but officials there announce there will be a recount.