Rep. Rashida Tlaib of Michigan praised Democratic vice presidential nominee Sen. Kamala Harris, even though she has said she will not endorse presidential nominee Joe Biden.
"I've fought alongside Senator @KamalaHarris for direct cash payments during the pandemic and for clean water as a human right. Now let's defeat Trump and make those policies a reality," Tlaib wrote on Twitter shortly after Harris was named as Biden's vice presidential candidate.
Last month, Tlaib told Newsweek that she wasn't willing to endorse Biden, because she wasn't sure if her constituents would support the nominee.
"Residents come up to me and say, 'Rashida, I don't know. I hear Joe Biden this, Joe Biden that.' I say, 'Listen, do we need another four years of Trump? No. Then what I need you to do is go out there and focus on that.' If the ultimate goal is to get rid of Donald Trump, that doesn't have to involve me actually endorsing Biden. My constituents don't need to be bogged down in, 'Is he the best candidate?' That's not what you have to convince my residents. They need to come out in droves and be inspired by something. And that is going to be a vote against Donald Trump," she said.
Though she hasn't endorsed Biden, she did promise to deliver her district to the candidate.
"When I focus on turnout, we will deliver Michigan to Joe Biden. Trump only won Michigan by 10,000 votes. When I turn out my folks and my district, we'll be able to take back the state. When you focus primarily on getting people out to vote in a district like mine, [Biden] wins," she said.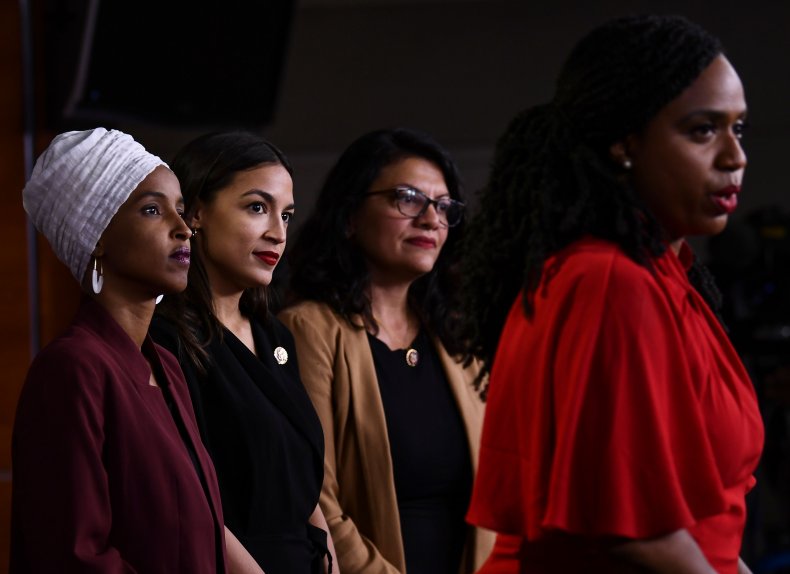 Two hours after Biden picked the California senator, just one other member of The Squad—the group nickname for Tlaib and her fellow Democratic Representatives Alexandria Ocasio-Cortez of New York, Ayanna Pressley of Massachusetts and Ilhan Omar of Minnesota—had publicly commented on Biden's pick via Twitter.
On her Twitter, Pressley simply wrote, "That's right. Madame Vice President, Kamala Devi Harris."
Ocasio-Cortez and Omar haven't commented yet. Newsweek contacted Ocasio-Cortez's and Omar's offices for comment.
Omar may not have commented because Tuesday is the Minnesota Democratic Primary where Omar is fighting for re-election against Antone Melton-Meaux, a well-funded attorney who is running his first race for elected office.
All four members of the squad are women of color under the age of 50 who represent the left wing of the Democratic party and are seated in Democratic-leaning congressional districts.
While Ocasio-Cortez hasn't publicly commented on Biden picking Harris, on August 6, Harris partnered with Ocasio-Cortez in co-sponsoring a "climate equity" bill that would consider the impact on minority communities in any efforts to build a clean energy economy. Harris also endorsed Ocasio-Cortez's Green New Deal which stressed a fair and inclusive economy that invests in poorer and overlooked communities.
In July 2019, Harris defended The Squad from a racist tweet by Republican President Donald Trump in which Trump told the squad to "go back and help fix the totally broken and crime infested places from which they came." Harris called Trump a "coward" and a "bully" and pledged to send him back to where he came from after defeating him in the upcoming presidential elections.
The weekend after Trump's tweet, Democratic strategist Don Calloway speculated that Trump had attacked the congresswomen to prepare for a possible match-up against Harris in the November elections.
During the Democratic presidential primary, Ocasio-Cortez initially held off from endorsing Biden for president. After endorsing him, she said it's necessary to challenge Biden to take positions that represent the party's left wing.
"The whole process of coming together should be uncomfortable for everyone involved—that's how you know it's working," she said. "And if Biden is only doing things he's comfortable with, then it's not enough."