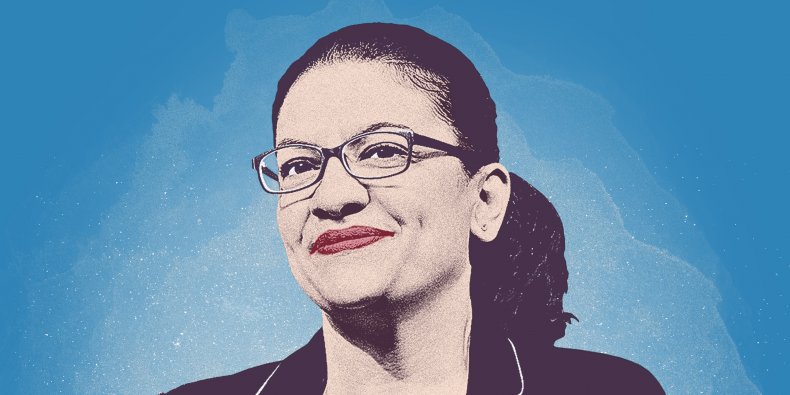 Squad member Rashida Tlaib is in the midst of a tough primary race to retain her House seat in Michigan 13th congressional district, running against Detroit City Council President Brenda Jones, a long-time fixture on the local Democratic Party scene. Voting on August 4 in the heavily Democratic area all but ensures the primary winner will represent the district on Capitol Hill next year.
Sporadic polling on the race has been dizzying, with Tlaib first sharply up, then Jones zeroing in, and most recently, with the incumbent comfortably in the lead again. But with a large percentage of undecideds, an expected surge in absentee voting (which went poorly for Tlaib in 2018) and uncertainty about the impact of COVID-19 and the Black Lives Matter movement in a district that is 55 percent Black, the outcome is still too close to call, political observers say.
Shifting focus from the campaign, Tlaib took time to talk with Newsweek contributor Steve Friess about a few different topics, including the prospects for other progressive candidates, what it's like to be a member of Congress's most famous foursome and why, despite her very vocal opposition to Donald Trump, she refuses to endorse Joe Biden for president. The following are excerpts from their conversation (lightly edited for space and clarity).
Q: Do you like being referred to as part of the Squad?
Tlaib: I don't know if it's "like" as much as it's a sisterhood and I love what Ayanna [Representative Pressley of Massachusetts and a fellow Squad member] says because what us four really represent to people is that the Squad is so much bigger. Whatever it means for other people, it is inspiring this movement that we need to put people first. All of us came in with a hope and optimism and being really inspired by people that had a faith in someone like us serving in the United States Congress.
Q: Is there a downside?
Tlaib: As long as my residents know me, that's the most important thing. When I got elected, I never thought that this was the attention I was going to get. These labels that are coming from the outside entities, you take it as it is, but I made sure that I come home every week, that I'm rooted in the community.
Q: On June 23 in New York, Jamaal Bowman unseated longtime incumbent Eliot Engel and several other progressives of color, including Ritchie Torres and Mondaire Jones, won their primaries. Are these the Babies of the Squad?
Tlaib: It's so hard to hear people try to box us into some sort of group. A lot of us don't even know each other. This movement is so organic. Jamaal Bowman and [Kentucky gubernatorial also-ran] Charles Booker and Mondaire Jones—if you just look at their list of experiences, their residents are saying, "We need that lens. We need folks that understand the hurt." They won because they ran as themselves unapologetically. And it was beautiful to watch. It's just remarkable to see people winning in a way that didn't require them to sell out or to be something different.
Q: Are you nervous about your re-election?
Tlaib: No, I mean, no matter where I'm at, I will continue to do what I'm doing. I will always be rooted in the community no matter what role I'm in. If it's in my role to hold various levels of government accountable, that's what I'll do. If it's introducing legislation that's meaningful, that's what I'll do.
Q: You have not endorsed Joe Biden for president yet, right?
Tlaib: No. No.
Q: Why not?
Tlaib: He hasn't directly called me or anything, but, no, right now I'm focused on my election, my constituents and my residents. One thing that I know is I'm going to be really focused on turnout in the fall. When I focus on turnout, we will deliver Michigan to Joe Biden. Trump only won Michigan by 10,000 votes. When I turn out my folks and my district, we'll be able to take back the state. When you focus primarily on getting people out to vote in a district like mine, [Biden] wins.
Q: So you want him to win?
Tlaib: If there is one person who wants Donald Trump out of the White House, it's me. And I'm going to work extremely hard. I don't have to have a campaign plan for November because I have a safe Democratic seat, but I'm going to [campaign]. Why? Because my residents cannot afford another four years of Trump. They just can't.
Q: Then why is difficult for you to just say "I endorse Joe Biden for president?"
Tlaib: Because I don't want to get into a debate with my residents. Residents come up to me and say, "Rashida, I don't know. I hear Joe Biden this, Joe Biden that." I say, "Listen, do we need another four years of Trump? No. Then what I need you to do is go out there and focus on that." If the ultimate goal is to get rid of Donald Trump, that doesn't have to involve me actually endorsing Biden. My constituents don't need to be bogged down in, "Is he the best candidate?" That's not what you have to convince my residents. They need to come out in droves and be inspired by something. And that is going to be a vote against Donald Trump.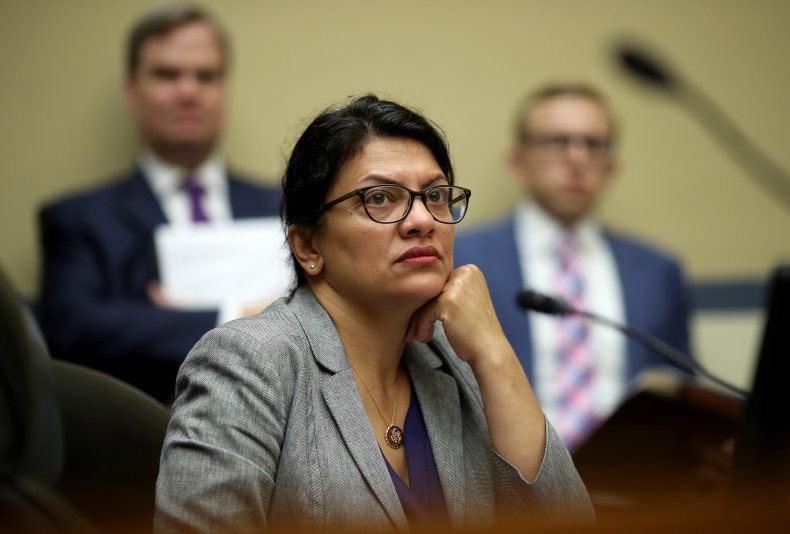 Q: Would Nancy Pelosi prefer to have Brenda Jones in that seat?
Tlaib: I don't know. Two of my ideas for the pandemic relief bill, she's adopted. So I bring in that experience, and she's welcomed it with open arms consistently. We've had really thoughtful conversations, and I've heard her out and I understand her perspective. But she knows I represent the third poorest district, and I think she respects my passion. She knows that I'm there for the right reason.
Q: You're the first Palestinian-American woman elected to Congress and you famously did not visit your grandmother last year because of conditions placed on you by the Israeli government. During the 2018 campaign, it was confusing whether you support a one-state or two-state solution for Israel. Which is it?
Tlaib: I will tell you: One state. I grew up in the most beautiful, Blackest city. I didn't get raised by only my mother, I got raised by the mothers down the block, predominantly African-American women. They taught me through the history we've seen in our own country that separate but equal doesn't work. I don't know how to get away from that lens of growing up in a city like mine where every corner is a reminder of the Civil Rights movement. It's just something that has stuck with me. I remember stories of my grandfather farming next to an Arab Jew and just farming, picking olives side by side. I think that's possible again one day.