Rashida Tlaib's Trump Profanity Got 5 Times More Cable Coverage Than Steve King's 'White Supremacist' Remarks: Study
Democratic Rep. Rashida Tlaib's (Mich) profanity-laced comments against President Donald Trump received five times more cable news coverage than Republican Rep. Steve King's (Iowa) controversial remarks in support of white supremacy, according to a study.
The progressive nonprofit group Media Matters for America released data on Friday which showed that CNN, Fox News and MSNBC spent over two and a half hours covering Tlaib's "impeach the motherf---er" comments the day after the congresswoman made the statement, while the same cable news networks dedicated under 30 minutes of coverage to King's remarks embracing white supremacy the day after his comments came to light. CNN, Fox News and MSNBC did not immediately respond to Newsweek's request for comment.
Of those three networks, the discrepancy between Fox News' coverage of the two matters was the most glaring. The channel — widely described as favoring conservatives — spent 52 minutes covering Tlaib's swearing and just 42 seconds on King's, framed as "Republican Congressman Steve King is fighting back against a New York Times article."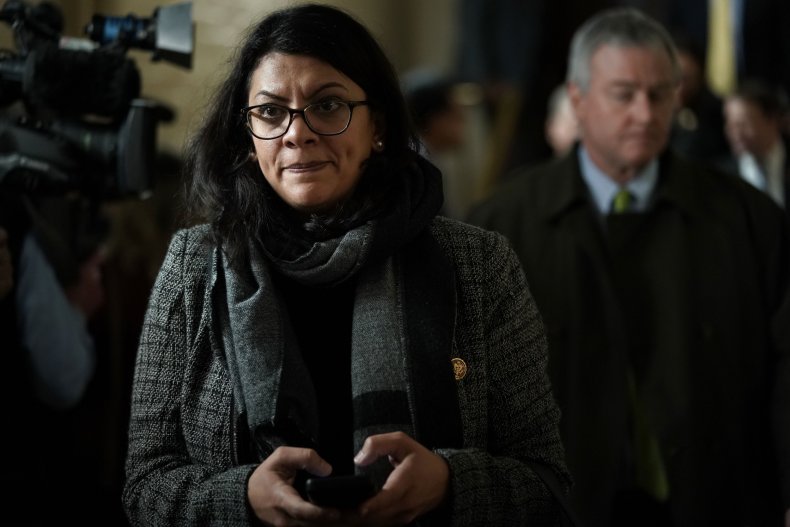 Earlier this month, Tlaib told supporters at a Move On Event about how her son said her victory showed bullies don't win. "And I said, 'Baby, they don't, because we're gonna go in there and impeach the motherf---er,'" the congresswoman said. The remark immediately went viral, prompting rounds of criticism from Trump, Republicans and even some Democrats.
King's — a prominent Trump ally — comments in support of white supremacy came in a recent interview with the New York Times, when he wondered how language like "white nationalist" became racist.
"White nationalist, white supremacist, Western civilization — how did that language become offensive?" King was quoted saying in the report. The conservative Representative's comments were staunchly condemned by several Republicans, including Iowa Senator Joni Ernst and House Minority Leader Kevin McCarthy.
CNN covered Tlaib's remarks for approximately one hour and five minutes in the roughly 24 hours after they were made, while the network devoted just 15 minutes to King's. MSNBC covered Tlaib's cursing for the shortest time out of the three networks in the study, with 38 minutes on the congresswoman compared to 14 minutes spent on King.
Media Matters for America also pointed out the imbalance on the nature of coverage between the two news stories. In the 24 hours after Tlaib's comments, cable news networks repeatedly asked congressional Democrats appearing live to respond to her comments, while the same sense of urgency was not applied to Republicans appearing on news stations the day after King's remarks were made.
The organization concluded that the results of their study "raises serious questions about just what stories cable news considers newsworthy and whether there's a double standard in coverage of Democrats versus Republicans."