Rasmussen Reports, Which Trump Often Cites, Shows President Trailing Biden in Swing States Ohio, Pennsylvania
Polling company Rasmussen Reports, which Donald Trump has often cited as a marker of his success with the American people, shows the president trailing Democratic candidate Joe Biden in the key swing states of Pennsylvania and Ohio.
The latest Rasmussen poll out of Pennsylvania, which Trump won narrowly by a margin of 0.7 percent in 2016, shows Biden in the lead by 3 points, with 48 percent compared with the president's 45 percent. But 4 percent of respondents said they will back "some other candidate," and 3 percent are still "not sure" whom they will vote for.
Perhaps more concerning for the president is Ohio, which Trump carried by just over 8 points in 2016. Now, according to Rasmussen's polling, the president trails Biden in the state by 4 points. The Democratic candidate is backed by 47 percent of voters, while Trump is supported by 43 percent. Another 6 percent said they plan to back a different candidate, while 4 percent were unsure.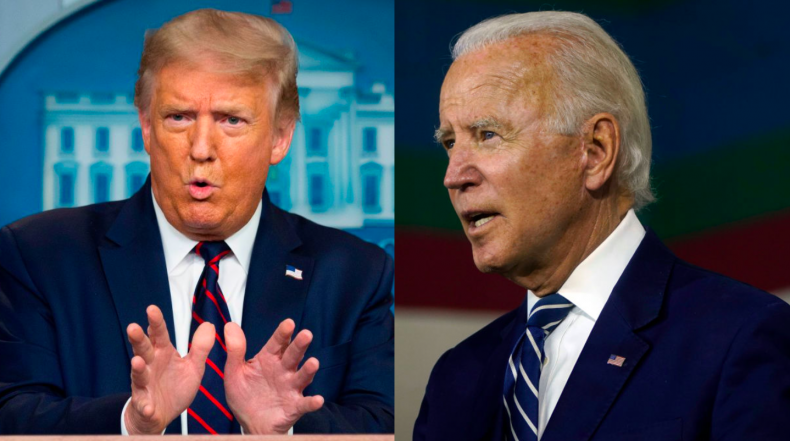 Notably, a plurality of respondents (46 percent) in both states said that, despite their personal preference, they believed Trump would win in November. In Pennsylvania, 43 percent said they believed Biden would win, while just 40 percent said the same in Ohio. Meanwhile, Rasmussen's presidential tracking poll shows Trump with the approval of 48 percent of Americans.
Pennsylvania and Ohio are two significant battleground states, which Trump won in 2016 despite President Barack Obama's victories in both in 2008 and 2012. Several other states, including Michigan, Wisconsin and Florida, were won by Obama twice and then went for Trump over Hillary Clinton. Recent polls suggest that Biden has the advantage in all of these states.
The Real Clear Politics averages of state-level polls shows Biden leading Trump by a significant margin in Michigan, Wisconsin, Florida and Pennsylvania. On average, Trump trails Biden by nearly 8 points in Michigan, 6 points in Wisconsin, more than 6 points in Florida and about 7 points in Pennsylvania.
Biden is also ahead in Arizona and North Carolina, which have generally been reliably Republican. Since 1968, North Carolina has voted for a Democrat only twice, in the presidential elections of 1976 and 2008. Voters in Arizona have sided with Republicans in every presidential contest, with the exception of 1996, going back to 1952. However, Real Clear Politics averages show Biden ahead by 2 points in North Carolina and nearly 3 points in Arizona.
Nationally, Real Clear Politics shows Biden in the lead by an average of 8.6 points, with about 49.3 percent of voters backing the former vice president, compared with about 40.7 percent who support the president. That aligns closely with recent polling by Fox News, which shows Trump supported by 41 percent of respondents, while Biden was backed by 49 percent.