A rat in West Baltimore ran through a local Fox TV reporter's live shot on Monday as she discussed President Donald Trump being urged to visit the city he controversially labeled a "rat and rodent infested mess."
Fox 45 Baltimore reporter Maxine Streicher was engaged in a live broadcast from the city's Sandtown-Winchester neighborhood on Monday when the camera panned over to an alley just as a rat scurried out from under trash and along a wall. The live shot prompted widespread mockery from supporters of the president who touted the video as "proof" the president was correct in telling Maryland's 7th District Democratic congressman Elijah Cummings via Twitter to "clean up this very dangerous & filthy place."
"Now, we spoke with many people today, who say the president should consider coming here to Baltimore, to the Sandtown area, and taking a look at things for himself," Streicher can be heard saying as the camera examined a nearby alley.
The rat can be seen emerging from behind several bags of trash on the ground before running along a wall and disappearing into an adjacent patch of grass and concrete. Streicher is heard detailing how neighborhood residents told her the area needs to be "cleaned up" and crime needs to be reduced, but Trump's words were "too harsh."
Ann Coulter, Fox News radio host Todd Starnes and several state-level Republican Party lawmakers joined thousands of right-leaning social media users in gleefully sharing the video. WCBM-AM talk radio host Bruce Elliott declared on Starnes' radio show that the "unpleasant truth" is Trump was correct in identifying the city's rat and crime problems which many critics said were "racist" comments.
"I think that when you're telling the truth that that's hard to classify as anything other than the truth. There is a rat problem in Baltimore, the crime rate in Baltimore is scary, and we've had 191 murders so far this year," Elliott said.
During a later broadcast Monday, a Fox 45 Baltimore anchor described the rat's fleeting appearance as "proof" of Trump's complaints about parts of the city. The segment also noted Vermont Independent Senator Bernie Sanders referred to portions of the city as "uninhabitable" in 2015, which Trump lamented on his Twitter account Monday.
"During Maxine's live shot in West Baltimore at 4 o'clock, we got some proof of what the president was talking about. Our photographer on the scene captured that, that big rat, seen running right across your screen," she explained.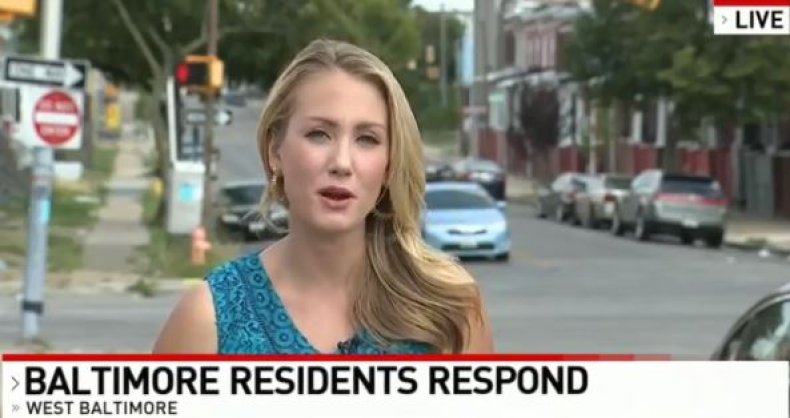 The Fox-affiliated TV station, which is owned by Sinclair Broadcast Group, continued addressing Trump's criticism of Baltimore and noted a "surge in non-fatal shootings" across the city. The Monday evening segment highlighted a 31 percent increase from 2018 through July 20 of this year.
Many Twitter users responded to the rat "photo-bomb" video by pointing at several local stories over the years about longtime rodent problems in Baltimore. A September 2018 WBFF-TV report showed former Baltimore Mayor Catherine Pugh exclaiming, "you can smell the rats." The clip prompted right-wing pundit Mark Dice and several conservative news outlets such as Breitbart and CNS News to further distance Trump's comments from accusations of racism.
"Here's a local Baltimore news story about the rat problem from a few years ago. 'Rats' are not a code word for black people. The city has a rat problem! #TrumpIsRightAgain," Dice tweeted Tuesday.