'Rat-Sized' Monster Moth Too Heavy to Fly Discovered at Australian School
From venomous snakes to giant lizards and hairy tarantulas, Australia is home to countless terrifying and unusual wild critters. But weirdest of them all might be this lesser-known insect: an enormous moth reportedly "the size of a rat."
On Tuesday, News.com.au reported that the monstrously large moth, measuring two fists in length, was discovered in Queensland. After the animal was found by workers on a construction site at Mount Cotton State School, they took photos which were later shared by the school on social media.
The images show the moth perched on the edge of a saw while a pair of hands hold it from a safe distance. The gray, fuzzy-looking creature is clearly massive, appearing to measure about a third of the length of the blade.
In an interview with ABC Radio, Dr. Christine Lambkin, head of entomology at the Queensland Museum, identified the species as a giant wood moth, which "is actually the world's largest moth by weight."
In fact, these types of moths get so heavy that they struggle to fly. "They fly very, very poorly," added Lambkin. "In most cases, when they emerge, the females, they just crawl up a local tree...and sit there and wait for the males to find them." The females of the species can reach a whopping nearly ten-inch wingspan and weigh up to 30 grams, while the males are much smaller.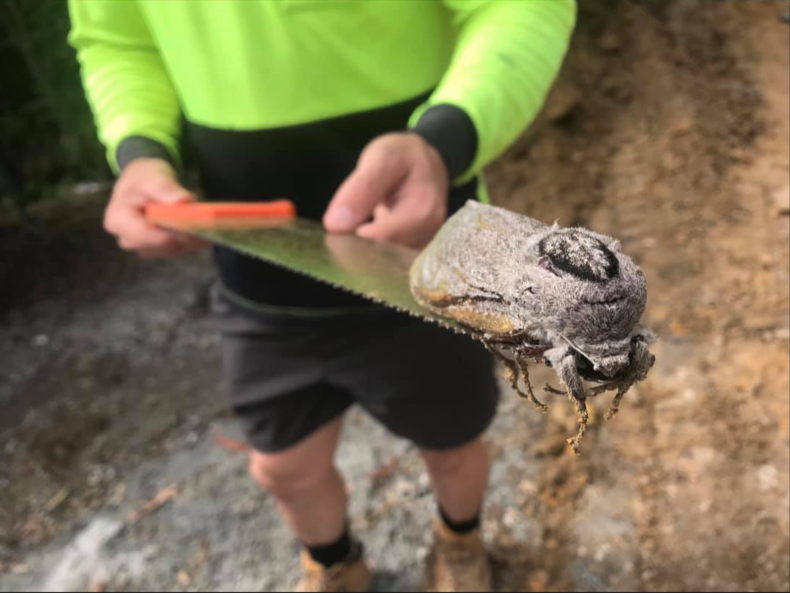 Primary school principal Meagan Steward reportedly called the discovery an "amazing find" but added that they "weren't surprised" that the moth was lurking on school grounds. The school's location, next to a rainforest, has brought strange animals onto the campus before.
Steward also told ABC Radio that one of the school's classes, led by teacher Mrs. Wilson, used the images of the creature as a starting point for a creative writing assignment.
"The students wrote some very creative and imaginative pieces of writing, including Mrs. Wilson getting eaten by the giant moth," said Steward.
She added that the moth has since been returned to the nearby rainforest.
According to News.com.au, giant wood moths are found between North Queensland and southern New South Wales. They are distinguished not only by their enormous size but also by the dark circular pattern around their throats.
While stumbling upon a giant wood moth is relatively rare, it reportedly becomes more common at the end of Australia's summer season.