Rat Snake Slithering Out of Clothing Donation Bin Causes Panic
A snake that was spotted on the streets of Kirkcaldy, Scotland, caused confusion and concern early Monday evening.
A post published on the Fife Jammer Locations Facebook page shows photos of the snake, which was later identified as a rat snake, on a clothing donations bin.
The post attracted a number of comments from Facebook users. Some weighed in on what type of snake was found, others were concerned for the snake's wellbeing and some wrote that they would have been frightened if they saw it in person.
A spokesperson for Police Scotland said officers were made aware of a snake seen in the area shortly after 5 p.m. on Monday.
"The animal was safely recovered by officers a short time later and the Scottish SPCA was made aware," the spokesperson wrote in an emailed statement to Newsweek.
Kristy Morrison, the senior communications and engagement officer for the Scottish SPCA told Newsweek that the snake was friendly, well-handled and was likely someone's pet at some point. She explained that the organization regularly responds to reports of stray snakes. The organization received four calls about the incident in total, including the call from the police asking them to pick up the snake.
"Snakes are somewhat notorious for being escape artists and can find tiny spaces in their enclosure to squeeze through," Scottish SPCA inspector Nicola Liddell said in a statement sent to Newsweek. "We will now hold the snake for seven days at one of our animal rescue and rehoming centers to give the animal's owner a chance to reclaim their pet. If no one comes forward the snake will be rehomed."
Morrison confirmed to Newsweek that no one has come forward to claim the snake.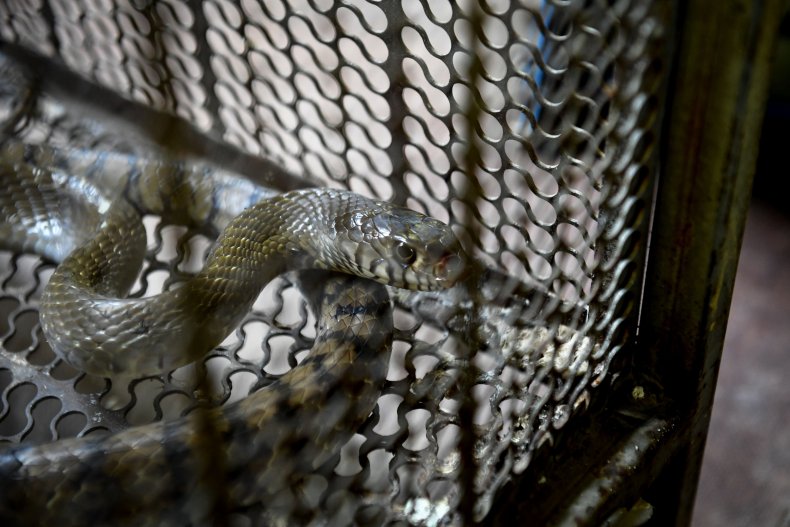 According to Encyclopedia Britannica, rat snakes can be found in North America, Europe and Asia east to the Philippines. There are different types of rat snakes that can be found in various locations and their appearance may vary.
"They hunt rats and mice and kill them by constriction," an article about the snake published by Britannica reads. "They also eat eggs, and some species raid poultry yards and are sometimes called cricket snakes."
The snakes are nonvenomous and are typically docile. They defend themselves by vibrating the tail, discharging a liquid from the anal gland and striking while upright.
This is not the only snake that turned up in a place where it was not expected.
Newsweek reported in early October that a man found a carpet python on a dishrack one morning. Though Keith Williams thought the snake make its way back outside, it later reappeared. After opening several windows, the snake eventually left.