'Ratched': The Biggest Changes the Netflix Show Made to Nurse Ratched
Ratched is producer Ryan Murphy's latest reimagining of Hollywood's history. The super-producer's Netflix series acts as a prequel-of-sorts to the Ken Kesey novel (and Miloš Forman movie) One Flew Over the Cuckoo's Nest. That book/movie feature the character of Big Nurse/Nurse Ratched (played by Louise Fletcher in Cuckoo's Nest and Sarah Paulson in Ratched), a cold and cruel nurse at a psychiatric hospital who wants control at any cost—even if it means lobotomizing difficult patients.
Neither the book nor Oscar-winning movie, however, tell us much about Nurse Ratched, which has allowed the Netflix show to fill in the gaps with a lot of its own drama. In the book, for example, we never get Ratched's real name. The series gives her the name Mildred, which is mentioned in passing by Jack Nicholson's character in the movie, based on the first name that actor Louise Fletcher gave the character.
In Cuckoo's Nest, for example, we get brief mentions of her work as an Army Nurse, which Ratched fleshes in with a number of flashbacks to her time helped patients with their wartime injuries.
The way these flashbacks are delivered, however, is one of the major changes that Ratched makes to the story of the nurse. In the show, many of these flashbacks are part of the weird and warped sexual roleplay that Mildred engages in with Charles Wainwright (Corey Stoll).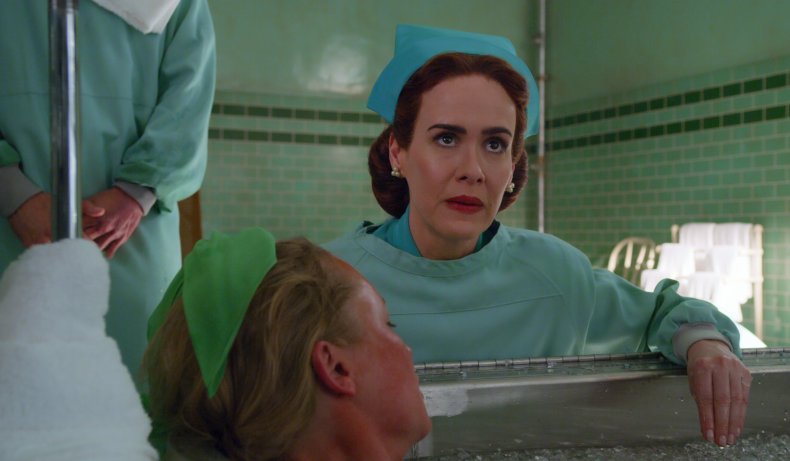 This sexual life that we see in Ratched is very different from how Fletcher saw the character. In a 2018 Vanity Fair article, the Oscar-winning actor revealed that she thought most of the character's evil came from her being sexually repressed due to her still being a virgin, and that the trouble starts when she gets "very turned on by this McMurphy [played by Nicholson] guy."
This is not the only liberty the show takes with her romantic life. Apart from her sexual dalliances with Charles, she is also shown in a lesbian relationship with campaign manager Gwendolyn Briggs (Cynthia Nixon). This queer backstory for Mildred is entirely an invention of the Netflix show.
This change is typical of Murphy's work, which tries to bring the queer stories that have been hidden by Hollywood to the fore. His previous series Hollywood, for example, is set in a rose-tinted version on Tinseltown where Rock Hudson (Jake Picking) was able to come out and be accepted in 1947.
The way the character's same-sex love story played out was also in some ways dictated by Nixon and Paulson, both of whom are out gay women.
The former said to Out Magazine: "There was a whole bunch of different things that happened, particularly later in the series, where Sarah and I went in and spoke to the writers and said, 'This can't happen. Can't we have more of this? Why does this have to happen that way?
"They were originally going to have my character die at the end of season one, and she doesn't. I think that's a boon in and of itself."
With some of the other changes between Cuckoo's Nest and Ratched, the show tries to reverse what some have seen as the misogyny of the book and film, where the only female character is a soulless monster who claims power over and destroys men. The series tries to argue, in contrast, that it was the patriarchal system that wore Mildred away and turned her into the woman she became.
"I thought that reclaiming the Mildred Ratched character in a kind of a feminist way was a brilliant stroke," Nixon told Out. "Obviously, One Flew Over the Cuckoo's Nest is a great movie and she's a great character, but it's also a deeply misogynistic worldview...Are monsters born, or are monsters created, and what went into creating her?"
Ratched is streaming now on Netflix.