'Ratched': How the Netflix Show Links to 'One Flew Over the Cuckoo's Nest'
Ratched is now streaming on Netflix, and it is producer Ryan Murphy's latest reinterpretation of Hollywood history. This time, the Glee and American Horror Story creator has tackled the world of One Flew Over the Cuckoo's Nest, the 1962 Ken Kesey novel that became an Oscar-winning smash movie in 1975.
In fact, Cuckoo's Nest is one of only three films to have won the so-called "Big Five" at the Academy Awards, having won Best Picture, Best Director for Miloš Forman, Best Adapted Screenplay for Lawrence Hauben and Bo Goldman, Best Actor for Jack Nicholson and Best Actress for Louise Fletcher, who played the fearsome hospital despot Nurse Ratched.
Now, Netflix's Ratched continues the story of this nurse, once called the fifth-best villain in U.S. cinema by the American Film Institute. However, Fletcher's role has now been taken by Sarah Paulson, Murphy's muse who has starred in his shows including American Crime Story, American Horror Story and Feud.
However, Ratched tells the untold story of Nurse Ratched. It even finally reveals what the character's first name is: Mildred.
Netflix's Ratched is a prequel to One Flew Over the Cuckoo's Nest, which tells the story of the character before she joined the Oregon psychiatric facility that gives the novel and movie its setting—even though Paulson, 45, is actually four years older than Fletcher was when Cuckoo's Nest was released.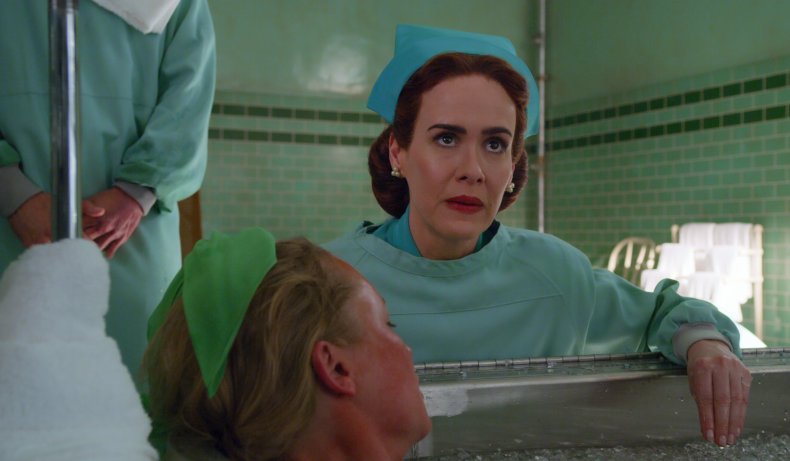 Ratched is set in 1947, at which time Mildred arrives in Northern California, looking for work in a different psychiatric hospital which, in typical American Horror Story style, has been the location for a number of macabre experiments on the minds of the institution's patients.
As played by Paulson, the character does not have quite the hard edge that won Fletcher her Oscar, though the character is still familiar in her brusqueness. In fact, the new version of Mildred has her own troubles. She has an ulterior motive for wanting to work at this hospital that has led her to forge a letter in order to get a job interview there.
In the Netflix show, the tables have turned somewhat on Nurse Ratched. She has to put up with an officious nurse of her own in the form of Nurse Bucket (Judy Davis), the head nurse at the institution.
In a typical Murphy twist on things, he has turned the possible lesbian subtext of the character in the film into text, with Mildred questioning her sexuality after meeting Gwendolyn Briggs (Cynthia Nixon), a queer press secretary to the state governor.
Speaking to Vogue, Paulson said of this change: "Mildred's fear, trepidation, and anxiety is not about confronting her sexuality, but allowing some kind of joy into her life—something that she's had so little of."
Asked why she wanted to take on such a daunting role, the actor said: "Why would I want to face-plant in front of the whole world by taking on a character that was made famous by Louise Fletcher, who gives an Oscar-winning performance? It might be the craziest thing I've ever thought about doing and that made it too intriguing to pass up. I'm a glutton for punishment."
Ratched is streaming now on Netflix.