John Ratcliffe's Website Claimed He Had Won Terrorism Convictions As a Federal Prosecutor. He Didn't.
Question marks have been raised over the depth of experience touted by President Donald Trump's pick to lead the country's intelligence agencies.
Trump has been fulsome in his praise of Texas congressman John Ratcliffe, who he wants to take over from Dan Coats as Director of National Intelligence.
Trump told reporters on Tuesday, via The Hill: "We need somebody strong that can really rein it in, because as I think you've all learned, the intelligence agencies have run amok."
However, opponents have pointed to discrepancies between the Texas Republican's stated and actual experience. Concern is growing among Democrats, and some Republicans, about his resume.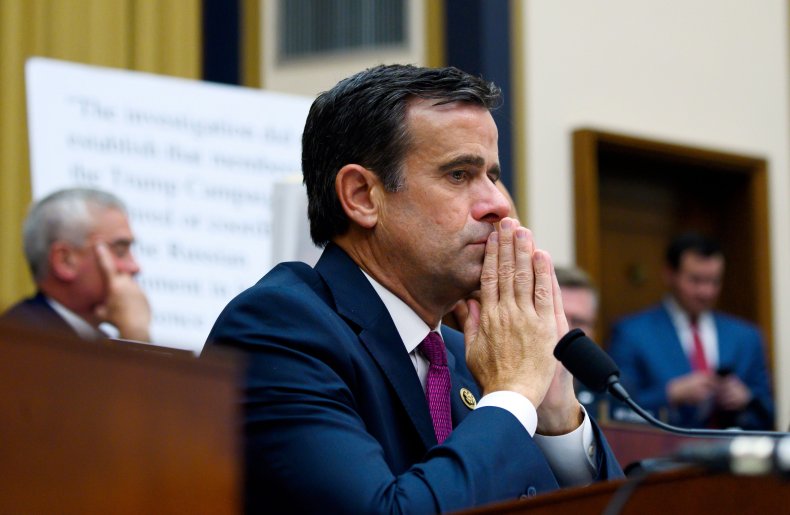 On his website, Ratcliffe says he had convicted suspects accused of funneling money to Hamas.
The case revolved around government efforts to end funding of terrorist groups after the September 11 attacks.
Known as the "Holy Land Foundation" investigation, its focus was a Muslim charity that had sent money to the banned Palestinian terrorist group.
But former government lawyers and an ex-F.B.I. official said Ratcliffe had played no part in the substance of the case, which was prosecuted in another Texas district, ABC News reported.
Another prosecutor said that Ratcliffe had only investigated possible irregularities that caused a mistrial in 2007.
Rachel Stephens, a spokeswoman for Ratcliffe's congressional office, confirmed to The New York Times that the Justice Department had appointed him "to investigate issues related to the outcome" of the Hamas case.
Other credentials that Ratcliffe brandishes include his post as United States attorney for the Eastern District of Texas during the George W. Bush administration.
However he was only an interim holder of that position, which he held between two Senate-confirmed presidential appointees, the NYT reported.
His experience has been attacked by some Democrats. Senator Dianne Feinstein, from the Senate Intelligence Committee that will vet Ratcliffe, said in a statement: "By law, this position requires 'extensive national security expertise.' Congressman Ratcliffe appears to lack the experience needed for the job."
"This isn't a learn-as-you-go position and shouldn't be given out to political supporters," she added, according to U.S. News and World Report.
However, the U.S. attorney who led the Eastern District of Texas office when Ratcliffe was there has defended Trump's appointment.
Matthew Orwig told ABC News: "People see trials and people see the high-profile stuff, and that's really just a tiny percentage of the great work that's done by law enforcement every day since 9/11,"
"When you think about it, for the last 15 years, he's very much been in the national security arena, first as anti-terrorism coordinator, then as U.S. attorney, then as a congressman on the Judiciary Committee, the Homeland Security Committee and the Intelligence Committee."
"I can't think of anyone who would have a better background that equips them for the position," Orwig added.