Ratio Six Coffee Maker Review: A Brilliant Hands-Free Pour-Over Coffee Maker
I spent a year making a cup of coffee each morning using the pour-over method because I wanted my black coffee to be smooth and less bitter. I got used to boiling water, measuring out the specified amount of coffee and then pouring the corresponding cups of water over the right length of time. It's a fiddly process, but it allows for more control over how your coffee tastes.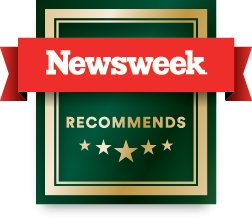 The Ratio Six coffee maker promises to recreate the manual pour-over method's enhanced flavor—but to do it all automatically. I was intrigued—how could someone not be?
So does this upscale luxury deliver a worthwhile experience for people who want to enjoy their morning coffee but typically run low on time and patience?
Design and Setup
Ratio Six produces a couple of different coffee makers. It started on the really high-end with the Eight and has worked its way down to the little bit less expensive yet still premium experience Six. One thing that's clear from both of its machines is that the company is design focused. Its coffee makers are gorgeous and provide their own visual stimulants—no caffeine needed.
Even though the Ratio Six is a little more utilitarian than the Eight, with its hand-blown borosilicate glass carafe, it still has an undeniably beautiful aesthetic. There's a good chance that just seeing a picture of the Ratio Six will tempt you to make the purchase.
Based on its $350 price and attention to detail, I was curious who this coffee maker was made for, so I asked. "Ratio's guiding North Star is to keep three things in equal tension: Coffee taste, quality of components (long warranty and serviceable parts) and beautiful aesthetics (something you're proud to display in your kitchen)," said Mark Hellweg, Ratio founder and CEO. "Doing these things right is not going to produce the cheapest coffee maker, but we want to celebrate brewing coffee, so you can hear and smell the coffee aroma as it's being brewed."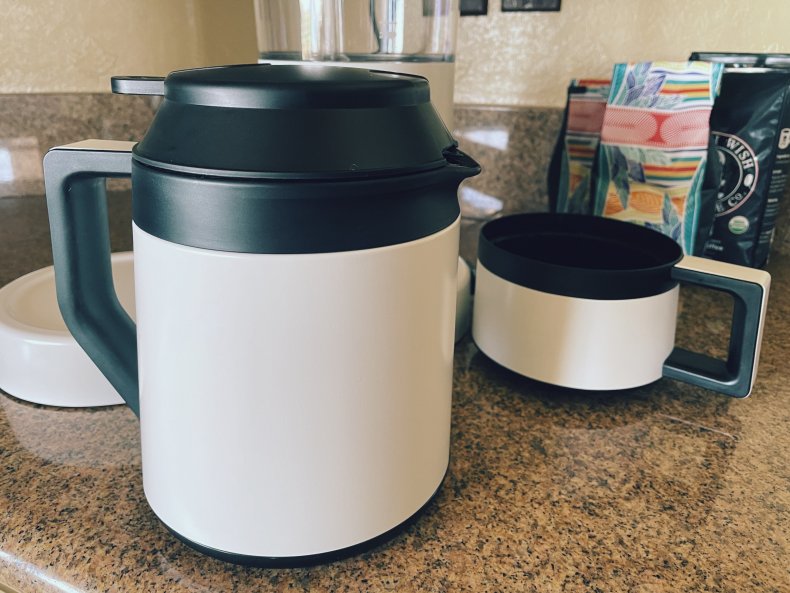 While the machine isn't huge, especially for the job it's tasked with doing, it's large enough to need a dedicated spot for it to live on the counter. There are also more parts in the box than you might expect from looking at a picture. A few of the pieces are also ancillary, like the carafe lid, which you may not need if you don't brew more than you'll consume in one sitting.
It can be a little disconcerting coming from a complex brew process to the Ratio Six's single-button system. The button itself can take some getting used to, as well. It's more of a touch-sensitive area than an actual button—which I discovered the first time I pushed it multiple times because I didn't think I pressed it. After figuring that out, I was ready to get brewing.
Features and Specs
Advertised features and specs from Ratio:
Capacity: Brews 2 to 8 cups at a time
40-ounce thermal carafe
Size: 13.5 inches by 6.75 inches by 14.25 inches
Weight: 8 pounds
Materials: Stainless steel, borosilicate glass and BPA-free copolymers
Uses flat-bottom basket paper filters like the ones from Melitta
Performance
After the first week of experimenting and getting acquainted with the Ratio Six, I was sold. It mostly re-creates the pour-over method, but without all the work and attention to detail. It's freeing to toss in coffee, add water to a marked line, and then just press a single button—but still get a smooth tasting cup of coffee.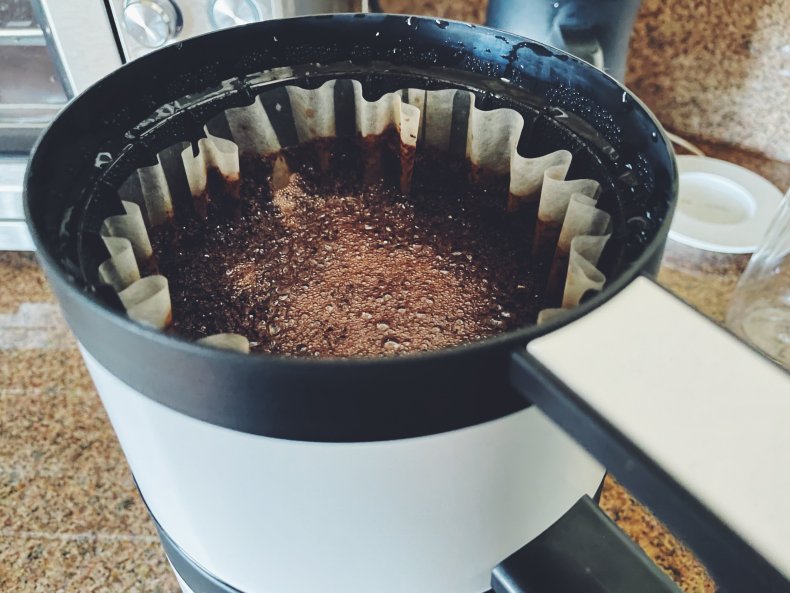 No matter how easy a coffee maker is to use, the first time will always be rockier than the second or third time. That was true here, too. The first brew I made turned out a little too strong for my taste. It also had some coffee bits that escaped the sample filters.
The biggest and really only problem I encountered was with the sample filters. It's nice to have five filters included so you can get started right away, but the ones in the box were wrinkled, resulting in water reaching places it's not supposed to. I used some Melitta and Mr. Coffee basket filters after that, and the brewing process was seamless—no issues.
The automatic pour-over method works by using a stainless steel shower head to drip perfectly heated water in a way that simulates how a person would slowly add water. The bloom step gets the grounds wet and then gives them some time to soak before finishing the brewing process. There's not much to it actually. The brilliance comes in not having to worry about water temperature and timing.
I noticed my pour-over method produced an ever so slightly smoother cup of coffee, but not enough difference to care. I drink my coffee black because I enjoy tasting the different notes that come from different origins and roasts. The Ratio Six kept those flavors intact, but it did so with less involvement from me. It's a remarkable machine.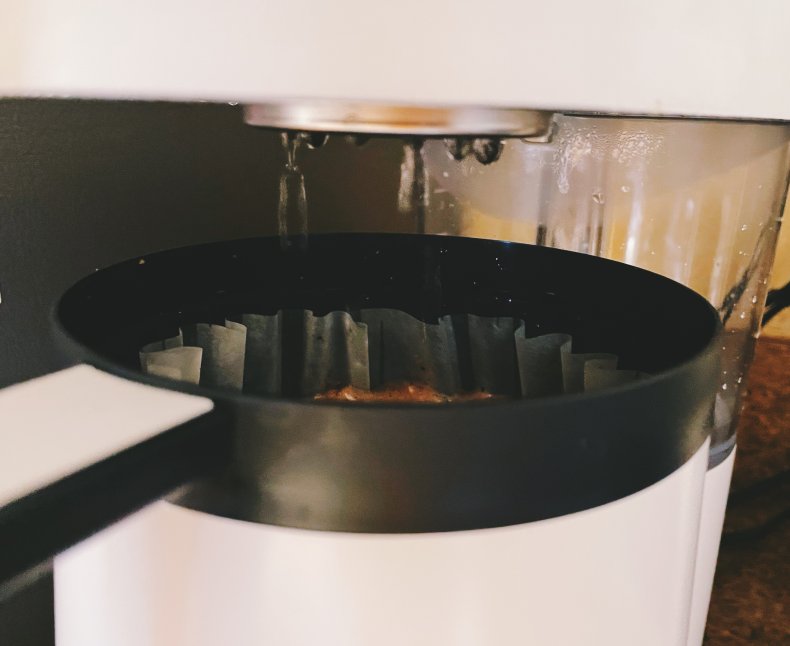 People who don't typically brew more than one to two cups of coffee at a time may want to consider whether the bulk that comes with a larger machine is worth it for them. For example, you'll be storing and washing a larger pot and more pieces than you might be otherwise. My guess, however, is that most people brew more than two cups at a time.
Cleanup is similar to any other coffee maker. You'll need to throw out the filter with the wet grounds and rinse the filter holder. Obviously, the coffee pot will need to be washed, too. But other than those standard things, there's nothing special the Ratio Six needs for daily cleaning.
Should You Buy a Ratio Six Coffee Maker?
The Ratio Six is a great coffee maker. I think its automatic pour-over method brews good enough coffee so that even those who aren't coffee snobs will notice a difference from a standard drip machine. But, more likely, the real market for the Ratio Six is people who are already using a pour-over method who would rather off-load most of the work to a machine. In that case, Ratio Six is a must-buy. It includes a five-year warranty to help ease the $350 investment—and it might be one of the most attractive kitchen gadgets ever, second only to the Ratio Eight.
Buy at Nordstrom, Huckberry and Amazon.
Newsweek may earn a commission from links on this page, but we only recommend products we back. We participate in various affiliate marketing programs, which means we may get paid commissions on editorially chosen products purchased through our links to retailer sites.