A Rave of the Future Starts at 7 a.m.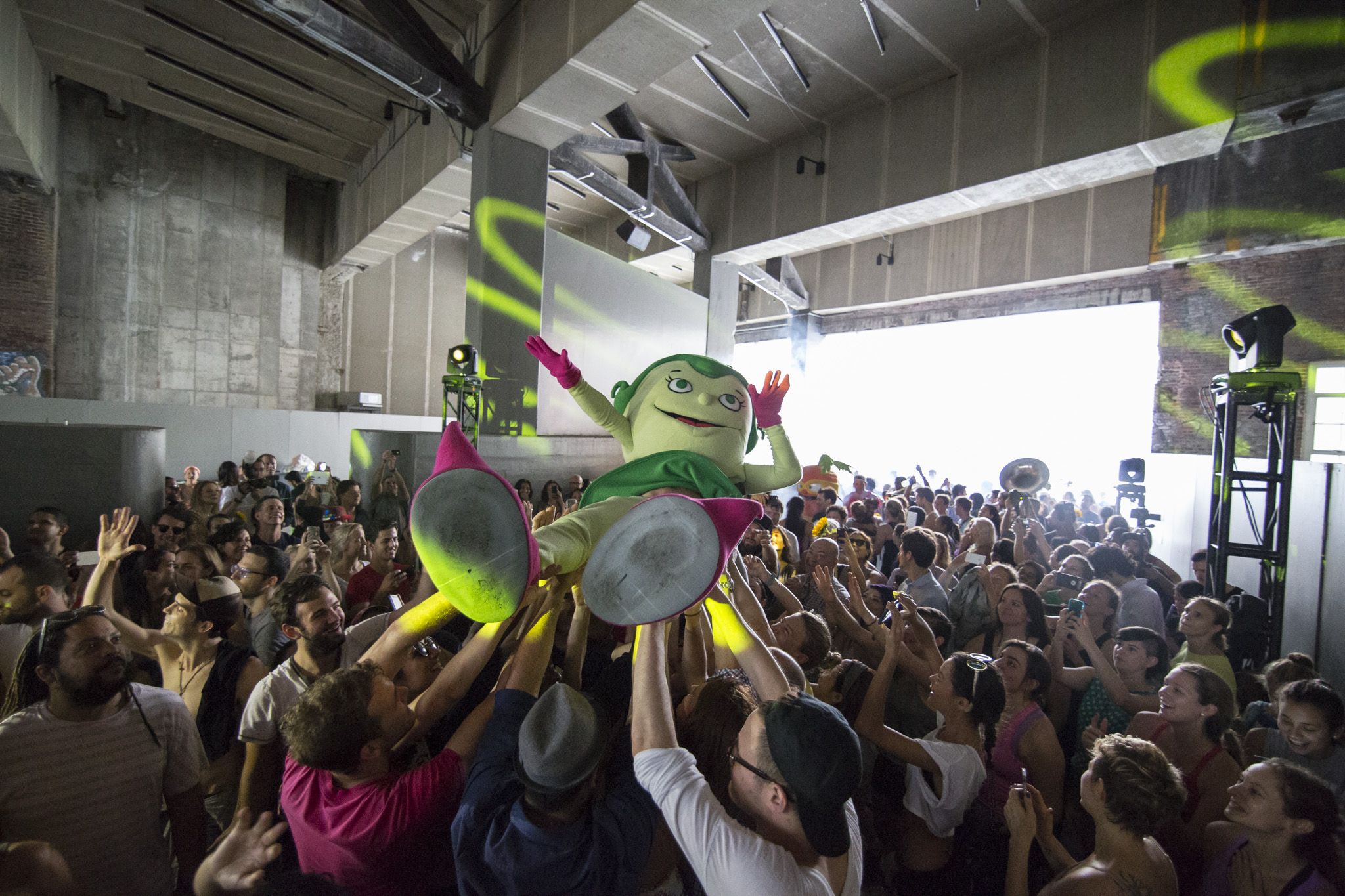 At approximately 6:45 a.m. on a recent Wednesday, an athletic, balding man jogging by New York's High Line Park saw something that made him raise his eyebrows and slow down.
Under an overpass, a hundred-plus people were lying on mats, right legs lifted up to the sky. Calming New Age music played. A yoga instructor with a mic was walking through between the bodies, instructing them on the next movement.
The jogger observed the situation and got on his way. Had he stayed for twenty more minutes, he would have witnessed something even more bizarre. Shortly after seven o'clock, when most of the yogis were enjoying provided refreshments, chewing cereal and granola bars and sipping cold brew coffee and coconut water around the corner, a DJ took to a stage. He started playing joyful, energetic and soulful house music, building up the mood. More guests arrived, forming an unlikely crowd of almost five hundred people, some in sweatpants, others in buttoned-down shirts and still more in conventional party outfits. They started dancing, clapping along to the beats – well, apart from those who were still finishing their cereal on the dancefloor. An enthusiastic MC came to help the DJ, as well as several female dancers in swimsuits. When a five-piece brass band turned up in the middle of the crowd, the audience went bananas.
What made all these people wake up so early and show up at High Line, disregarding a Flash Flood Warning that had popped up on their smartphones earlier in the night? The most recent incarnation of Daybreaker, a series of events that started in New York in December 2013 and have now spread out to seven more cities in the U.S., Europe, the Middle East and Asia. Daybreaker's website defines it as "a morning movement that will start your day off unlike anything else." More precisely, it's a before-work dance party with a preceding yoga session that happens every few weeks, anywhere in the city, from boats and parks to coffee shop basements (the locations are usually "secret" and are announced via e-mail several days before each event). A very healthy and organic breakfast is provided. Alcohol is not.
The "unlike anything else" part isn't exactly true. In fact, these kind of events – sober dance parties that happen in the morning, before the participants go to their offices - have become a growing trend over the last two years. Besides Daybreaker, there's Morning Gloryville, a party that goes from 6:30 to 10:30am and also sometimes includes yoga classes or free massages. It started in London in May 2013 and apparently invented the concept. The franchise is now throwing dawn parties in sixteen cities all over the globe from Canada to Australia. But Daybreaker, it seems, is catching up quickly.
Daybreaker was created by two young entrepreneurs from New York. Radha Agrawal, 36, runs Super Sprowtz, a company that educates children about nutrition. Matthew Brimer, 28, is a co-founder of General Assembly, "a global education institution that provides skills for the 21st century," as Brimer himself puts it. They first met when Brimer came to Agrawal's apartment for her sister's birthday party. "My sister actually wanted to hook us up, but he didn't have a beard at the time and I was, like, 'He looks like a 12-year-old, forget it,'" Agrawal recalls, laughing. "And then we said, 'Well, maybe we start a global movement instead!'" Brimer adds.
Agrawal and Brimer say that they came up with the idea of Daybreaker because they got frustrated with the nightlife in the city. "A lot of it felt dark, or exclusive, or negative," Brimer explained. "So we thought, What if we throw out all these negative things and create an experience that feels uplifting, and celebratory, and allows people to come together and be creative?" (Brimer and Agrawal say that they learned about Morning Gloryville months after they started Daybreaker, and that two events "are building two different kinds of experiences.")
Getting rid of alcohol was a point, too. "In traditional situations, the only ways you can go out tend to be very alcohol-driven. If it's not for you, it doesn't leave you a lot of options. This is an alternative," Brimer said. "Mornings are typically boring and routine, and we want to break the routine and create something special. We're spreading a good mood through the city."
"The whole goal is to wow people," Agrawal added. "We say it's a dance party, but for us it's an immersive theatrical experience."
Considering the whole setup -- the yoga thing, the rows of organic beverages, and the amount of times Agrawal and Brimer said the words "positive" and "healthy" in fifteen minutes -- one would expect some kind of neo-hippie vibe from Daybreaker. For better or worse, that wasn't the case. The dance party itself was indeed as loud, boisterous, and euphoric as anything that happens at night – maybe even more so. The Scumfrog, a DJ who has been playing all over the world for more than twenty years and has collaborated with the likes of David Bowie and Sting, ruled the groove, playing remixes of Donna Summer's "I Feel Love" and The Zombies' "Time of the Season" among other Hi-NRG favorites. The brass band echoed the beat, moving through the crowd. The MC repeatedly reminded the audience that love won. Natural flowers were distributed to the dancers. Towards the end of the set, which lasted for almost two hours, a person in a giant carrot costume arrived and went crowdsurfing.
Agrawal and Brimer claim that Daybreaker is first and foremost a "labor of love." Still, it's also a business: the tickets to the High Line event costed $50 with the yoga aspect and $35 for just the dance party, and as it often happens with Daybreaker nowadays, it sold out. The founders say that their project caters to "millenials, young professionals, creative entrepreneurs and tastemakers." A brief social survey of the crowd demonstrated this. There was a teacher, an intern at an educational workout, an advertising agent, a financier, an "activation manager" for a coconut water company, and so on. They all learned about Daybreaker through word of mouth, and most of them also used the words "healthy" and "positive" to describe their experience.
All Daybreaker events have a special finale. Fifteen minutes before 9 a.m., the music stopped, and everybody was offered to sit down on the dancefloor. Speeches were made, reflecting on positivity, community spirit and what a great way it was to start a morning. A singer-songwriter with an acoustic guitar sang a couple of heartbroken songs. Eventually, postcards were distributed. On the front, a rainbow-colored pattern was printed with the words "Love Is Love." On the back was the last paragraph of the U.S. Supreme Court ruling on same-sex marriage in its entirety. The crowd read it together in unison, out loud, word by word (Agrawal said that a similar ritual happens at every event, because "it binds the community"). After the last sentence -- "It is so ordered" -- a respectful silence fell.
Still, the party wasn't entirely over. When the guests began to disperse, heading to their offices, and the Daybreaker team started to clean up the place, the DJ played a couple of final tracks, and several people continued to dance. A bearded man in a yamalka who said that he was a Judaic studies teacher and asked to be referred as Daniel V., moved especially enthusiastically, using up all the space on the emptied dancefloor.
"Electronic dance music is based on the idea of breaking free of certain kinds of conventions," he said, reflecting on his first Daybreaker experience. "The movement of your body is a continuing enterprise. You get up in the morning, and you're in the flow, so really there isn't any time not fit for dancing."
DJ Scumfrog, however, pointed out one important difference between the more regular dance parties and Daybreaker: "People go out at night to escape something," he said. "But people come here to do the opposite of escaping. They come to be in the moment, embrace reality. The people you meet here are actually who they are, not some other version they're trying to be. They're not under the influence of whatever, and it provides a completely different vibe."
"You know, one of the guys really touched on that," the DJ added, referring to one of the post-party speeches. "Maybe we're the crazy ones. But maybe we're the normal ones. Depends on how you look at it."