Ray Diaz Accused of Grooming and Assaulting 16-Year-Old Girl (UPDATE)
Influencer Ray Diaz has been accused of grooming and sleeping with a 16-year-old in a new video.
In an interview with DramaAlert YouTube channel host Daniel "Keemstar" Keem, Angelica Salek claims she had been dating Diaz for the past year and a half while she was underage and was abused physically and emotionally.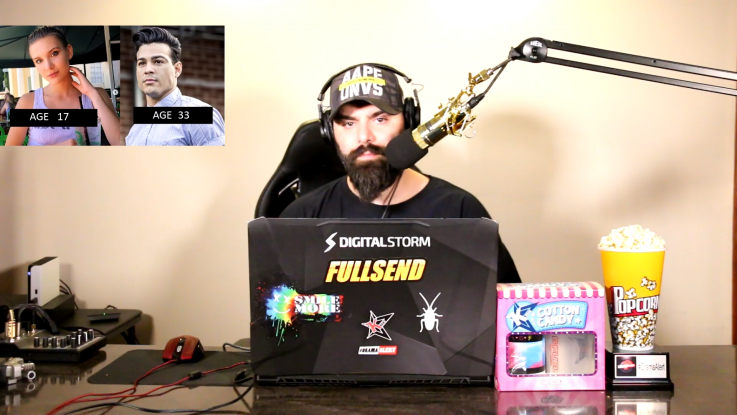 On July 5, a one-minute clip was posted to Salek's Instagram by her mother showing Diaz screaming at Salek while the pair were in a car. Later that day, Salek posted a clip to Twitter denying there was any wrongdoing and that it was just "acting," that they were creating an abusive scenario and that she was alright. Diaz said that the clip was of an "acting lesson" to YouTube channel The Hollywood Fix and in an interview with Keem.
A longer version posted by Keem of the original clip posted by Salek's mother showed Diaz yelling that Salek should "kill herself" and "die."
In the video interview with her mother and Keem, Salek claims that the pair had started dating when she was 16 and that they were definitely in a "relationship." Salek also claims that Diaz forced her to create the Twitter video saying she was alright. "He was telling me what to do, I was so lost," she says in the interview. "I was always at fault, I always had to take the blame, I felt lost."
Salek claims that she and her mother have both filed restraining orders with the Los Angeles Police Department and are looking into further action. An LAPD representative told Newsweek that they have "no information on this incident."
(Update: 8:00 a.m. EST.) The LAPD Twitter account has posted about the situation, writing that they "take these allegations seriously."
Keem put a call to action at the end of his video, asking his fans to contact the LAPD and say "Ray Diaz needs to be locked up."
(Updatd: 7/13 2:00 a.m. EST) Diaz has been arrested and is now in custody by the LAPD with a bail set at $500,000.
The 33-year-old Diaz has over 100,000 Twitter followers, has appeared on TV Land's Lopez and is a former member of Jake Paul's Team 10. In June of 2018, Diaz was arrested on domestic violence charges for scratching and bruising his girlfriend at the time, Landi Hicks. He was released on $50,000 bail.
In July, TMZ reported that another girl had come forward that had allegedly been assaulted and that "the City Attorney could file charges within a year" if Diaz has another incident.
Diaz did not respond for comment by publication time.
Ray Diaz Accused of Grooming and Assaulting 16-Year-Old Girl (UPDATE) | Culture