Rayleigh Scattering: Indonesian Forest Fires Turn Sky a Hellish, Instagram-filter Red
The skies in the Indonesian province of Jambi turned a bright red over the weekend, as if transformed by a particularly saturated Instagram filter.
But this wasn't a digital trick. It is a phenomenon called "Rayleigh scattering"—the dispersal of light particles within a medium without any changes to the wavelength. It is this process that makes the sky blue, as blue light is scattered more efficiently than red light. In this case, however, the intense wildfires that are hitting the region are turning the sky a bloody red.
While haze that forms is a regular occurrence, it has been particularly strong in 2019.
Many of Jambi's residents took to social media over the weekend to share images of the nightmarish scenes affecting their province.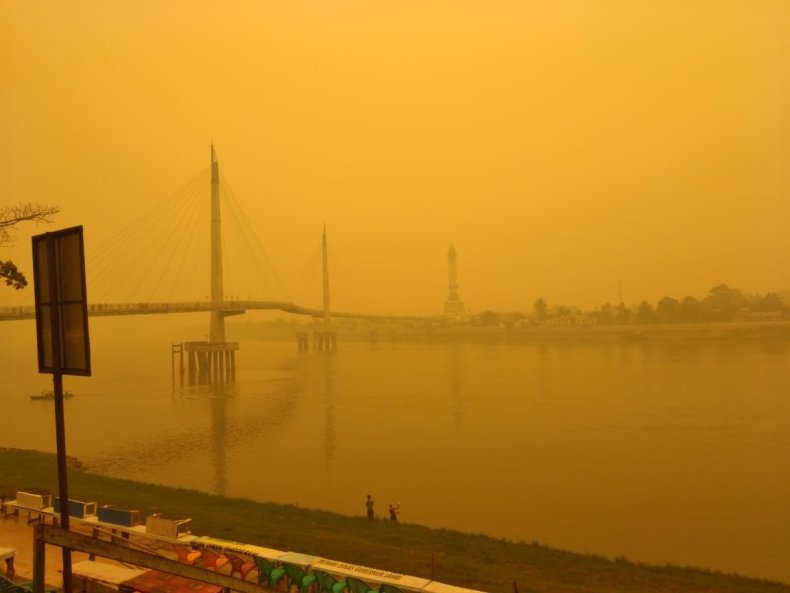 Fires are frequently started by large agricultural corporations and local farmers working on a smaller scale who use the dry season (July to October) to clear vast swathes of the forest using a slash-and-burn technique. Frequently, these human-made fires spiral out of control, spreading to areas they shouldn't—including areas that are protected.
Technically, slash-and-burn is illegal in Indonesia but it has often been allowed to continue unpunished. CNN reports, as of Monday, 185 people have been arrested and four corporations are under investigation in relation to the human-caused wildfires ravaging the country. This is according to Indonesia's National Police spokesperson Dedi Prasetyo.
According to Indonesia's national disaster agency, 328,724 hectares of land was burned between January and August this year. That is an area approximately four-fifths the size of Rhode Island.
The BBC reports that the Air Quality Index (AQI) in Palangkaraya, the capital of the province of Central Kalimantan in Borneo, hit 2000 on Sunday—far above the 301 to 500 that is deemed hazardous. It is the worse haze affecting the country since 2015, when costs of the environmental crisis reached $16 billion and caused respiratory illness in hundreds of thousands of people.
Indonesia is not the only country the haze is affecting. Singapore, the Phillippines and the south of Thailand are also feeling its impact. In Malaysia, thousands of schools have temporarily shut in response to unhealthy levels of pollutants in the area, including 300 in the country's capital Kuala Lumpur, Al Jazeera reports.
According to government spokespeople, firefighters and members of the army have been recruited to tackle the blaze. Meanwhile, officials say they are stepping up efforts to capture and arrest those involved in the starting and spreading of these fires.