Rays Star Calls Wearing No. 21 on Roberto Clemente Day 'An Honor'
Nelson Cruz won't play for the team that nominated him for the Roberto Clemente Award on Wednesday, but that won't make wearing Clemente's number any less special.
The Tampa Bay Rays designated hitter called wearing No. 21 "an honor" while sharing an image of the jersey he wore for Roberto Clemente Day during their game against the Toronto Blue Jays.
Aside from being one of the most special players to ever don a baseball uniform, Clemente was also known for his philanthropic efforts off the field, and Major League Baseball has given the Roberto Clemente Award annually since 1973 to the player who best represents baseball through character, community involvement, philanthropy and positive contributions on and off the field.
MLB deems the Clemente Award baseball's most prestigious individual honor. Despite the fact he was traded to the Rays on July 22, Cruz was the Minnesota Twins' nominee for his "tremendous impact on the organization and upper Midwest region throughout his two-and-a-half years in Minnesota," according to a press release announcing his nomination Tuesday.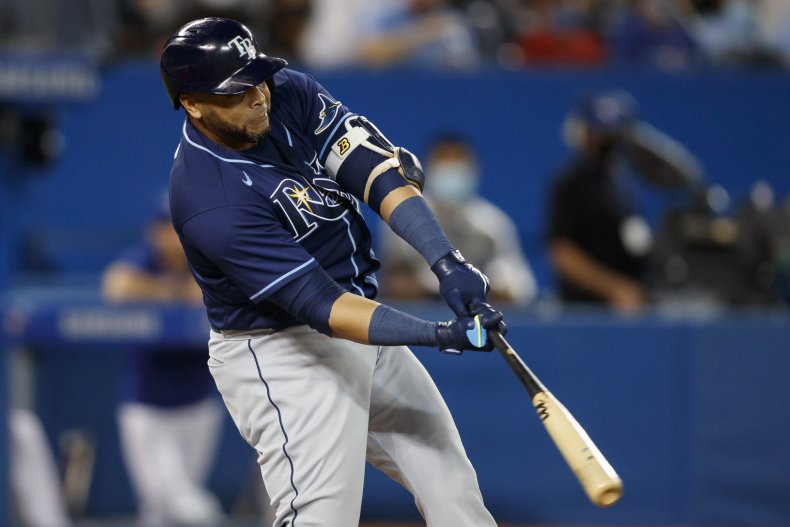 Cruz was nominated for the award for his essential work in Minnesota and in his native Dominican Republic, notably sending doctors, medicine and equipment for residents to receive care and also sending money so Dominicans could afford to adhere to stay-at-home orders mandated by the COVID-19 pandemic. He cited a quote from Clemente as inspiration for his important work.
MLB will announce the 2021 award winner, which will be determined via a fan vote online, during the World Series.
MLB has celebrated Roberto Clemente Day each September 15 since 2002, as the date marks the start of Hispanic Heritage Month, and announced Wednesday it will remain on the MLB calendar in perpetuity.
In conjunction with the 20th-annual celebration, MLB allowed award nominees, previous winners, players of Puerto Rican descent and other approved players to don the Hall of Fame Pittsburgh Pirates outfielder's No. 21 during their games Wednesday.
"It's definitely an honor," Cruz added before Tampa Bay's game Wednesday. "That number means so much for baseball and us Latin players."
Cruz will join Rays pitcher and team nominee Ryan Yarbrough as the team members wearing the number while the other Rays sported a jersey patch with Clemente's No. 21 on their sleeve. Blue Jays nominee Bo Bichette wore No. 21 and was joined by teammates Vladimir Guerrero Jr., George Springer and Jose Berrios along with Toronto manager and Puerto Rico native Charlie Montoyo.
The players who were able to wear Clemente's number expressed excitement about doing so. But Houston Astros catcher Martin Maldonado, who like Clemente hails from Puerto Rico, called for MLB to retire the No. 21 league-wide like it did for Jackie Robinson's No. 42 in 1997.