Wander Franco was deemed a "can't-miss prospect," and thus far he's proven the pundits correct.
When the Tampa Bay Rays shortstop singled in the fourth inning of his team's 3-1 win over the Philadelphia Phillies on Tuesday, he became the first sub-21-year-old player in 31 years to reach base in 25 consecutive games, according to ESPN Stats & Info.
Franco joined an exclusive company with his feat, too. Only Hall of Famers Ken Griffey Jr. in 1990 and Roberto Alomar in 1988 reached base in 25 straight games while still unable to drink alcohol legally in the United States since 1961.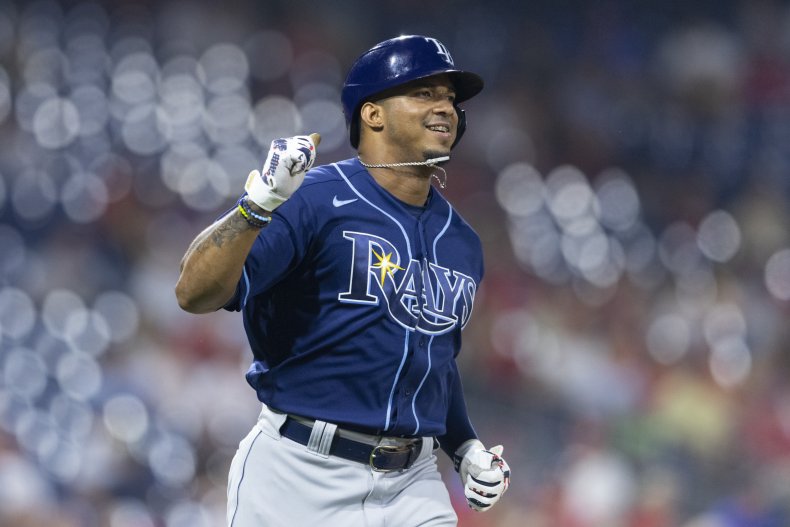 His reached-base streak is the longest in the majors this season and the longest by a rookie in the team's 23-year history. It is even more impressive considering his age and the fact he was only called up on June 22.
"Very impressive," Rays manager Kevin Cash said after Tampa Bay's game Tuesday. "At 20 years old you just marvel at how talented he is, how special he is and the consistency that he's shown."
Franco is the latest Rays prospect to take the majors by storm. He entered this season as the top prospect in baseball for the second year in a row, and fans had been pining to see him in the majors after showcasing five-tool talent in the minors. Franco hit .332/.398/.536 with 27 homers, 145 RBIs, 48 doubles, 20 triples, 27 stolen bases and just 75 strikeouts in 829 at-bats over 214 minor-league games
It took about three weeks for Franco to figure out big-league pitching, but once he did he has not looked back. Franco is hitting .309/.380/.526 with eight doubles, three home runs and 19 RBIs over his past 25 games.
"He's got a lot of confidence when he goes up to the plate that he can hit ahead in the count, certainly behind in the count," Cash said. "And he's shown the ability to be patient. There's probably a couple of games where walks have benefitted that [streak]. So he'll be selective enough as well."
Perhaps more importantly, the Rays are 32-16 in games Franco plays and have zoomed into first place in the American League East, leading the second-place New York Yankees by four games.
The Rays were so sure in Franco's potential that they traded Willy Adames, the team's everyday shortstop since 2019, to make space for him despite having the second-best record in the American League at the time. The trade, which sent Adames and pitcher Trevor Richards to the Milwaukee Brewers, not only cleared a spot for Franco but also fetched Tampa Bay pitchers J.P. Feyereisen and Drew Rasmussen.
Feyereisen is 4-1 with a 2.42 ERA and three saves in 21 appearances with Tampa Bay. Rasmussen picked up his first win of the season in 15 appearances for the Rays on Tuesday, allowing four hits and one run in five innings — the longest outing of his major-league career.
Franco isn't just an offensive whiz either. He made a crucial defensive play, robbing Phillies shortstop Didi Gregorius of a hit and likely RBI, with two on and two out during the first inning Tuesday.
"Wander made a great play, going to the backhand deep into shallow left field," Rasmussen said. "He's got such a strong arm, and he made a good throw ... and it worked out really well."
Uncommon Knowledge
Newsweek is committed to challenging conventional wisdom and finding connections in the search for common ground.
Newsweek is committed to challenging conventional wisdom and finding connections in the search for common ground.