The Razzies Founders Celebrate 40 Years of Awful Movies and 2020's Worst Pictures
The Golden Raspberry Awards have been called the anti-Oscars and the Worst in Show, but most people know them best as the Razzies. For decades now, the annual ceremony has mocked Hollywood's award-show complex and taken aim at some of the most regrettable movies to be released. Key Razzie categories include Worst Picture, Worst Screen Combo and Worst Prequel, Remake, Rip-off or Sequel.
"We like to say we are not a slap in the face," one of the Razzies' co-founders, John Wilson, told Newsweek recently. "We're a banana peel on the floor."
Wilson and Mo Murphy started the Razzies 40 years ago in 1981. (They first met while they were both working at a movie trailer company.) The first-ever Razzies show was actually held at an Oscar-viewing party among a small group of friends. That slapdash ceremony featured a makeshift cardboard podium, but over the years, the Razzies have become a global phenomenon that not only gets mainstream press but is also sometimes acknowledged by the stars who are getting roasted.
While Wilson and Murphy still work on film-related projects, the Razzies now consume much of their time, as it's expanded from a voting committee of friends to welcoming anybody who's willing to pay $40 in order to cast a ballot. The show is typically held live, the night before Oscars, in small theaters or large banquet halls. Of course, that's not really feasible this year, so the winners for the 41st Golden Raspberry Awards were announced online in a pre-recorded video that was released earlier today in advance of Sunday's Oscars telecast. We won't spoil who won what, just know that the "documentary" by Mike Lindell, a.k.a. the "My Pillow Guy," came up big, as did Sia's controversial Music.
Ahead of this year's (dis)honorees being revealed, Newsweek spoke with Wilson and Murphy about 40 years of awful cinema, how the Razzies have become legitimized over the decades, and the drawbacks of watching terrible movies for a living. This interview has been edited and condensed for the sake of length and clarity.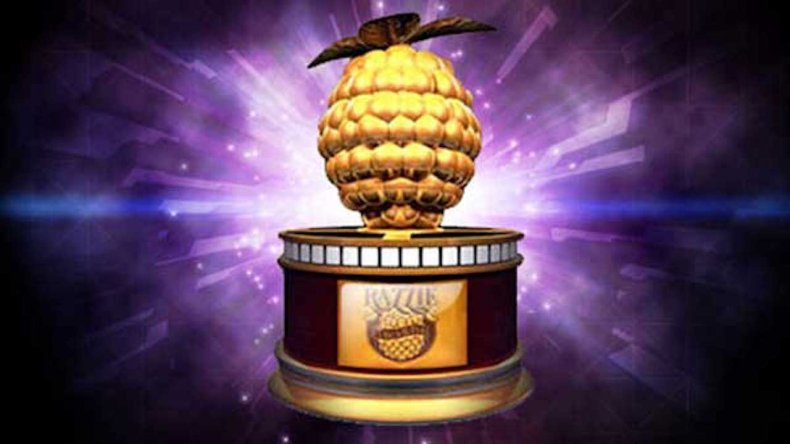 Is it true the Razzies were inspired by a one-dollar double feature of Can't Stop the Music and Xanadu?
Wilson: Yes, indeed. What really set me off was I did not think either movie was worth 49 cents, let alone 99 cents. On my way out of the theater, I spotted the manager in the lobby. I went up to him, and I said, "I would like my buck back. This is not a dollar's worth of entertainment." When he said no, I remember driving home and making a list in my head of bad movies.
The Razzie group that voted the first year was less than 50 people, and we did a potluck dinner and watched the Oscars. When they ended, I pulled out a cardboard podium I had made, and we just called people up and decided there [who would announce categories], "You're doing screenplay...You're doing actors." It was very fulfilling and very improvised, but you could tell that the people there thought that it was incredibly funny and a lot of fun.
So, the next day I put together a press release and hand-mailed it. We got one article the very first year, and it was because a friend of mine worked at that newspaper. We moved it to Oscar Eve, and over the years, it snowballed. I think part of its appeal is it's a simple idea: The Oscars turned on its head.
Murphy: It also makes it very relatable to fans when a celebrity can make fun of their own mistakes. It just makes them seem so much more endearing. I like to say it brings humanity to celebrity.
It's become more common over the years for major names to show up and accept the awards, like Halle Berry and Sandra Bullock. And director Paul Verhoeven was the first?
Wilson Verhoeven was the first who was actually there in person. [Ed.'s Note: He showed up in 1996 on behalf of 1995's Showgirls.] The very first one to be told about it—and I read this in a British newspaper, so who knows if it's true—but they told Faye Dunaway she had won the Worst Actress, and more humiliating, had tied with Bo Derek for Tarzan, the Ape Man. Her response was, to quote the newspaper, "She flew into a litigious rage."
I do know that over the years she has refused for four decades now to ever talk about [the film she won for] Mommie Dearest, which should give you some idea of how dear it is to her heart. I personally find that a wildly entertaining movie, but I'm pretty sure it wasn't made as comedy.
It's a camp classic now.
Murphy: A lot of our Razzie-fare does become camp classics.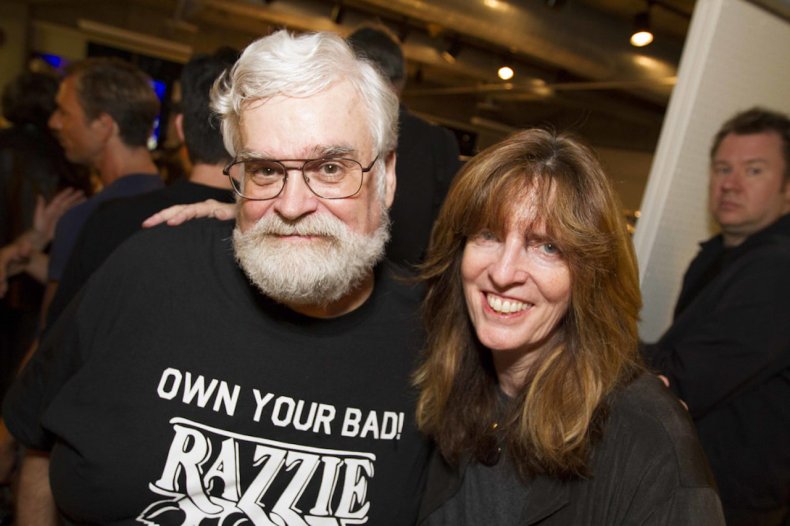 Are there any really bad movies that you two can watch as guilty pleasures?
Wilson: I do love Mommie Dearest, and a very obscure one from the early Razzie years—Pia Zadora in The Lonely Lady, which is a masterpiece of crap. Showgirls... Battlefield Earth, partly because it's just such a weird—all the camera angles are slightly askew, and it was made with religious zeal.
Eddie Murphy recently said in an interview that he took a break from acting because of getting so many Razzie nominations.
Wilson: Which we are proud of. We're trying to get other actors to look at it the way Eddie Murphy was able to. He himself said, "I'm not enjoying shooting all these movies. Why am I bothering?" But then he made a comeback and won what we call the Redeemer Award, for Dolemite Is My Name. He got back to what had worked for him, and he did learn a lesson. Frankly, that's rare in Hollywood.
Dwayne Johnson had a good response to winning a Razzie for Baywatch. In a Twitter video acknowledging the award, he basically said, "Okay, I deserve this."
Murphy: Oh, absolutely, And [film composer] Alan Menken, who's won every single other award, was proud that he made one mistake. [Ed.'s Note: He won a Razzie for 1992's Newsies]. It's a smart thing to just own it. It makes you look really good.
Is Menken the only REGOT [Razzie, Emmy, Grammy, Oscar and Tony] winner?
Wilson: Oh no, there's a handful. I'm trying to remember if Barbra Streisand has ever won a Razzie. [Ed.'s Note: She's been nominated four times with no wins.] There are a fair number of people who won both the Oscar and Razzie. That's not that uncommon.
It's even happened in the same year before, hasn't it?
Wilson: Sandra Bullock was a big one. [Ed.'s Note: In 2010, Bullock won a Razzie for All About Steve and the following night won an Oscar for The Blind Side.] We especially enjoyed the fact that as she walked her way up the Red Carpet at the Oscars, every TV crew asked her about the Razzies. And she was so good-natured about it. She and Halle Berry were both great, and they both came to the Razzies show at their own expense.
Have you guys ever thought about doing a Lifetime Achievement Award?
Wilson: We did those early on, but we haven't done one in a while. Certainly, if we were going to do a Lifetime Worst Career Award again, Sylvester Stallone has to be considered. He's our all-time champion.
I'm also curious about The Shining. Has your opinion softened on it over the years? I think people are surprised when they hear that Kubrick was nominated for the first Worst Director Award.
Wilson: We had 10 nominees the very first year in that category, and the bulk of the voters were people Mo and I worked with at the trailer company. A group of us went on opening night to see The Shining, and if you read the novel—I'm sorry—that's a lousy movie. [Jack] Nicholson was kind of over the top. [Shelley] Duvall was similar to her portrayal of Olive Oil in Popeye. We were all disappointed with it. There's a certain reverence for particular names like Orson Welles, who was also a Razzie nominee because he made a bad movie with Pia Zadora.
Do you guys have any pre-Razzie movies that you would like to honor as a "Worst Movie" in a Hall of Fame?
Wilson: We tried that early on with a couple of the Airport movies. We called it the "Hall of Shame." My favorite bad movie from before we existed, and I still can go back and watch it and laugh like a maniac, is called The Oscar, with Stephen Boyd and Elke Sommer. The Academy totally cooperated with them in making it, and they actually nominated it for two Academy Awards!
What about criticism that the Razzies are too negative?
Murphy: We have to take corrective criticism as well. Everything is a matter of opinion. We feel that we're pretty fair about who we are and why we are. We're trying to bring humanity to celebrities.
Wilson: One of the criticisms that we've gotten a lot lately is that by the time we nominate something, everyone knows it stinks. It is the public who, in large part, are voting on this thing. Most of our voting members are average moviegoers. I would argue that over the years only occasionally has the worst movie not won the top award, but not very often. I don't think we've ever given it to something that years later the public came back, or critics came back, and said, "Oh, that was totally misunderstood." They're actually trying to do a revision on Showgirls now and claim that it was ironic. No, it's not. It's a cheap, lap-dancing piece of s**t.
Do you two ever get tired of watching bad movies?
Murphy: The answer is yes.
Wilson: I hearken back to when I saw Jack and Jill. It was the last day it was playing, and there were three other people in the theater. I very clearly remember when Adam Sandler showed up as the female character Jill, and I just thought, "Oh, great. I'm the head of the Razzies. I cannot walk out like the other three people just did."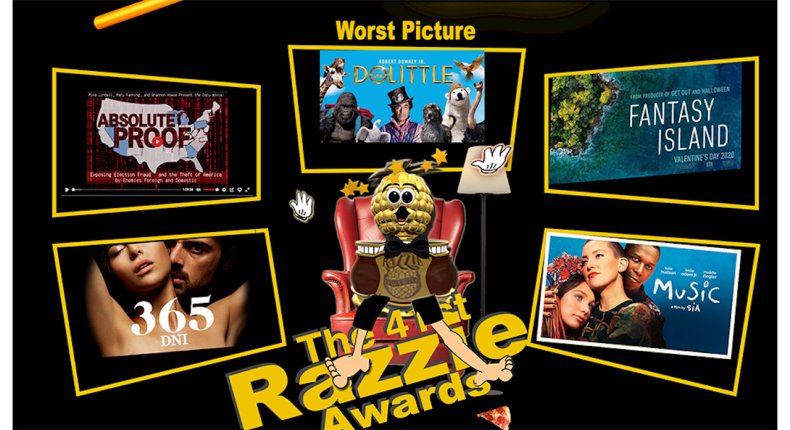 This year, the Razzies are giving a "Special Governors' Trophy" to 2020 for being "The Worst Calendar Year EVER!" But, in your opinions, what is the worst movie of 2020? Are you allowed to say—not giving away the winner, of course?
Wilson: I'd be happy to. Mo and I may agree on this. It came out at the very end of the year: Sia's movie, Music. It's beyond being awful; it's actually offensively insensitive. We have an autistic voting member who emailed me directly and said, "Our community loathes this movie. It must get attention." You look at it and think, "Okay, did you spend 10 minutes with actual autistic people and ask them how they would like to be portrayed?"
Murphy: It was tough, but bad motivation-wise, I'd say [directors Barbara Bialowas and Tomasz Mande's] 365 Days, which is just soft porn seeing how far it can go.
Wilson: I will admit, there was one I could not sit through. I ended up scanning [directors Brannon Howse and Mike Lindell's] Absolute Proof. It's like a weird fever dream of somebody who will not let go. It's like watching a meltdown.
The Razzies are often referred to as the anti-Oscars. Do you two dislike the Oscars?
Wilson: I watch them for the same reason as most people do—hoping someone will trip on their way down or say something vulgar. I loved it a couple years back when someone gave Warren Beatty the wrong envelope, and there was a five-minute period when the wrong movie won Best Picture.
Murphy: The fun thing about the Oscars is that we can be the antithesis of that, which we play off of. That's part of the fun of the Razzies. I personally love great movies, and it's great when a great movie wins an Oscar, but that isn't always the case.
Wilson: If you're going to do satire, it always helps to satirize something that everyone is familiar with. Although their audience has plummeted over the years, the Oscars are the 800-pound gorilla of award shows. And they have a pomposity about themselves that just begs to be poked fun of.
I actually worked on the EPK [electronic press kit] for the Academy Awards about 20 years ago, and my client was terrified they'd figure out who I was. So, I went out of my way to not make that clear. I knew Oscar history better than the people who run the Academy! I pointed out to them that that year was the 35th anniversary of the Best Song award, and we did a whole story on that, showing clips, because the musical numbers are what people like me used to love.
At the very end, when they were talking about what a great job we had done ... I pulled out two tickets to the Razzies out my briefcase and handed them to the woman from the Academy. She blanched, her eyes went crossed, and you would have thought I had s**t on her shoes. Her whole attitude was 180. She said, "You're that John Wilson?!" And I said, "Look, if we and you are doing our jobs, we are not really in competition."