'RBG' and 'On the Basis of Sex' Re-released as Ruth Bader Ginsburg Tribute
The death of Ruth Bader Ginsburg last week at the age of 87 has led to renewed interest in two recent films made about her life—RBG, the 2018 Oscar-nominated documentary about the Supreme Court justice's life and career, and On the Basis of Sex, the 2018 biopic starring Felicity Jones as Ginsburg when she was a young lawyer, who takes on a case in which a man has been discriminated against because of his gender.
On Friday, September 25, Focus Features and Magnolia Pictures will re-release both of these films into 1,000 cinemas, with proceeds from the box office going to the American Civil Liberties Union Foundation in support of its Women's Rights Project—a project that Ginsburg herself founded in 1972.
In a joint statement, the two production companies said in a statement: "Justice Ginsburg spent her life upholding fairness, the law, and the rights of all Americans.
"These films highlight only a small portion of her legacy to screen, but her vast impact on our country goes far beyond them. We hope that moviegoers are re-inspired by her passion, her courage and take that back into the world."
Both RBG and On the Basis of Sex are also available to watch online. RBG is streaming on Hulu, Hoopla and Kanopy, while On the Basis of Sex is on FuboTV, Showtime, DirecTV and the Showtime Amazon Prime Video add-on.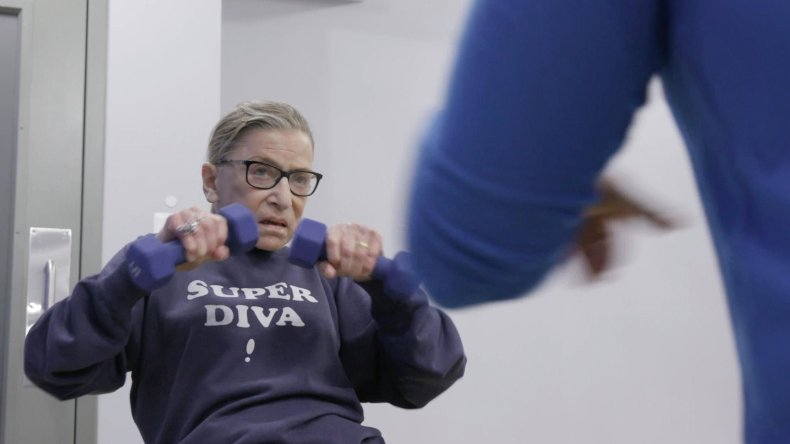 RBG is also available to rent and buy on: Redbox ($1.99 to rent/$6.99 to buy), Amazon ($2.99/$9.99), Google Play ($2.99/$9.99), Youtube ($2.99/$9.99), Vudu ($2.99/$9.99), Apple TV ($3.99/$9.99), FlixFling ($2.99/$9.99) and Microsoft ($3.99/$9.99).
On The Basis of Sex, meanwhile, is available to rent on AMC Theatres on Demand ($5.99) and to buy on AMC ($9.99), Amazon ($7.99), Vudu ($7.99), Microsoft ($13.99), Apple TV ($14.99), Fandango Now ($14.99), RedBox ($14.99) and DirecTV ($15.99).
Felicity Jones, who played Ginsburg in the biopic, was among the many who paid tribute to the Supreme Court justice. In a statement, the actor said: "Ruth Bader Ginsburg gave us hope, a public figure who stood for integrity and justice—a responsibility she did not wear lightly. She will be missed not only as a beacon of light in these difficult times but for her razor sharp wit and extraordinary humanity. She taught us all so much. I will miss her deeply."
The film's director Mimi Leder also paid tribute to Ginsburg in an Instagram post. Alongside a shot from the end of the film, in which RBG herself makes a cameo, Leder wrote: "RBG I will never forget you. Thank you for profoundly changing the world with your fiercely brilliant powerful mind, heart and soul! Your courage and bravery paved the way for us all. We will continue the fight in your name. Warrior!!! Rest in Peace and Power my dear friend Madam Justice."