Video of RBG's Personal Trainer Doing Pushups in Front of Late SCOTUS Judge's Casket Goes Viral
A video of Ruth Bader Ginsburg's personal trainer doing pushups in front of her casket went viral after appearing on Twitter Friday morning. It was quickly shared around among those still mourning the Supreme Court giant and champion of women's rights, who passed away last week.
Bryant Johnson is a U.S. District Court clerk, an Army veteran and reservist, who served as Ginsburg's personal trainer for 20 years. In 2017, he detailed the late justice's fitness regime in his book The RBG Workout. As he paid respects to his friend and fitness client as she lies in state, the first woman in history to do so, he honored her in a most befitting way: by dropping to the ground next to her casket and pumping out three pushups.
Later in life, Ginsburg became something of a pop culture phenomenon. Part of her appeal was her longevity and her intense dedication to fitness.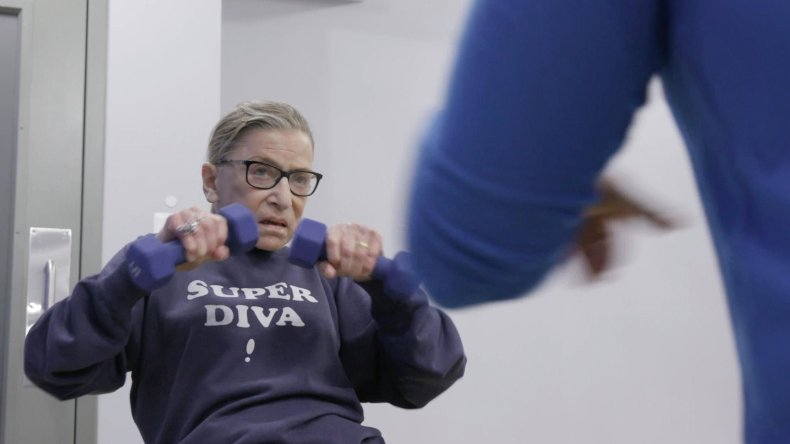 Ginsburg's fitness regimen became an element of her pop-culture profile, inspiring a "Plank Like RBG" event on the Supreme Court steps last year to celebrate her 86th birthday. Well, Johnson is the person behind those planks. He also appeared with her on The Late Show with Stephen Colbert in 2018 (watch here), he led the two through a workout. Colbert had trouble keeping up with the then 85-year-old RBG, who sported a T-shirt that read "SUPER DIVA."
During an interview conducted in September of last year for Bloomberg's "The David Rubenstein Show: Peer to Peer Conversations" (listen here), Ginsburg talked about when she first began to take exercise more seriously. She said that the suggestion came from her late husband Martin, who felt she should get serious about fitness after she completed chemotherapy for colon cancer in 1999.
"He said, 'We must do something to purge yourself of [the cancer],'" she told Rubenstein.
She soon hired Johnson, who developed Ginsburg's usual daily routine, which consisted of a combination of cardio and strength-training exercises like planks and push-ups.
Ginsburg attributed her ability to maintain balance between her life and work to her workouts, though she also admitted to Rubenstein that it was sometimes a challenge to force herself into the gym.
"Sometimes I get so absorbed in my work I just don't want to let go," Ginsburg explained. "But when it comes time to meet my trainer I drop everything."
At the end of her workouts with Johnson, she said, "I always feel much better."