Meet the Actor Playing Jack Reacher in the New Amazon Prime Video Series
Jack Reacher is known for one thing: Being physically imposing. In the Lee Child books, the character is described as having "a six-pack like a cobbled city street," and being built like "a brick outhouse." One character describes him as being "one of the largest men she had ever seen outside the NFL."
This makes the character a unique casting challenge—there just are not many actors who are 6'5" with 50" chests outside of Dwayne "The Rock" Johnson.
For the two Jack Reacher films, they skirted these casting issues entirely and cast the 5'7" Tom Cruise. However, for the Amazon Prime Video series Reacher, the show's creators have cast someone much closer to the book's idea of what Reacher looks like.
That actor is Alan Ritchson. Read on for everything you need to know about the new actor playing Jack Reacher for Amazon.
Who is playing Jack Reacher in Reacher?
Ritchson, 39, is probably best known to fans of superhero TV series. His TV debut as an actor came in 2005, when he was cast as Arthur Curry/Aquaman in the Superman origin series Smallville.
Thirteen years later, Ritchson returned to the world of DC Comics to play Hank Hall/Hawk in HBO Max's Titans (he also cameoed as the character twice in Supergirl and Legends of Tomorrow).
American Idol superfans, however, may remember Ritchson from even further back. He auditioned for Seasons 2 and 3 of the show, making it to the Hollywood Round (and irritating the judges when he chose to party rather than practice).
Alongside his early acting roles, he worked as an Abercrombie and Fitch model until 2009. A few years after that, he appeared in The Hunger Games: Catching Fire as Gloss, the knives and daggers expert that has District 1's tribute in the 75th Hunger Games.
His other biggest movie role was in the two Michael Bay-produced Teenage Mutant Ninja Turtles movies, where he did the voice and motion capture work for Raphael.
Other major credits before Reacher include the "Nosedive" episode of Black Mirror, the TV show Blue Mountain State, and a role of the young Norm Scully in an episode of Brooklyn Nine-Nine.
Per the actor in an interview with Collider, he was initially passed over for Reacher. He said: "It's funny, I actually didn't get the role at first. I'm not exactly six foot five and I'm not exactly 250, and I had heard that they were being very specific with their physical demands...my take on it was a little different than what they had in mind, at the time, [but] there was a shake-up with who was casting, so they started again from scratch."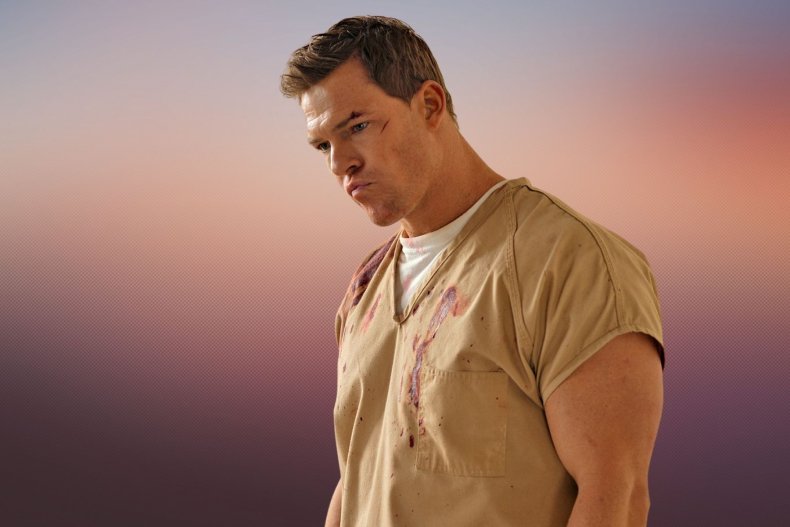 How tall is Alan Ritchson?
Though Reacher takes full advantage of the physical heft of Ritchson's body, as he alluded to in the Collider interview, he is a little shorter than the Jack Reacher of Child's books.
Per TV Line, the actor is around six foot three.
Though he may be missing a few inches of height, however, the actor has spoken in interviews about bulking up to be closer to Reacher's build. He told Men's Journal: "I try to stay lean, so I'm usually walking around at 205 pounds. For this I wanted to bulk up though, and I ended up putting on 30 pounds."
How did he do this? "I don't usually use weights because I get big so quick but I pulled them out for this," Ritchson said. "I got to unleash in the gym. The real requirement is you need to get the calories, proteins, and macros, so it was a conveyer belt of food. It's a full-time job to get 4,500 calories and 300 grams of protein in your body."
Reacher comes to Amazon Prime Video on Friday, February 4.