Federal prosecutors are seeking a limited gag order for ex-President Donald Trump in the 2020 election subversion case, citing his history of "repeated, inflammatory public statements."
Trump is facing four federal counts, accused of illegally attempting to remain in office after losing the presidential race in 2020. The charges, released in an indictment last month, include conspiracy to defraud the U.S. and obstruction of official proceedings.
The former president is facing four separate criminal indictments—including two federal cases—as he campaigns for reelection to the White House in 2024. The Republican front-runner has pleaded not guilty to all charges, repeatedly accusing prosecutors and others of "election interference."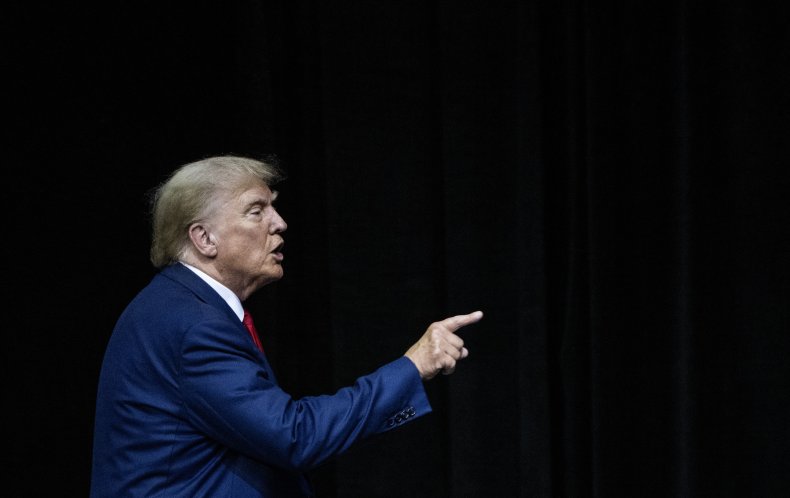 In a redacted filing released Friday, Special Counsel Jack Smith's office called on U.S. District Judge Tanya Chutkan to enact "two narrowly tailored orders" that would restrict what Trump can say about the case ahead of trial, which is scheduled to start on March 24.
"The defendant's repeated, inflammatory public statements regarding the District of Columbia, the Court, prosecutors, and potential witnesses are substantially likely to materially prejudice the jury pool, create fear among potential jurors, and result in threats or harassment to individuals he singles out," read the court document.
"Put simply, those involved in the criminal justice process who read and hear the defendant's disparaging and inflammatory messages (from court personnel, to prosecutors, to witnesses, to potential jurors) may reasonably fear that they could be the next targets of the defendant's attacks," prosecutors added.
The requested gag order would not keep Trump from repeating information found in public court records or from declaring his innocence in the case. However, prosecutors are seeking a ban on "statements regarding the identity, testimony, or credibility of prospective witnesses; and ... statements about any party, witness, attorney, court personnel, or potential jurors that are disparaging and inflammatory, or intimidating."
Trump's Online Attacks Are at the Core of the Filing
Prosecutors cited Trump's statements dating to fall 2020 after his loss to President Joe Biden, some of which are also included in the Justice Department's 45-page indictment. The filing also focused on several recent posts Trump has made to his Truth Social platform, including the issuance of a threat one day after entering his not-guilty plea, against those who "go after" him.
"And he has made good on his threat," read Friday's filing. "Since the indictment in this case, the defendant has spread disparaging and inflammatory public posts on Truth Social on a near-daily basis regarding the citizens of the District of Columbia, the Court, prosecutors, and prospective witnesses."
Other recent Truth Social posts cited in the gag order request include Trump claiming that the justice system has been "rigged" against him and asserting that he cannot gain a fair trial in a Washington, D.C., court because it is "over 95% anti-Trump."
The Justice Department also pointed at times that the former president directed attacks at prosecutors, including referring to the special counsel's office as a "team of thugs" and repeatedly referring to Smith as "deranged." Trump has also hurled insults online at Chutkan, an Obama appointee, whom he is attempting to have recused from the case.
Prosecutors said that Trump's posts have also emboldened others to attack and intimidate potential witnesses in the case. In one such example listed in the filing, the former president posted a video on Truth Social directed at former U.S. Attorney General Bill Barr, who served under Trump.
In the clip, Trump refers to his former attorney general as "slow-thinking and lethargic," and accuses Barr of not having "the courage or stamina to fight the radical left lunatics."
In a Truth Social post Friday evening, Trump condemned "deranged Jack Smith" for asking the court to "limit" his speech ahead of trial.
"So, I'm campaigning for President against an incompetent person who has WEAPONIZED the DOJ & FBI to go after his Political Opponent, & I am not allowed to COMMENT?" read the post. "They Leak, Lie, & Sue, & they won't allow me to SPEAK? How else would I explain that Jack Smith is DERANGED, or Crooked Joe is INCOMPETENT?"
Newsweek reached out to Trump's campaign team via email on Friday night for further comment.