Read the Letter Terminating Police Officer After Breonna Taylor Murder
A termination letter the Louisville Metro Police Department (LMPD) said it delivered to Officer Brett Hankison Friday morning reflects deep concerns Chief Robert Schroeder has with Hankison's conduct during the fatal shooting of Breonna Taylor on March 13.
In the letter, Schroeder describes Hankison's actions as "a shock to the conscience" that were "extreme violations" of LMPD's operating regulations and the department's rules regarding the use of deadly force. Schroeder added that Hankison was disciplined for "reckless misconduct" once before, about 14 months prior to Taylor's death.
The LMPD released the letter almost in full on social media—a couple of details redacted are in the first paragraph. On Friday, Louisville, Kentucky Mayor Greg Fischer said Schroeder was beginning termination proceedings, though the letter said Hankison would have the chance to dispute the allegations against him through legal representation if he wished to do so.
A spokesperson for Jefferson County Attorney Mike O'Connell told Newsweek that O'Connell's office would be advising Fischer and the Louisville Metro Council regarding local officials' ability to comment on Hankison's pending termination. Fischer said earlier Friday his office and Schroeder were unable to speak further about the firing decision due to language included in a state law.
The decision to terminate Hankison was announced as protesters in Louisville and around the country demanded answers to the deaths of black Americans at the hands of law enforcement. Though the protests began in response to the case of George Floyd, a 46-year-old black man who died while in Minneapolis police custody on May 25, Taylor's name quickly joined Floyd's on a list of violent deaths that protesters said demanded widespread reform to policing policies rooted in systemic racism.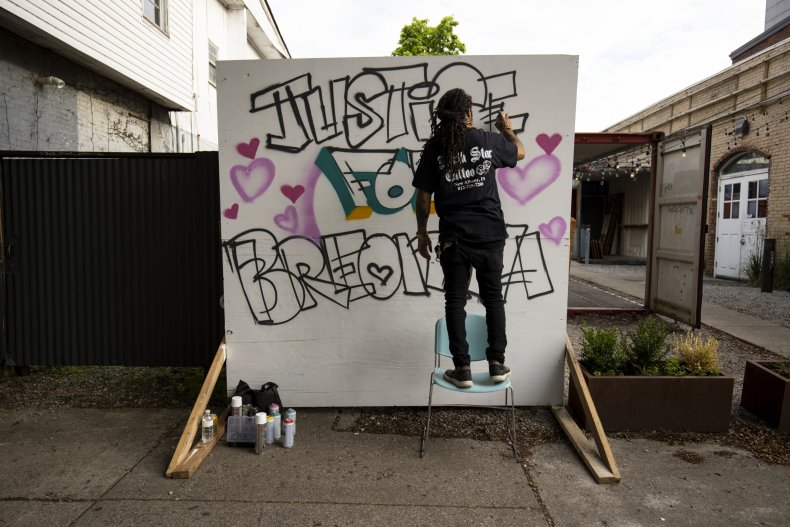 According to the termination letter, Hankison fired 10 rounds into Taylor's apartment in the early morning on March 13. At the time, he and two other plainclothes officers were serving a no-knock warrant to Taylor's apartment while conducting a narcotics investigation. No drugs were found in Taylor's apartment, police said later.
Mistaking the officers for intruders, Taylor's partner shot his gun in their direction, and the officers quickly returned fire. Taylor, 26, was fatally shot in the gunfight that followed.
No charges have been filed against any of the officers involved in the incident. According to the Federal Bureau of Investigation's Louisville branch, the agency is conducting an independent investigation into Taylor's death.
Ben Crump, an attorney for Taylor's family, responded to the news on Twitter by saying the termination was "long overdue." But he reminded Louisville officials and members of the public that Hankison was not the only officer involved.
"We need to see ALL of the LMPD officers involved in Breonna Taylor's murder FIRED and ARRESTED!!" Crump said, later adding the detective who applied for the search warrant to the list.
"In addition to firing the other officers (Jonathan Mattingly, Myles Cosgrove, and Joshua Jaynes), we demand Kentucky AG Daniel Cameron to file CRIMINAL CHARGES against ALL the officers in this case," Crump tweeted.
Below is the full letter addressed to Hankison, which the LMPD posted on its Twitter page.
Dear Detective Hankison:
Please be advised of my present intention to terminate your employment with the Louisville Metro Police Department. However, on [redacted] you will have an opportunity, with counsel or union representative, if you desire, to provide me with additional information or mitigating factors. I intend to take this action based upon my review of the Public Integrity Unit investigation file, which was initiated on March 13, 2020. The investigation conducted by the Louisville Metro Police Department's Public Integrity Unit was provided to me on Tuesday evening, June 16, 2020 for review. The following is a result of my subsequent review.
Violations of:
Standard Operating Procedure 5.1.2 Obedience to Rules and Regulations (4 counts)
Standard Operating Procedure 9.1.12 Use of Deadly Force (10 counts)
I have determined you violated Standard Operating Procedures 5.1.2 Obedience to Rules and Regulations when your actions displayed an extreme indifference to the value of human life when you wantonly and blindly fired ten (10) rounds into the apartment of Breonna Taylor on March 13, 2020. These rounds created a substantial danger of death and serious injury to Breonna Taylor and the three occupants of the apartment next to Ms. Taylor's. I make my determination pursuant to the preponderance of the evidence.
You also violated Standard Operating Procedure 9.1.12 Use of Deadly Force when you used deadly force by blindly firing ten (10) rounds into Breonna Taylor's apartment without supporting facts that your deadly force was directed at a person against whom posed an immediate threat of danger or serious injury to yourself of [sic] others. In fact the ten (10) rounds you fired were into a patio door and window which were covered with material that completely prevented you from verifying any person as an immediate threat or more importantly any innocent persons present.
You further failed to be cognizant of the direction in which your firearm was discharged. Some of the rounds you fired actually travelled into the apartment next to Ms. Taylor's endangering the three lives in that apartment. You have previously been disciplined for reckless conduct that injured a innocent person in Professional Standards Case #17-062 for which you were disciplined on January 9, 2019.
Based upon my review, these are extreme violations of our policies. I find your conduct a shock to the conscience. I am alarmed and stunned you used deadly force in this fashion. You have never been trained by the Louisville Metro Police Department to use deadly force in this fashion. Your actions have brought discredit upon yourself and the Department. Your conduct has severely damaged the image of our Department we have established with our community. The result of your actions seriously impedes the Department's goal of providing the citizens of our city with the most professional law enforcement agency possible. I cannot tolerate this type of conduct by any member of the Louisville Metro Police Department. Your conduct demands your termination. I have the utmost confidence in my decision to terminate your employment for the best interest for the Louisville Metro Police Department and our community.
Sincerely,
Robert J. Schroeder
Chief of Police