Meghan McCain felt especially nostalgic this Election Day. The new mom and daughter of the late Arizona Senator John McCain took to Instagram on Tuesday to pay tribute to her father, who died in August 2018 following a battle with brain cancer. She also noted that amid the loss of John, she was celebrating her first Election Day with her one-month-old daughter, Liberty.
"My first Election Day without my dad is my first with my daughter, Liberty," she began her caption on Instagram. "Feeling overwhelmed with nostalgia and warm sentiments about the circle of life."
McCain continued: "I love Election Day, always will. Don't let the ugly, divisive fleeting politics of today remove what's beautiful about our democratic process and our incredible country I will forever love so much. I am so proud to be an American and to have the privilege of living in the greatest country that has ever existed. No president or time or political party will ever change that. In the words of my dad, 'We're Americans and we fight, never surrender.'"
Her Instagram post also offered a message of unity and love, despite whatever the outcome of the election may be.
"Both [Joe] Biden and [Donald] Trump will still be in their political realms, and the rest of us will be in ours. They'll both be doing their thing while you and I stand together, laugh together, learn together, support together, grieve together, pray together," McCain's post read.
The second slide also noted that after the election results are in, she plans on being happy, going to work, and loving one another, regardless of whether Trump or Biden comes out victorious.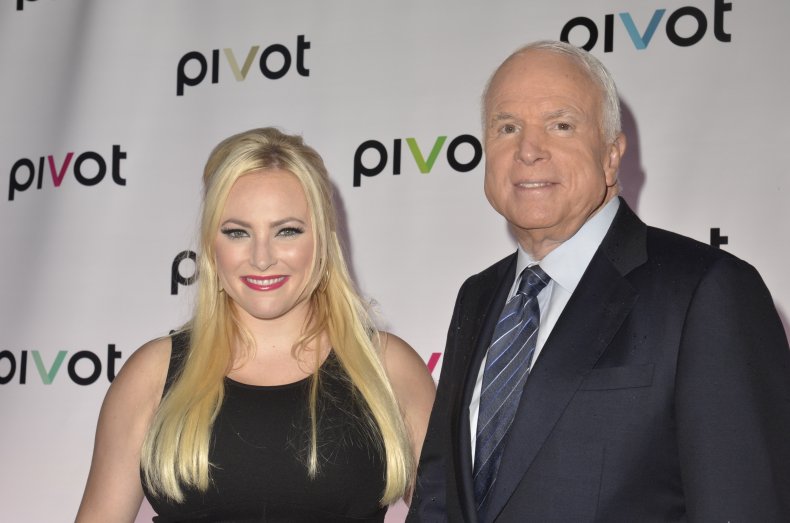 McCain's mother and the late senator's wife, lifelong Republican Cindy McCain, endorsed Biden for the 2020 election.
"My husband John lived by a code: country first. We are Republicans, yes, but Americans foremost," she tweeted in September. "There's only one candidate in this race who stands up for our values as a nation, and that is Joe Biden."
She spoke in further detail about her Biden endorsement during a September 23 appearance on NBC's TODAY Show. "Joe Biden represents the kind of values and integrity and courage we want in a president and I think would have my back as a citizen. I want to feel like my president's cares about me," she said, via The Guardian.
McCain added that Biden has "great empathy for people in this country who are struggling, not just with the Covid-19 crisis but all along the way."