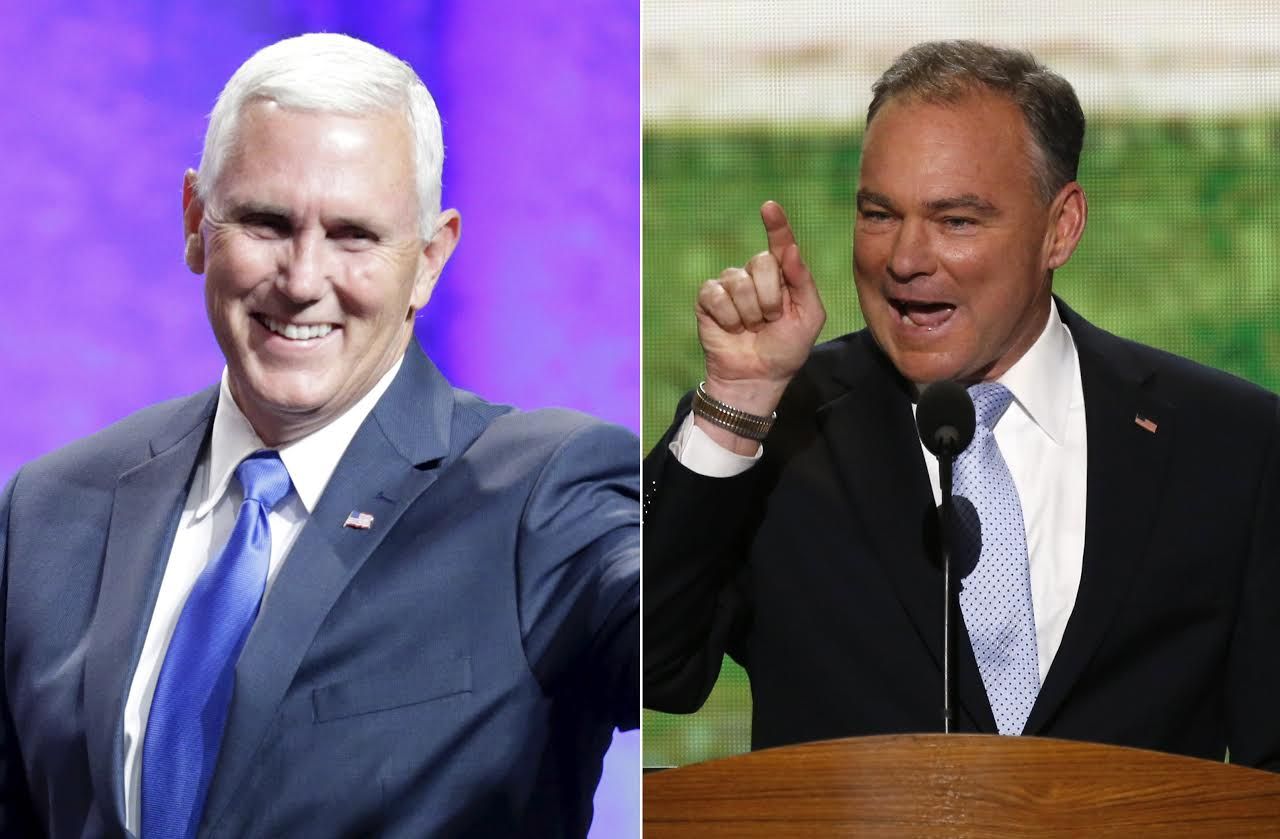 Updated | As the two major vice presidential candidates prepare to take the stage for their only debate of the general election season, more than 40 percent of Americans can't identify Hillary Clinton and Donald Trump's running mates.
Forty-one percent of Americans couldn't correctly name Republican Mike Pence, while 46 percent couldn't identify Democrat Tim Kaine, according to a recent ABC News/SSRS survey.
Are you among them? Even if you're not, here's your chance to browse the Newsweek archives to brush up on your knowledge about the Virginia senator and the Indiana governor, before their faceoff at Longwood University on Tuesday night. The election is not much more than a month away.
Virginia Senator Tim Kaine
Tim Kaine: Donald Trump Is Inciting Violence Against Hillary Clinton
Kaine accused Trump of inciting violence against Clinton after the Republican candidate said his opponent's security detail should be disarmed, given her support for tighter gun rules. At a campaign rally, Trump said that Clinton's "bodyguards should drop all weapons. They should disarm."
Kaine: 'Improperly Labeled' Emails to Blame for Hillary Clinton's Classified Material Woes
Kaine said the volume of information received by government officials often makes it difficult to know what information has been declared classified.
Some Bernie Sanders Holdouts Still Roiling Democrats' Convention
A small faction of die-hard Sanders delegates and supporters were causing headaches for the Democrats at their convention. They made a press scrum as rough as any rugby match, heckled the former secretary of defense and then staged a mostly silent protest of Kaine.
What Picking Tim Kaine Says About Hillary Clinton
Clinton picked a liberal with enough conservative touchpoints—moderate on abortion, a son in the Marines, hailing from a purple state—to get her elected while not making any unforced errors.
Tim Kaine 'Everything Trump and Pence Are Not': Hillary Clinton
The Democratic ticket appears together at a Miami rally, drawing sharp contrasts with Donald Trump's vision of America.
Hillary Clinton Picked Virginia Senator Tim Kaine As Her Vice Presidential Running Mate
Clinton opted for an experienced governing partner who will help her present the Democratic ticket as a steady alternative to the unpredictable campaign of her Republican presidential rival.
Tim Kaine Would Not Be a Boring Vice President
Yes, Kaine checks all the boxes a presidential candidate could want in a VP. Ivy League pedigree? Graduated from Harvard Law School. Executive experience? Served as mayor of Richmond and governor of Virginia. From a swing state? These days, Virginia is as purple as it gets. But while those are all solid resume builders, they're hardly the sort of activist profile that's going to make the Democratic base to swoon.
Indiana Governor Mike Pence
Overshadowed in the Campaign, Mike Pence Would Be a Force in Donald Trump's White House
If he were to make it to the White House, the Indiana governor and former congressman would be Trump's Washington whisperer.
Memo to Mike Pence: Why Women Choose Abortion
Donald Trump's veep approved a law prohibiting women from terminating a pregnancy based upon, among other things, a fetus's Down syndrome status.
Donald Trump the Lone Holdout as Mike Pence Releases Tax Returns
Pence's disclosure reveals him to be the least wealthy among the four major party nominees. The Indiana governor and his wife, Karen, reported gross income of $113,026 in 2015 and paid federal taxes of $8,956 for an effective tax rate of 7.9 percent. The couple earned at least six figures in each of the 10 years of documents released, with their highest earnings, $187,000, coming in 2009 and 2010.
Will Ted Cruz's Snub Overshadow Mike Pence's Moment at the RNC?
As he formally accepted the vice presidential nomination, Pence jokingly told the crowd at the Republican National Convention that Donald Trump chose him for the role because he "was just looking for some balance on the ticket."
Mike Pence Had a Liberal Moment. Yes, It's True
The conservative Republican from Indiana has a record of sticking up for the press.
VP Pick Mike Pence: Donald Trump Ticket Will 'Lead From Strength'
Pence depicted the presumptive Republican ticket, just two days before the start of the Republican National Convention, as embracing traditional GOP values of smaller government, fiscal responsibility and strong national defense while describing his rise as a "small-town boy" in Indiana who served in Congress before winning the governorship of his state.
Mike Pence Advocated Immigration Compromise in Congress
As Donald Trump's running mate, Pence is joining a Republican presidential campaign that has been fueled, more than anything, by a hardline stance against illegal immigration. Almost exactly a decade ago, however, then-Congressman Pence, standing amid Mexican workers in a tomato field in rural Indiana, made a high-profile, but ultimately unsuccessful, call for an immigration reform compromise.
Mike Pence and Donald Trump Both Hate Global Warming
Trump calls global warming a "hoax" and his vice presidential counterpart, Pence, calls it a "myth."
Who Is Mike Pence, Donald Trump's Running Mate?
The friend of conservative Republicans is a first-term governor of Indiana who previously served 12 years in Congress.
How Picking Mike Pence Puts Donald Trump in Ideological Bind
Trump's selection of the Indiana governor to be his running mate will go far toward reassuring conservative Republicans about his presidential campaign, but it may hamper the mogul's efforts to blur ideological lines in trying to appeal to a wider segment of the electorate.
This article has been updated to include additional related stories.