Reading Kim Jong Un's Lips: North Korean Leader On His Marriage, Nuclear Weapons and Trump
South Korean media have consulted lip readers to find out what the two Korean leaders discussed during their private talk at the inter-Korean summit last Friday.
While most of the formal discussions were taking place behind closed doors, the afternoon stroll South Korean President Moon Jae-in and North Korean leader Kim Jong Un took after planting a pine tree was broadcasted live on South Korean channels.
Their intimate talk, which lasted half an hour, was drowned in the noise of birds chirping, but their lip movements were still somewhat discernible. Lip readers in both the Channel A News broadcaster and the Chosun Ilbo newspaper mentioned that the North Korean leader mentioned the words "Trump," "nuclear weapons" and "U.S." most often.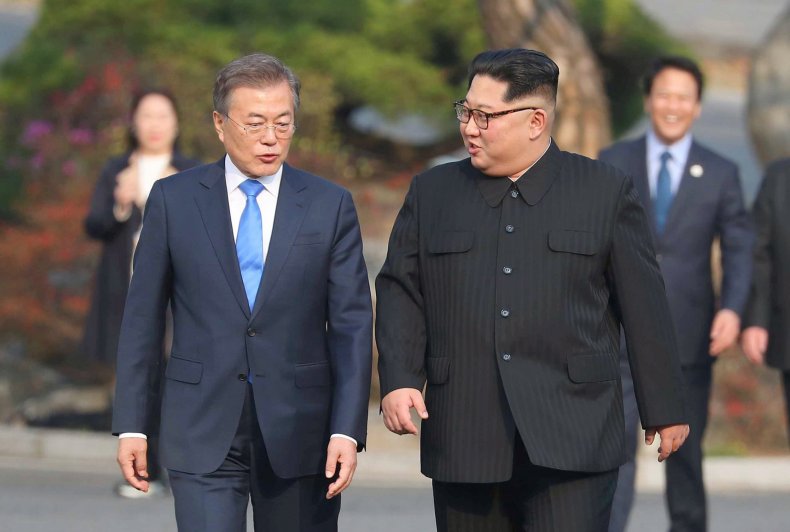 According to one of the three lip readers contacted by the Chosun Ilbo, those words were uttered as the two leaders discussed the U.S. skepticism over North Korea's commitment to giving up nuclear weapons. Kim also appeared to be discussing his hopes for a fruitful meeting with President Donald Trump, due to take place in early June.
A South Korean presidential official confirmed that the summit with Trump was one of the topics discussed during the one-on-one talks, as well as Kim's well-known passion for basketball. "On the pedestrian bridge, it was apparently mostly Chairman Kim asking questions and President Moon speaking ahead of the North Korea-U.S. summit," the unnamed official was quoted as saying on Monday in the Hankyoreh news outlet.
According to one of Channel A's lip readers, the conversation also took a more intimate turn, in which Kim revealed how he came to marry his wife, the singer Ri Sol Ju. "Father looked at me and told me to marry that woman, so I trusted him," Kim said according to Channel A and quoted in The Washington Post.
Reflecting on his time on the bridge with Kim, Moon told reporters he did not realize how idyllic the setting was until he watched the footage later. "It was really pleasant to see the landscape with the sounds of birds. I didn't know it was that nice," he said, according to Hakyoreh.
Even Moon's wife, South Korea's First Lady Kim Jung-sook, seemed impressed with the two leaders' intimacy. "I saw you two chatting on the footbridge and it looked so peaceful that it seemed like it would bring only prosperity in the future," she told the North Korean leader upon meeting him, according to press reports.