'Be Ready to Run': Officials Warn of Dangerous, 'Stressed out' Moose Amid Record Snowfall
Officials from Alaska's Denali National Park have put forth a warning to all visitors: Beware the moose.
The area has recently experienced record-breaking amounts of snow, along with frigid temperatures routinely hitting minus-40 degrees Fahrenheit. The extreme weather conditions pose a challenge to humans and animals alike, leaving the area's moose population "stressed out."
According to the Alaska Department of Fish and Game, the state is home to roughly 175,000 to 200,000 moose, each of which can weigh up to 1,600 pounds.
Denali National Park and Preserve, home to Denali, North America's tallest peak, put out a statement on social media warning guests about the current hazards posed by moose in the area.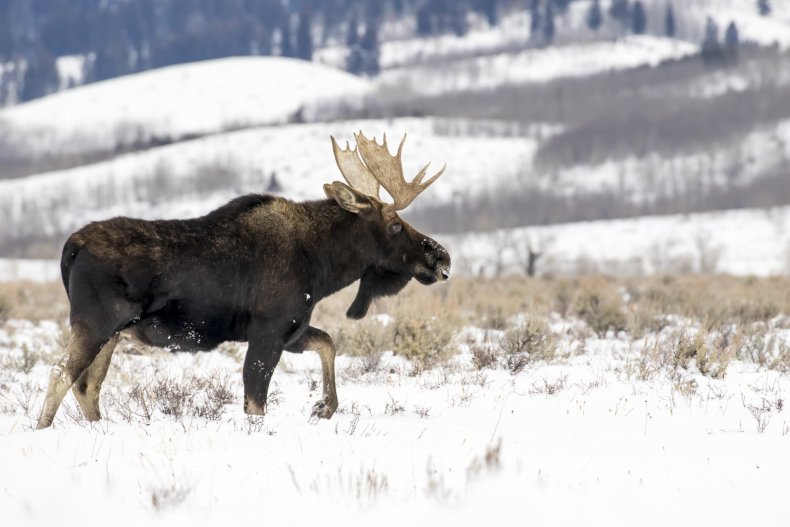 "With the record-breaking snow we saw at the end of December, followed by consistent -40° temps, the moose around the park are highly stressed out. If you decide to visit soon, be on high alert for moose," said the park in a Friday Facebook post.
"Even though these are pretty big animals, they can be extremely quiet, if not downright sneaky, sometimes they seem to come out of nowhere," added the statement. "Be ready to run if needed."
The park reiterated its warning the following day, noting: "Moose...may be aggressive and perceive anything in their space as a threat. Do not approach!"
They continued, noting that because of the intense weather activity, "trails [remained] difficult to impossible to travel."
"Since we received over five feet [1.5 meters] of snow during one week, the conditions remain an armpit-deep wallow," said officials.
In particular, Denali National Park's statements emphasized the importance of staying alert: "If you are out and about in the park, stay vigilant, keep your head on a swivel, moose are dangerous."
"Keep your head up and look around before you walk out the door or around the corner and especially while walking on trails or in the dark," said the statement. "Moose can be anywhere and are often hard to see until you are too close.
"If you see a moose, alter your route and give them a very wide berth. Do not approach! If a moose charges, run away!" advised officials.
In the case of a moose encounter, visitors should not attempt to scare the moose away, as "this just makes them ornery and may result in a charge."
Moose also tend to "react dramatically to dogs," so it's recommended to keep all pets away from the park.
Illustrating that last point is November's tragic incident, which saw a pet dog trampled to death by moose on a Colorado hiking trail.
"They are a charismatic species that inspire awe and fascination, but people also need to understand how dangerous moose can be if you are irresponsible around them," said Summit County District Wildlife Manager Elissa Slezak at the time. "A moose that is provoked can seriously injure or even kill someone."